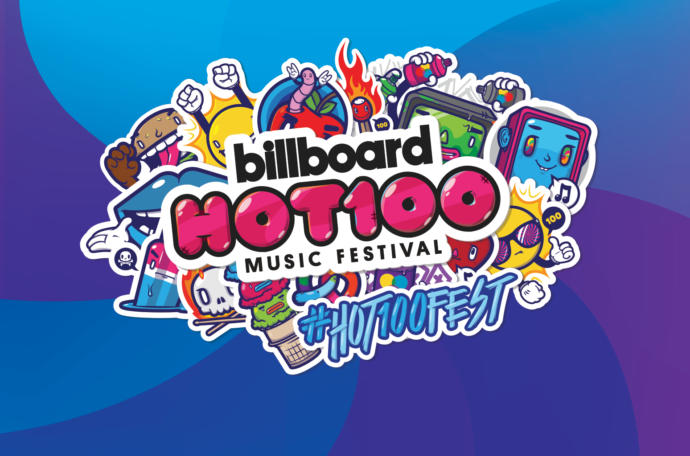 The Billboard Hot 100 is the music industry standard record chart in the United States of America for singles, published weekly by Billboard magazine. Chart rankings are based on sales (physical and digital), radio play, and online streaming.
The weekly sales period was originally Monday to Sunday, when they started tracking sales in 1991, but was changed to Friday to Thursday in July 2015. Radio airplay, which, unlike sales figures and streaming data, is readily available on a real-time basis, and is tracked on a Monday to Sunday cycle (previously Wednesday to Tuesday).] A new chart is compiled and officially released to the public by Billboard on Tuesdays.
The first number one song of the Hot 100 was "Poor Little Fool" by Ricky Nelson, on August 4, 1958. As of the issue for the week ending on May 5, 2018, the Hot 100 has had 1,072 different number one hits. The current number one song is "Nice for What" by Drake.
Keep in mind: These aren't my top ten songs of the decade. They aren't even my top ten Hit songs of the decade. It's just a ranking of every song which was ranked Number One on the Billboard Hot 100-in the 1990's. Personally, I would say virtually every song on this list is overrated, and this was a terrible decade for number one Hit Songs.
For Fun, I picked one song for each year from the top ten of the Billboard Hot 100 list that I would pick as an alternative for number one. Again, that doesn't mean it was my favorite song of the year-just from the top ten of the Billboard charts.
10. "The Sign" by Ace of Base(1994)

How the heck was this number one in 1994, and who in the heroin is Ace of Base? I know 1994 wasn't a good year for music, but this is just utter trash. I even rank 2010's Hit Songs better than this garbage. Crazy enough, they had three top ten Hit Songs this year.
My pick from the top ten: "I'll Make Love to You" by Boyz II Men-This #3 song is better than most number top ten songs in this decade. They have amazing voices, if nothing else.
9. "(Everything I Do) I Do it For You" by Bryan Adams(1991)

I find it rather strange that a 1990's number one hit song didn't even have an official video, nor does it have a well-known singer, or good title, or catchy beat. At least he has a good voice.
My pick from the top ten: "I Wanna Sex You Up" by Color Me Badd-It astounds me the song "November Rain" by Guns N Roses didn't make the top ten in 1991, so I'm left to choose from the backwater in 1991. This comical song was good enough for #2.
8. "Hold On" by Wilson Phillips(1990)

I'm not sure who, or what Wilson Phillips is, but there is somewhat of a catchy rhythm to this song. This was definitely the last bit of 1980's sound there was.
My pick from the top ten: "Cradle of Love" by Billy Idol-I already wrote how my birth year is one of the worst years for music, but this #9 song was easily the best song of the year.
7. "End of the Road" by Boyz II Men(1992)

Again, they have great singing voices, but there's not enough to their songs. There needs to be more "umph" into them.
My pick from the top ten: "Baby Got Back" by Sir Mix-a-Lot-How can this not be number one? While it was #2, it is one of the most popular hip hop/rap songs of all time.
6. "Too Close" by Next(1998)

This song isn't too bad, but it was released a bit too late. It has the late 1980's hip hop song, and it's almost the new millennium.
My Pick From the Top Ten: "Candle in the Wind 1997" by Elton John-This was a massive hit which spanned over two years, but in 1998, it was #8.
5. "Candle in the Wind 1997" by Elton John(1997)

The 1997 version of this song was a tribute to the late Princess Diana, who passed away that year. Death tributes, and other social justice songs tend to soar up the charts(Think of "We Are the World" in the 1980's). It was a decent song nonetheless.
My pick from the top ten: "I'll Be Missing You" by Puff Daddy featuring Faith Evans, and 112-It's a shame that the tribute to Princess Diana helped soar Elton John to the top, because this #3 Hit Song should easily be number one. While it is a semi-cover song, I absolutely love it, and it hits all of us in a way.
4. "I Will Always Love You" by Whitney Houston(1993)

This was easily Whitney Houston's best song, even if it is a little too lovey-dovey for me. It's still a relaxing, sentimental song.
My pick from the top ten: "Whoomp!(There It Is)" by Tag Team-While it was #2, how is one of the most popular rap songs of all time not number one? This is the best song to sing just about anywhere. Excellent one-hit wonder group. But either way, whoomp there it is!
3. "Believe" by Cher(1999)

As we all expected, we were about the enter the new millennium with a top Hit Song by Cher...except nobody in the world expected this. She did a great job at capitalizing 2000's pop sounds, and this is such a fun song to sing!
My pick from the top ten: "Kiss Me" by Sixpence None the Richer-As we also expected, the song "All Star" by Smash Mouth wasn't in the top ten, and instead, the #6 Hit Song was by a one-hit wonder rock band with a female lead singer. Duh!
2. "Gangsta's Paradise" by Coolio featuring L.V.(1995)

Coolio gave us one of the greatest one-hit wonders of all time, and an absolute masterpiece of a hip hop song(Don't even think about the Weird Al parody).
My pick from the top ten: "Kiss From a Rose" by Seal-This was a tough one, since 1995 was a great year for music, but the #4 song from this year was recently discovered by me two years ago, and I can't get enough of this sound, and the nostalgic feeling I get from it.
1. "Macarena(Bayside Boys Mix) by Los del Dio(1996)

Most people don't know this was a one-hit wonder, and a remix, but it's probably the catchiest dance tune of all time. Who hasn't done the Macarena? It owns the Electric Slide/Wobble/Cupid Shuffle, and any other dance tune you can think of. I'll never forget as a kid dancing to this in school, at recess, at school dances, etc.
My pick from the top ten: "Macarena(Bayside Boys Mix)" by Los del Rio-This was the right pick for once, and it wasn't even close in that year. All hail, the Macarena!
---