The artists I am going to talk about
In a very short time, actually in a few weeks I have seen a lot of very breathtaking art in real life. It feels like I would actually get to meet the artist themselves. When you see pictures of famous artwork they might seem dull, unrealistic and irrelevant.
I am an artist and I adore old artworks. I have my own preferences though. In the past weeks I have seen works from Pablo Picasso, Vincent van Gogh, Salvador Dali, Velasquez, Rembrandt, Claude Monet, René Magritte etc. However, I will not bring up every single one of these in particular. I will discuss only my opinions and view of the artworks I have seen and focus on Picasso and van Gogh.
Pablo Picasso
To start with; I have to admit that I have never liked cubism or surrealism very much. Picasso has always seemed to be this crazy man who behaved like an idiot. I have never liked his paintings, because I feel anxiety when I look at them. Well, at least they make me feel something. In my opinion an artwork is not an artwork if it does not make you feel something.
Picasso was a really respected artist, but he was also a person who I would not have wanted to meet. When I look at his most famous painting I start thinking "Why does this get so much admiration? What makes this oppressive artwork so well-known?". The answer gets served to me on a silver plate, without me having to say a single word. A man tells me the painting named Guernica is about the bombardment that happened the same year in Guernica. It certainly makes the piece more understandable, but it does not make me like the piece.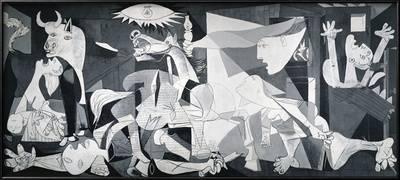 The painting is large, so large that I start thinking if size really matters. Sometimes it annoys me that big artworks often get more attention than small ones. For me size does not matter in art, but I do somehow tend to look at the smaller ones with closer attention.
Guernica-painting has only grey shades, no other colors. It has layers in it, that make it somewhat more interesting. The lighter surfaces pop up like they would be in the front. It can be said it has a small three-dimensional effect. The horrified faces can now be understood to be the faces of people under attack and in panic, maybe dying. Limbs all over the place and a mother crying with her dead child. Animals in panic. I stop looking, but I know it is not a bad piece. Somehow I just do not feel impressed.
Vincent van Gogh
When I hear the name Vincent van Gogh I scream out loud in a small whisper. I have always liked his works more than Picassos. I started to admire his work more after seeing the movie Loving Vincent, which was very touching and an artwork itself. This film made me more interested in his work and told van Goghs life story via the letters he had written.
Even though van Gogh was not fully sane either mentally, he was not a mean spirited person. Did you know that he painted over 900 paintings and made over 1100 drawings in his ten years as an artist. Only one of those were sold while he was still alive. Tragic.
I saw only four works of Vincent van Gogh, but they were even better in real life than on the pictures I have seen. Colorful and skillfully done. The contrasts and vivid strokes make them interesting to study a little longer. One of the paintings I saw by him was called Coal Barges. This painting had strong colors, but is still very realistic and the light is really impressive in this one.
My mind was blown
As the title says, my mind was blown by all the art I saw and how popular they are. Never ending queues to the museums and a lot of guards telling not to take pictures.
In the renaissance art museum I wanted to look more at the building than the paintings after a hour of seeing the masters artworks. They are indeed amazing and very fine, but they start to repeat themselves. You can maybe guess who has painted them, but sometimes that too is impossible because of the resemblance to the other paintings from different artists.
Van Gogh, Rembrandt, Monet, Dali and John Singer Sargent was the painters I liked most. I am not sure if I was surprised by this, because I have liked them before too. I think seeing all these paintings will have some kind of impact on my works, at least it has already inspired me to make more art.
When have you last been to an art museum? What kind of art did you see? Did you enjoy it?
---