Thank you @smahala1991 for englightening this topic. It totally sent me digging through my dvd collection to find all my fave animated movies. Okay so i dont expect y'all to read all of this because my list totally went from 5 to 40 real quick 🙈 But hey, Get a loooad of this!! And please mention which are your faves
#NostalgiaOverload #FeelFreeToList #AnimatedMovies #WhoseLineIsItAnyway
This list contains something for all ages and due to being OCD, I decided to Order this alphabetically as well—

#1 "9"
Before Alita Battle Angel and Welcome to Marwen, there was Nine. 😍🙌 Its probably not the first thing you want to show to little kids because it scared the crap out of me when i first saw it, but its totally a must-see. Its about a bunch of ragdolls trying to survive the post apocalyptic world. Gave me AI Artificial Intelligence vibes. This cast didn't contain sexy Jude Law but it did have Elijah Wood, Christopher Plummer, Jennifer Connolly, and Crispin Glover.

#2 Adventures of TinTin
I never read the comics but i enjoyed seeing a dude and his dog team up with a pirate to search for hidden treasure 🤣 I mean its basically like an animated Indiana Jones lol. Its just a great movie and the water flowing through the city scene was epic. I felt the graphics were remarkable 🤷‍♀️

#3 Aladdin
Its like the Prince & the Pauper but one guy playing both. With help from a genie in a lamp he comes close to scoring the girl of his dreams. Yea so I totally watched this as a kid because Aladdin was hot af and i wanted to pretend i looked as pretty as Jasmine. 😂 But hey the soundtrack was an added bonus although I'm tired of that freakin song in karaoke.
#4 Aristocats
Everybody wants to be a cat! Well not really unless im watching Cats on Broadway but i still adored this film as a kid. So basically this crazy cat lady leaves her inheritance to her cats. But her butler does what anyone in their right mind would by trying to make sure the money goes to an actual human instead 😂 Okay I'm totally kidding. He could've been the next Cruella Deville.
#5 Balto
Before Jacob, there was Balto. He was the sexier wolf might i add 👀 Lol calm your horses, im not into beastiality like Belle... unless we're talking Tarzan. Dude was a total animal in bed 😏 Buuut back to the movie, basically a bunch of mail-carrying Siberian Huskies must save the Alaskan day
#6 Barnyard
Its about a cow having to save the farm from some hungry coyotes. The film was hilarious and full of catchy songs like Shaggys Mr Boombastic. Plus, the cow totally did the dance before that backpack kid.

#7 Cat in Paris
Its a beautiful work of art. I dont even know what else to say. But Zoe is dealing with selective mutism after the traumatic loss of her father. After witnessing a crime, its up to her to speak up and help catch a thief.

#8 Cinderella 3 Twist in Time
I literally felt this was better than the first. Yea yea Cinderella found love... but watch this if you wanna see how things would've turned out had she not. And omg the way the prince's hair blows in the wind 😍 He never looked so "charming" until this film. Guess third time really is the charm lol

#9 Corpse Bride
This movie was dead on! Sooo creepily beautiful. I honestly thought the bride looked stunning, even with a worm crawling in and out of her eyes/ears. This film allows you to experience what life is like married to the not-so-dead.
#10 Curious George
Adorable movie although i never cared for the show. Ted goes to Africa in search of an artifact to display in his museum, but along the way, he discovers something even more treasurable, a little monkey named George. By the way, Jack Johnson absolutely praised the soundtrack.

#11 Disney's Dinosaur
This is basically a better looking version of Land Before Time and an animated version of Jurassic Park but without all the people freaking out. Its really just a bunch of dinos looking for a new nesting ground after a meteor strike. But will they survive the meat-eaters?

#12 Emperors New Groove
Get ready to dance and laugh. Simply put, this old hag is trying to rid the emperor so that she can rule his kingdom.
#13 Finding Nemo
This young clownfish is caught in a load of trouble when he's captured at sea and thrown into display tank at an Australian dentist office. Its up to his dad and Dory, whos a little whoopty-doo, to rescue Nemo. But um just keep swimming, just keep swimming. Like toooootally dude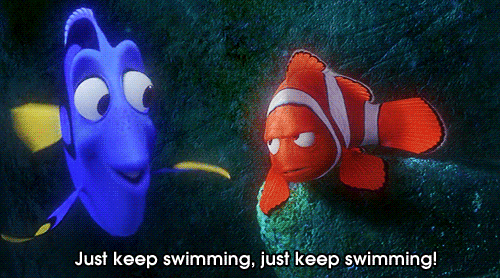 #14 Fox & the Hound
Well this is a different kind of "race war" might i add. But What can i say? Its a dog eat fox world. Honestly I wanted them to stay young the whole film. And why does Chief look/sound like my step-uncle Melvin 🤣

#15 Good Dinosaur
A young dino and caveboy go from hating one another to helping the other find its way home. Its like Land Before Time meets The Croods meets Tarzan meets Lion King. For once, we're considered the animals and they're more human-like.

#16 Grave of the Fireflies
Not many movies make me cry, but this was it. Not all stories have a happy ending, especially when there's war, starvation, and childless parents involved.

#17 Happy Feet
Get ready to dance 💃 You'll almost forget that the storyline of this movie has something to do with justice for penguins or something lol

#18 Hotel Transylvania 2
The first was good but the second was sooo adorably funny. Dracula trains his half-human grandson how to become more Monstrous. This kid was the cutest i tell ya!
#19 Incredibles
A superhero decides to retire but gets bored of his daily routine and decides to go kick some ass again. Might i add, Elasti-girl made Mr Fantasic look like the rubberband man lol

#20 Incredible Mr Limpet
Who didn't love Don Knotts? Dude was sweet and funny. In this old film, he falls into the sea and turns into a fish but works towards helping alert the navy of oncoming war enemies lol.
#21 Iron Giant
Vin Diesel voices this giant robot who the military are totally trying to take down. by the way Did anyone else think Dean looked like Joey Tribbiani from Friends? lmao.

#22 Jack and the Cuckoo Clock
Would you die for love? Well my boy Jack risks it all and I'm telling you, this is a must see. Plus its got the dark humor of Corpse Bride.
#23 James and the Giant Peach
This movie creeped me out as a kid with all the bugs, but I still enjoyed it. Plus, this is the only peach i'd eat 🤷‍♀️ Aww come on, even dirty desi has a dirty mind every now and again lol. But enjoy all the adventures of riding on a giant peach while heading for the Big Apple
#24 Kubo and the Two Strings
Felt like a more serious Kung Fu Panda honestly. But this kid sets sail with his animal friends to find this suit of armor so that he can defeat an evil spirit.
#25 Little Mermaid
So many people hate on the Little Mermaid but i like that she risked it all for love. She's my fave disney princess and one of the best looking aside from Jasmine and Elsa. I however, just really like the movie because of Eric. He was fiiiine af and looked like my childhood crush 😍😂

#26 Madagascar 2
Here's another sequel I felt was better than the original. After leaving the zoo and Madagascar too, the crew heads "home" to what once was. The soundtrack was the booomb diggity yo. And everytime young Alec screams "daaaaadddyyy" at the beginning, I cry 😭

#27 Madeline in Paris
I don't know if y'all watched Madeline as a kid but i loved both the live movie and animated shows. In this film, she gets adopted by her supposed uncle, but he has underlying intentions.
#28 Monsters Inc
Adorably frightening man. These two Monsters work in a scare factory but end up platonically falling for one of the young clients. I'm telling y'all, the villain in this movie was prob the Disney villain i hated the most. Dude scared me more than Ursula 😭

#29 Osmosis Jones
Hilarious but beware if you're a germaphobe!! Bill Murray is your typical "eat off the floor" as long as the 5 second rule applies. But when he contracts a virus (Laurence Fishburne), its up to Chris Rock to save the day lol.

#30 Polar Express
One of the greatest Christmas movies outside of Jim Carreys "How the Grinch who Stole Christmas". Its just magical and mysterious as a group of kids head for the North Pole by train.

#31 Ponyo
Its basically the Little Mermaid but funnier. Tina Fey plays the mom of the little boy and she's a trip. Liam Neeson plays the mer-dad and he's more annoying then heroic for once. But he's still living by the "I will find you" rule when his daughter runs away from home to be with this boy 🤣

#32 Prince of Egypt
The soundtrack, the story. Its everything man. I dont even know where to begin. Its basically the story of Moses leading the enslaved Israelites to freedom.

#33 Road to El Dorado
It has similar graphics to Prince of Egypt. I felt guilty finding Moses hot, so this story was more appropriate 🤣 Anyways, two con artists go digging for gold.
#34 Rugrats in Paris
This was my fave Rugrats movie. Like the first was more sad and the other with the Wild Thornberrys was okay. But this film had a great soundtrack and it was just overall funny. Basically the fam goes to Paris but along the way, must stop Chuckys dad from falling for this crooked ass female.
#35 Scooby Doo CyberChase
I know Scoob had a lot of movies and episodes, but this one was epiiiic i tell ya! Plus the crew got to meet their other selves. Like I don't know why im fangirling so hard rn haha.

#36 Shrek
Not much to describe but basically an ogre falls for a princess. They have to fight off humans and befriend a few magical creatures along the way. Long story short, its funny af 🙌

#37 Sinbad Legend of the Seven Seas
Brad Pitt and Catherine Zeta Jones are still hot even as cartoons lol. If you liked Percy Jackson or Clash of the Titans, then i think you'll like this as they set sail and fight off monsters.

#38 Spirit
I'm afraid of animals lol but Spirit made me want a horse for a second there 😭 Its such a beautiful story and one of the few westerns I enjoyed aside from Bad Girls, Gang of Roses, and Cowboys & Aliens

#39 Spirited Away
Beautiful beautiful movie although a bit creepy lol. Chihiro has to end up working with and for the supernatural to restore her parents to their human selves. Man i love this movie.

#40 Tarzan
Who hasn't seen this movie? Dudes running around lookin like a caveman after being taken in by a bunch of gorillas and he basically has to save them from poachers. Like, How tf was this dude still sexy even with a humpback 🤣 I loved this movie and Phil Collins blessed the soundtrack.
Anyways, hope y'all liked some of these movies too and please disregard how boy crazy i can be in my descriptions 😂 Oh yea, and if you thought i wrote a lot, just imagine if we were actually talking right now #TotalChatterbox so consider yourself lucky