My name is Clarisa, and I'm addicted to makeup. Yes, I have a problem but it's a beautiful problem! The fooling are my all time faves that I can't live without!
1. Moisturizer
I use the Nivea Men Post Shave Balm as moisturizer on my face! I love it and it feels great on my skin! You can find at Target for $5.59.
2. Face Primer
For face primer I use the Smashbox Photo FInish. You can get at Ulta or Sephora for $39.
3. Foundation
I have 2 favorite foundations but I'm obsessed with the Milani Conceal Perfect 2-IN-1, you can find it at Target for only $9.99! The other one is the Urban Decay All Nighter liquid foundation and that one you can get it for $40 at Ulta or Sephora.
4. Concealer
I have a lot of favorite concealers but the Tarte Double Duty Shape Tape is the BEST! You can get it for only $24!
5. Contour
I hate contouring! I could never find a contour palette/stick that would satisfy my needs, until I met this baby! I'm in love with it and it's very cheap, only $12.
6. Blush
I'm sad about this one because they don't sell it anymore! This is the Tarte Tarteist Blush Palette! I don't remember the price but I think I got it for like $25.
7. Highlight
This palette gives me LIFE! It's just GORGEOUS! This is the Anastasia Beverly Hills Moonchild! You can get it for $40 at their website, Ulta or Sephora. I've been wanting try Jeffree Star highlighters but the one I want is sold out! :(
8. Eyebrows
For eyebrows, I use the Milani Easy Brow Mechanical Pencil in Dark Brown. It sells for $6.99. Sometimes, I use the Anastasia Beverly Hills Dip Brow, but the Milani pencil saves me a lot of time and it also does the job!
9. Eye Primer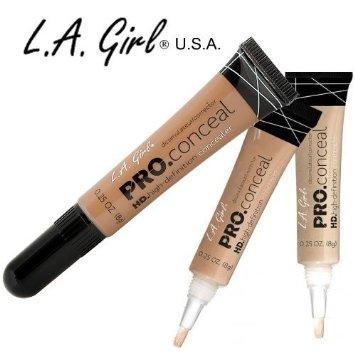 It's hard for me to really find an eye primer that I like! I'm really picky when it comes it. In my opinion, the WORST eye primer is the Urban Decay Potion, I hate it! it makes the eyeshadow so patchy! So, I started using the LA Girl Pro Concealer as an eye primer and oh my god! it works wonders! This bad boy only costs $2.99!
10. Eyeshadow
This a very hard category to choose because I LOVE eyeshadow! I have a lot of favorites: the Tarte Tarteist Pro palette, the Master Palette by Mario, and not to forget all Urban Decay Naked Palettes! BUT this palette is currently my FAVORITE, i use it all the time! This beauty sells for $42!
11. Eyeliner
I like using the Tate Tarteist Double Take Eyeliner! This sells for $24.
12. Setting Powder
I use the Airspun Loose Face Powder! My makeup looks flawless every time I use it! I also use the RCMA setting powder sometimes, and it also works wonders! The Airspun powder sells for $5.99 and the RCMA sells for $12.
13. Setting Spray
And for setting spray, I use the Urban Decay All Nighter Setting Spray! This setting spray costs $31.
14. Mascara
For mascara I use the Revlon Mascara Collection! They're all good and really cheap! Only 5.99!
15. Lipstick
When it comes to lipstick, I SWEAR by Kylie lip kits!! I have all of them!!! They're my favorite!! They sell for $29!
So that's it!! These are my favorite makeup products!! I really love makeup and the creativity that it inspires me. For me makeup, it's not about beauty but it's more like a hobby. Like I don't wear makeup to feel beautiful, I know I'm beautiful.What i'm trying to say is that is that the physical beauty is nothing compared to the beauty inside us. Makeup does not define me but I really, really like playing with it. For whatever reason you might wear makeup, WORK IT GIRL!! YOU SLAY HONEY!
How do you feel about makeup?
What's your reason to wear makeup?
What are your all time favorite makeup products?
---