A relationship is like a business.
It's stressful, yet rewarding, and has its ups and downs. Once you've finally reached that
one year anniversary
, you feel proud that you two meshed well for an entire 365 days. But, what we don't know about men is that they too have their moments of truth. To us, it might just seem like a match-made in heaven, but to them it could be heaven/hell. I've asked a group of young men between the ages of 18-28 how they feel about their S.O.'s. So the big question....
What do men really think about us when we've dated them for over a year?
1. When will she change her style up some?
Men are very straightforward people, they don't necessarily beat around the bush and they too get sick of the same old hairstyle, and the same outfit of choice to a date. Men like a woman who can be bold but gentle. Try to mix it up some, occasionally wear up dos, a new haircut, new choices of color. Maybe June you go blonde, or September go brunette for a change!
"

Men like a woman who can be bold but gentle.

"
2. I wish we had more action/excitement in the sack!
Well this one is a no-brainer. Men LOVE excitement in the sheets and the same old sex routine for an entire year or more can bore them to death. Why not spice it up? How about a nice visit to a lingerie store with your significant other? Let him be the boss of what turns him on the most?
3. She's worn the same perfume since I met her
Believe it or not, men love a woman with a scent. Maybe the scent that once attracted you to him is wearing off. Switch it up. A day at the mall with your girlfriends, head out to the perfume shop and look for different body butters, body mists or new fragrances. Nothing turns on a guy like a fresh feminine fragrance!
4. I wish she wasn't so shy around my friends
Now a entire year past by and you're still so shy and stand-offish towards his friends? He's the man of your dreams and a good way to make a guy feel special is to act at least interested around his buds. Not only will his friends open up to you, but you two will have a bound and maybe start to formulate mutual friendships. A step closer to a deeper bonding.
5. I wish she would cook me a gourmet dish
I know we all heard the good old saying " A way to a mans heart is through his stomach". Its true. Men love food....then again who doesn't? A nice dish would be greatly appreciated by the man you love. Not just any dish, fries and a burger is always a nice shot, but a nice dish would be perfect. Make it a ta-ta night in the kitchen. Maybe even have him help you cut the onions. How cute....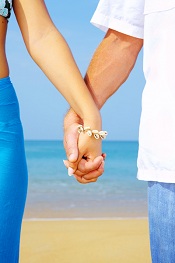 6. I wish she would stop overdoing it with the makeup. I already find her amazingly beaufiful.
I'm pretty sure if he's been with you for at least a year, he knows your pretty and your ugly, but he still finds both beautiful. Why? Because after awhile men don't tend to dwell only on the looks of the woman that they love, but they start to see what she can bring to the table. Wearing a pound of make-up isn't always the snake-charmer anymore. He wants to see the more natural you, because he had an entire year to embrace you as a person, not a Barbie doll.
7. Is this the girl for me?
Last but not least, the biggest question that men have floating around in their male brains...Yes, its true. If he is willing to commit to you for an entire year, then he can potentially commit to you for longer...a lifetime. Some men see us as potential "wifey material" if we follow all of the things on his check-list of course. It may or may not take him a year or even more to figure this one out, but yes long-term relationships can lasts longer.
Thank you for reading my story. Hoped this helped solve your questions regarding men. I wish everyone's relationship good luck, because you never know what you've had until it is gone. Hopefully it lasts a lifetime :D