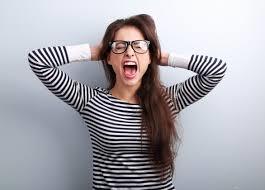 I have found a unique phenomenon among how women talk about society and how men talk about society. You see, when men are debating theory or reading a woman's magazine about the faculties of male nature, we as men view the experience from an analytical and philosophical point of view. When Carrie Bradshaw writes some Sex and the City Column on some fictional magazine we philosophically reflect on the nature of men and what we are like. We distance ourselves from the philosophical points and respond accordingly.
Women on the other hand, view society debates and philosophy from an introspective and emotive perspective. They view an article about female nature or what they are like as a personal attack on them.
They respond by saying "I am not like that" or they get hurt and angry and "TRIGGERED". Unlike men, women are not able to distance themselves from a conversation about society. Their view is narcissistic not societal.
Often women have double standards in societal debates. They want equality but they dont. It is hard to be a man when you are told that 'no' means 'yes' (a woman actually told me that during sex last night); or to never pass go but you lose because you didn't collect the $200 (monopoly game reference).
Yesterday I wrote a mytake saying that there are "high quality women" out there. Yet still, a woman called me a sexist. Perhaps this woman preferred me to say there were no high quality women out there? Even if you compliment a woman she hates you for it.
Here are the most common responses a man will get when speaking about female nature in society:
1. The woman will take it personally (I am not like that!)
2. "Not All women are like that!" (That's not even relevant. The point is the majority are)
3. "You just are a loser who can't get laid." (The good old personal attack)
4. "You are just a player." (Slut shaming)
5. Woman hater! (Blanket statement without having to answer any specific point made)