I'm sure you've come across women stating warning signs in men, so other women could avoid problematic men. I figured I should write one about problematic women as well. Since no one seems to be doing that, and most men seem to believe they will not get laid, if they behave in any way that women deem unacceptable. If you are not getting laid, the reason is the way you look, regardless of what women tell you is the reason. So, let's start...
1. SHE IS SENSITIVE TO CRITICISM
One of the hypocritical things that you will see women doing is reacting aggressively to criticism, while openly criticizing men all the time. Women like that either have deep hatred of men, or they simply enjoy attacking others.
2. SHE BLAMES MEN FOR THINGS WOMEN ARE GUILTY OF AS WELL
You will come across a lot of women saying that men don't know how to take "no" for an answer, but the truth is that women are the same and lesbian women are the worst when it comes to this. Another thing you will see a lot is women blaming men for domestic violence, but domestic violence is perpetrated by women as well, and probably more. Lesbian relationships are well known for being quite violent as well. The reason why you see skewed statistics regarding domestic violence is because men are not willing to admit that women hit them, out of the fear that they will be seen as submissive and thus not sexually appealing.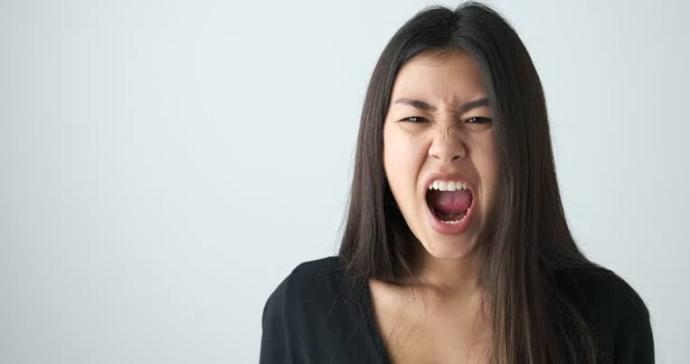 3. SHE SAYS BIG DICKS ARE NOT BETTER
This is a common lie women tell, and when they get caught in it, they justify it by saying that they were simply trying to make men feel better. They were not trying to make men feel better, they were gaslighting men into believing that they are one of the only women who will tell you truth. Women do that when they want a friend who will listen to her woes, or a boyfriend she can cheat on, while he cannot cheat on her, since he is not desirable by most women due to having a small dick.
A small dick would be somewhere between 5 - 6 inches, an average dick would be 6 - 7 inches, and a big dick would be around 7 - 9 inches. Some women can handle bigger dicks than that but those women are an extreme minority. As for girth, slim dicks would be 4 - 5 inches around, average dicks would be 5 - 6 inches around, and thick dicks would be 6 - 6.5 inches around.
4. SHE HATES TRUMP, BUT PRAISES BIDEN
It is pretty clear that Donald Trump is not a nice person, and he doesn't really care what women think of him. He says what he says and he doesn't apologize for it, and he says things that are truly not nice. It is understandable if women hate him for that, but when the same women praise Biden, that is when you know that those women are no better than Trump or Biden. Biden has been openly seen being inappropriate with female minors, and he was accused of rape by a woman who was shunned by the mainstream media. The rape case against Biden was strong, while the cases against Trump were weak. Women who praise or vote for Biden while calling Trump sexist are hypocrites, such women should not to be trusted, by other men or other women. Such women only care about themselves.
5. SHE IS TOO NICE AND SUPPORTIVE
If you come across a woman who is always nice and always supportive towards you, you should be suspicious of her. She wants something from you and she is manipulating you to get it. Just like nice men who are fake, there are nice women who are fake as well.
6. SHE REACTS AGGRESSIVELY WHEN YOU ASK ABOUT HER SEXUAL HISTORY
While it is everyone's right to keep things about their lives private, but when you are dating someone and you do not know much of their past, you need to start worrying. If you ask a woman about her sexual history, and she suddenly becomes aggressive, it is likely that she had a highly sexual past. There is nothing wrong with having a highly sexual past, but there is also nothing wrong with men not wanting to date a woman with a highly sexual past.
7. SHE HATES HER FATHER, EVEN THOUGH HER MOTHER TREATS HER WORSE
This is a clear sign that the woman is a misandrist. When a woman complains about the questionable behavior of her mother, but admits that she doesn't hate her mother. All the while she does not have much to complain about regarding her father, but she admits that she hates her father. You need to distance yourself from her. I've come across women who scream hateful things about men, while sometimes admitting that they have never had a bad experience with men, on the contrary some of these women were molested by other women. Yet they refuse to hate on women while actively hate on men. This is the result of the mainstream media's brainwashing of women.
8. SHE ASSUMES MEN ARE BAD, UNTIL THEY PROVE THEY AREN'T
I'm sure you've come across women who talk rudely and aggressively to men right from the beginning, until those men do something that assures her that he doesn't hate women. The thing is while those men may not hate women, such a woman does hate men. Such women are paranoid and since it is easy to take your frustrations out on men these days, these women take advantage of it and that shows that they are not worth socializing with.
9. SHE ASSERTS THAT FEMINISM IS ABOUT EQUALITY
While it is true that the definition of feminism is that feminism is about equality between the sexes, but we know that it is not what women who identify as feminist care about, everyone can see how hateful feminists are of men. So, the women who keep asserting that feminism is about equality are gaslighting men, because they know very well that feminism is not about equality. Feminism is about female empowerment, at the cost of men that are deemed not appealing enough by most women.
10. SHE COMPLAINS ALL THE TIME
If you come across a woman who complains all the time, than you should keep your distance from her. Stay as far away from her as possible. Women like that never admit their faults, they constantly blame others for everything.
11. SHE SAYS SHE LIKES SUBMISSIVE MEN
This is one of the biggest lies women tell. There are two kinds of women that tell this lie. Women who are looking for a sexually unappealing man they can cheat on, while he cannot cheat on her so easily because she knows women will not see him as sexually desirable. The other women who tell this lie are sex workers, whose work is centered around exploiting sexually undesirable men. Such women will assure you that your kinks and fetishes are healthy for men, they are not though. Men with low self-esteem are the only men who are submissive, and low self-esteem is a problem to be solved, not something to try and become comfortable with. I've been in this position before, and it took a lot to leave that mindset, antidepressants helped me, as it turned out I was deficient in something called Serotonin. A chemical that is linked to low self-esteem, depression, and anxiety, among other things. So, if you are in this position than you need to go to a psychiatrist, not a woman or a sex worker.
12. SHE SAYS SHE IS A CONSERVATIVE WOMAN
This is another major lie told by some women, in the hopes that they will land a gullible man to marry, while they cheat on him. There is a reason why Christians get significantly more divorces as compared to Atheists (there is a study on this). Since most divorces are initiated by women, and it ends up in her husband's properties and children in her control, you can see why most divorces happen. While the motivation to marry is to land a provider. Since, conservative men tend to believe that women care about money the most, they stack up on money as much as they can. This makes them prime targets for greedy women. That is why these women say they are conservative women. The truth is that there has never been such a thing as a conservative woman. Women are highly sexual beings and that is why conservatism is not compatible with the female mindset.
With all of that being said, I hope there are decent and trustable women out there but the truth is that I have yet to even meet one woman like that. So, I wouldn't advise anyone to expect much. The world is what it is, where you either win, or you are lost in society as a nobody. Good luck!