Dressing up is something men and women like a lot. It enhances their position and presence for what they dress. In addition, their dressing and outlook make them look attractive and catch the eyes of many.
However, dressing up uniquely for every scenario is an art. And to look productive, you need to take some lessons. Cosplay refers to the dressing up of anyone resembling a character from a book or a file as well as a video game.
For girls, the dressing sense is diverse. However, to look cute, they need to maintain simplicity. There is nothing they must be afraid of through a simple yet elegant dress code.
Hence, to make this read a productive one for girls. We have shortlisted a few common ways to improve the dressing sense.
Though it strictly does not mean that you have to revolve around these fashion trends. But to look cute, you cannot miss out on these opportunities.
#1: White Shirt
The first thing to keep in check is the cuteness alongside maintaining simplicity. A plain white shirt might be the most ordinary clothing item. But the beauty it carries is immense. Worn by a cute girl with some decent hair will make her look like a queen.
Hence, you will find a lot of anime characters wearing white shirts or skirts. Whereas in movies, frequently you will find girls in some white topping.
Another brilliant feature of a white shirt is that you can accompany it with any additives.
For instance, a muffler or a handkerchief of any color will look spectacular with a white shirt.
#2: Ties
Specific ties only come for a girl's dressing. Their purpose is not similar to that of the boys and men. However, their use is more for dressing and a cute look.
That is why in movies, you will find young girls wearing some kind of special girl ties. Generally, they come in various sizes as well as shapes.
Again, all of this complements the fashion they want to adopt. In essence, anime characters are always seen wearing a white shirt and a tie. This is in the case for characters that resemble girls.
#3: Bows and Braces
A great combo item comes in a bow and a brace. This usually comes in a pack to offer a complete package. Bows are another form of tie worn around the neck. However, their use mainly lies through tuxedos.
But for girls, the main form of cuteness lies within the braces that come along the bows.
A brace is a set of elastic bands worn around the shoulders and attached to your pants at the waist. This combination is what improves and increases the cuteness factor for girls.
However, a tie is an important dress code item. Their combination with a brace is just what young girls need.
#4: Blazer
This includes wearing a blazer over the top. If you consider that your cuteness is at risk to diminish. Then do not worry. All you need is a special blazer that also improves your fashion look.
A school or a velvet blazer is enough to keep you warm as well as a complement with your shirt and tie. And once the temperature is normal, you can simply remove it and carry it along the way. So you can present all of your different looks in a single frame.
#5: Hair
This section includes two things or tweaks you need to do with your hair. First, it is the dressing of your hair. And secondly, it is the color you need to apply to your hair.

⦁ Dressing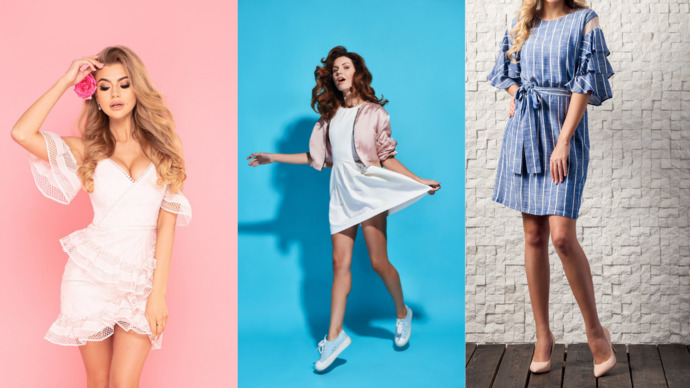 You do not need to use a catcher and cover all the hair on your back to look cute. Instead, just grab a small portion in the front of your head and hang them over your head and ahead of your eyes. Then just cut them to a short length right above your eyebrows.
This is the general look for cuteness and something you need to consider to look attractive. In essence, without a good look for your hair, just do not consider yourself cute!
⦁ Coloring
Often natural white color goes the best with any sort of dressing. However, you will often see girls in a dark or light brown, golden, and pink shade of hair. This coloring setup brings your hair into the business as well.
Or if you do not want to overlook your hair, just keep it in a natural black color. In addition, one familiar color is common for video game characters for girls. And that is white or silver-white color.

#6: Check Skirt and Pants
Girls can go either way with a skirt or pants. This differs depending upon the character they want to resemble. A skirt will do the best if they like to have an anime touch.
Moreover, a pure red or checkered skirt always does the trick for such characters. In essence, all such characters use a black skirt alongside the other two options. But pants have their magic.
Film girl characters usually wear pants with all sorts of dressing since it gives a modern look. Such a look makes girls look older than young. In short, it is all about preference.
#7: Face Expressions
Just do not overdo it in this department. Looks often become deceiving and make your dressing go best and wrong. For instance, it is not a good practice to laugh out loud to look cute. Hence, you need to maintain a decent smile and keep your eyebrows relaxed.
Even if you feel amusing, do not look; go for what makes you look like a child. And try to keep your hands mingling with each other rather than staying free and low.