HUMILITY
There are many definitions of humility, including being low, which is the root of the word it is derived from, but here is the definition that I like the most ...
"Humility is considered a state of being, highlighted by your behavior and approach to things. It's also considered one of the virtues of the human condition, along with kindness, patience, diligence, charity, temperance and chastity. Humility is often thought to occur in the absence of pride"
What is humility really and what does it have to do with kindness?
In order to understand humility, we must first examine its arch nemesis -Pride, as mentioned in the humility definition above.
Proverbs 16:18 says, "Pride goes before destruction, and a haughty spirit before a fall."
Ms CapricornHoney asked the question "Have You Ever Had A GAG Stalker?", and the first guy to answer said that by being on social media you deserve whatever you get!
It made me very sad to see such an answer ☹
Then my GAG friend Ms SnowMoon asked this great question…"Why do we as a planet struggle to be nice?" ...another great question! Thank you Ms @SnowMoon!
I have had so many attacks trying to separate me from my friends or run me off of GAG, some which have sadly lost me some friends, and some which have not because there are some friends, who are "real friends", who stick with you through thick and thin.
Yes, you may attract haters, even though you try hard in every way to be kind to everyone, which leads us into the next character quality...
KINDNESS
I want to dedicate this song to my great GAG friend that I have had more laughs with than anyone else on GAG so far and has stuck with me in spite of my detractors.
Ms @Brainsbeforebeauty - more affectionately known to me as Ms BBB, has both attributes that I am describing here, and that Mr Tim sings about, in unlimited abundance!
Now listen to Mr Tim's incredible country western style song about being humble and kind, just as Ms BBB is ...it is AWESOME!
What is Kindness?
"Kindness is defined as the quality of being friendly, generous, and considerate. Affection, gentleness, warmth, concern, and care are words that are associated with kindness. While kindness has a connotation of meaning someone is naive or weak, that is not the case. Being kind often requires great courage and strength."
Snoop Dog says, "Be Different – Be Nice" ...but why is he saying that being nice is being different? ...SERIOUSLY? ...Isn't it sad that being nice would be considered something odd? …LIKE ...REALLY? ...IT IS?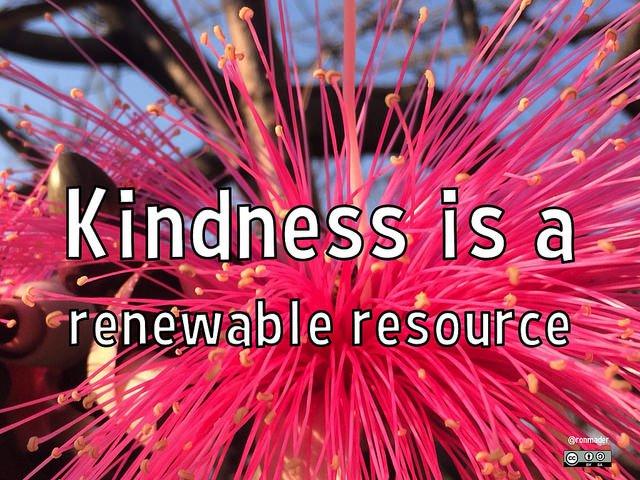 ...so being nice is actually the exception in today's world and not the rule? ...ARE YOU KIDDING ME?
What could be a sadder state of affairs when being mean and rude to others is considered the norm? ... GOD TO EARTHLINGS ..."What are you thinking?"
iSo, you must be different, a one-off, to be nice? ...is that the place social media, and the world around us, has brought us to?
Well then, I do agree with Mr Snoop …listen to his song about being nice ...YOU WILL LOVE IT! …I PROMISE!
Please be nice, and not just to those that you judge to deserve it, but surprise someone who you think doesn't deserve it ...let's try to make our world one that everybody feels like being nice in ...IS THAT ASKING TOO MUCH?
...Now have a great day and ...PLEASE BE NICE! ...OK? ...lol