Many women nowadays aspire to look like something that they are not beause of celebrities, fashion trends, and beauty standards, but little do they know that most of these celebrities aren't perfect. Many celebrities have gone under the knife to look the way they do now even celebrities we all thought were all natural. Women go through numerous insecurites about there bodies due to these issues.
Under The Knife

Like I've said before many celebrities have had work done to look the way they do now. Many of them aren't really natural beauties that the public thinks that they are.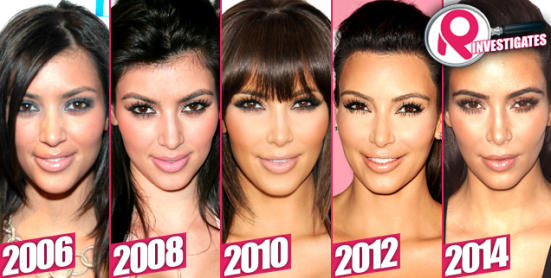 Surgeries gone wrong
They're are many risks when it comes to cosmetic surgery and sometimes people come out looking terrible. Just the idea of having someone slice my body open to "fix" something gives me jitters, because in reality anything can go wrong no matter how professional the surgeon is.
ASS, ASS, ASS, ASS, ASS
There is a whole craze going on with ass and big voluptuous booties nowadays because of stars like Nicki Minaj, Kim K, Amberrose, etc, but are there asses really authentic. Rap and hip hop music glorify these thick, curvaceous girls with the perfect butts but most of the butts in those videos aren't even real. There is nothing wrong with a big butt as long as it's real but this booty trend is taking the lives of many women feeling pressured to have a big butt. Since many wome can't afford to go to licensed doctors and are too lazy to go the gym they end up going to black markets or "pumping parties" to get illegal butt injections which are extremely dangerous.
This is what happens when you go to a black market and things don't turn out so good.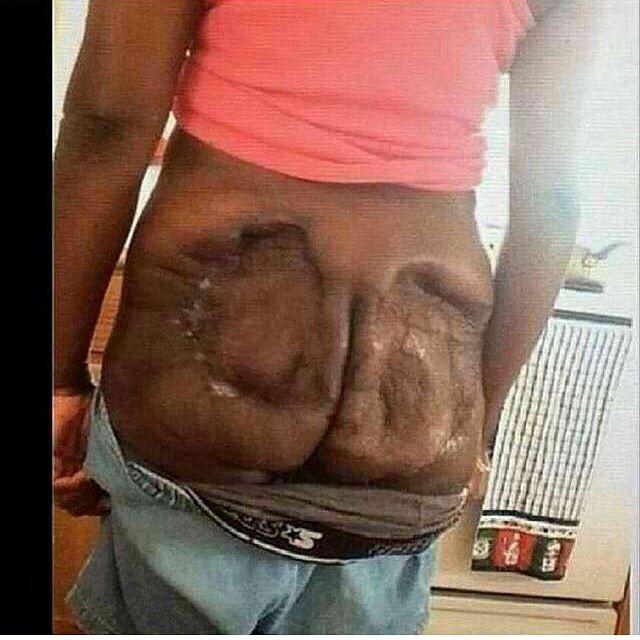 These are women who weren't so lucky and ended up dead...
The bigger the better?
We all know know that proporation is key. It's nothing wrong with having a big butt or big tits as long as it looks proportional. I have a large chest but it fits with my body and it's 100% real. Nothing beats a woman who has a real big chest and ass. But this is wayyy too much.....
Makeup and Photoshop
Many celebrities have the best makeup artists and they can contour their skin to look much better. Not only that but digital editing and photoshops and filters have become a savior for these people as well.
Racism/Colourism
Not only this but their is an alarming amount of racism that goes on in these industries and it impacts our youths. These industries tell young black women that only lighter skin and long flowing locks of hair are considered to be the ideal standard of beauty. Many hip hop and r&b music videos only seem to showcase white, hispanic, and very light skin black women in their videos excluding dark skin women no matter how beautiful they are. Many young black men would not even consider going out with a black women nowadays as well, leaving us heart broken and alone. Black women especially dark skin, are usually portrayed as loud, obnoxious, ghetto, on welfair, gold diggers, and angry while black men are portrayed as thugs, criminals, pimps, drug addicts, rapists, and gangsters.
Light Skin is the right skin?
I've actually done a mytake on the benefits of having melanin rich skin which is the the pigment that gives human skin, hair, and eyes their color. Dark-skinned people have more melanin in their skin than light-skinned people have. Here's the link https://www.girlsaskguys.com/health-fitness/a21761-having-melanin-it-s-benefits it'd be great if you guys check it out.
Height
Aside from stick sizes, height seems to be the main concern with men. Many women would say thery aren't into guys who are under 6'0 tall and for some reason really short girls who are like 5'0 have this mindset as well. I'm a girl who is 5'1 and Definitely don't have this ridiculous standard, it;s not that hard for me to find a guy that's taller than me and he definietly doesn't have to be 6'0 ft tall.
SOOOO...
Societies standards are always changing and the people you thik are perfect definitely have many flaws that they are trying so hard to hide from the public eye. The media is run by assholes who make make women and people who don't fit in with it feel bad about themselves. As long as you have confidence and your secure you can attract a lot of attention. Whether your tall or short, black or white, skinny or curvy, lightskin or darkskin, hispanic or Asian, anyone has the potential to be beautiful These standards where women have to have a pretty face, the body of an hourglass with crazy curves, light flawless skin, big breasts, and a giant butt are almost impossible. This would be the worst as well if every women strives to look this way. There would be no individuality, no creativity, just nothing everyone would just look the same which is just boring. I'm glad that there are different bodytypes going from small to big, different skin colors from light to dark, differeny customs, cultures, and traditions because it's the key thing that makes world so beautiful.