Just a guide from a person who cares. Cars aren't cheap and no one wins when your car breaks (except maybe mechanics who make you over pay.
If this gets the resposes I want, I'll make a part 2!
Now, I'm not a certified mechanic or have much experience but I went to college for it, plus I'm a huge car enthusiast and have a project car myself :p so I may know a thing or two 😉 and I know this may seem obvious but keep your opinions to yourself on this one. This may not be as common sense to everyone else. My uncle inspired me to do this, he thought you put coolant into the windshield washer reservoir 😭🔫😂
P.s I would like to say, I recommend doing this stuff at home unless you don't feel comfortable doing it. You save money and you know someone isn't half assing the job 💁
1. Change your oil
Yes, you have to do it. Yes It's often and can be a pain in the ass but you gotta do it! Would you rather pay $30-$60 every 2,500 miles or so or pay for a whole new engine? And that's at least $2,500 for just labor and at that point you might as well invest in a new car. If you would like to know how to, look it up on YouTube. It's SUPER easy I promise!
2. Check your oil
You know that yellow circle thingy you see attached to the engine? Pull it and check the level and color of it. (Make sure the car is on level ground or else oil level will read inaccurately). First check if the oil is low. There should be a low and max mark. I recommend putting the dipstick back in and pull it back out. Just to make sure it's accurate If It's in the lower side, add some or preferably change your oil.
Now to check the condition of the oil. If It's yellowish and see-through, it's in good condition. If it's a little darker, you should be fine for a little longer. If It's black or close to black, you have to change it ASAP. It won't do any harm unless you keep ignoring it. Plus it feel like you're driving a stick of butter after you change it 🍑
(If the oil looks chunky and gross, take it to a mechanic ASAP, that means you have a head gasket leak and it could cause some serious damage)
3. Check your tires
Check the tread of your tires. If your tires are smooth, you might want to invest in new ones. I'm not gonna explain much as this picture does a way better job anyways 💁
If your tire pressure is low, put some air into it (obviously 😂). If you don't know how much psi, check by the driver side door panels. There will be a sticker saying how much psi is recommended for each wheel. If you can't find it anywhere, chances are it's 35-37 psi.

If you want to find out where the leak is, I use the method with the squirt bottle. Just spray water onto the whole wheel. Check carefully for bubbling. If you find bubbling on the tire, that's where your leak is coming from. I recommend to use a lot of water. The more, the easier it is to find the leak.
If you want to check your tire pressure, buy yourself a gauge. It's not hard to use and they're pretty damn cheap!
If you keep losing air on a tire(s), take it somewhere to get your tired patched up. You shouldn't plan on keeping them for long after that, it's only a temporary fix. I recommend to start saving for new (or used) tires to make sure you do have enough money for other expenses. Tires can be EXPENSIVE I know!
4. Check you coolant-antifreeze reservoir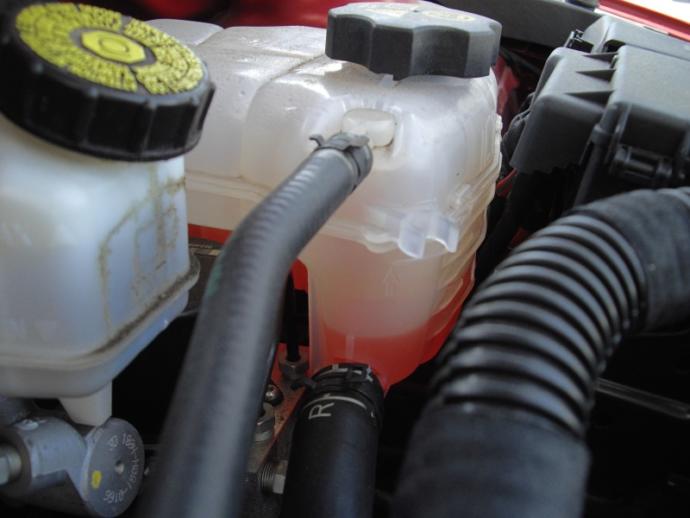 ALWAYS MAKE SURE ENGINE IS COLD! OPENING THE COOLANT CAP WHILE THE CAR IS HOT IS NOT A GOOD IDEA!
Check if it's on the max or minimum line. If It's low, add some until it reach the max line. Make sure you got the right coolant. And make sure it says "50/50" on the bottle. That means yoj don't have to add water to it, you just pour it in.
If your coolant levels constantly go down, you may have a leak. Or a leak into the engine, which is making the level go down.
5. Check all other fluids
I put these all together because these other fluids don't have to be changed as often. Check for the power steering, brake fluid, clutch, and transmission fluid (some cars don't have a transmission dipstick tho). If any of those fluids are black, it needs to be changed. Most of these fluids are a cherry red (almost like blood).
6. Check your belts
No not your Gucci belt, ya silly! 😂 if your car makes a squeaky sound, chances are, it's the belt. Rev up the car a little bit. If you hear it going faster with the engine then that could be the belt. Check the belt for rips or if it's loose.
THERE YA GO! I know it sounds like common sense but hey I hope you learned something. Maybe on the next one, I'll show you guys how to inspect for issues or how something works :)
---