Dear gold diggers, you're hookers … essentially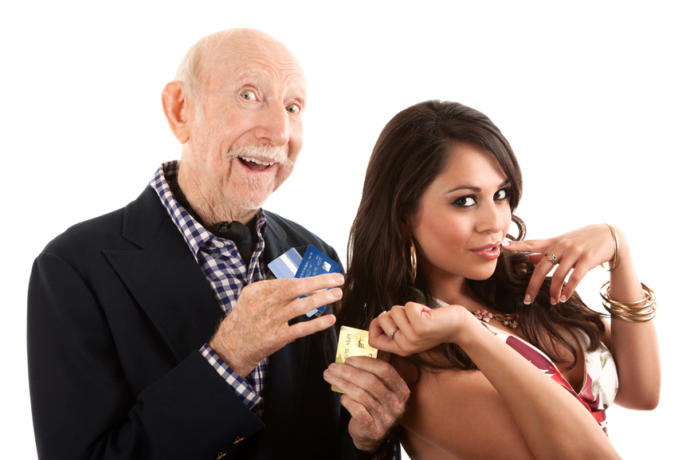 I told you I would go after gold diggers too. I'm for #trueequality … which means I equally crap on people who act silly, shitty, and everything in between. And gold diggers are exceptionally shitty people. Borderline sociopathic in some cases.
Now, if you read my article talking about the difference between a woman wanting you for your money v.s. having a partner with the potential of a stable future (AKA an independent adult/non-dependent) you'll know I think there's no issue in considering your partner's ability to work. Male or female, you have to consider such things if you plan on having a long-term relationship. As long as you are employed, educated, or in the process of obtaining either, you're realistically a good candidate to be a long-term partner, provided compatibility is also present.
However, there are people out there, many of them women, who don't really care about any of the stuff I mentioned above. There are people out there who really do only see value in a partner who will essentially buy their affection in the form of monetary gifts or actual money. Some of them are so committed to obtaining wealth through no achievement of their own that they will literally wait for their partner to die in order to inherit their money. We call them gold diggers, and they're essentially glorified, expensive prostitutes.
I have had women express to me in the past that they are in some way owed dinners, gifts, and material things from men due to the expense they personally choose to spend on their appearance. According to them, this is a necessary part of the dating process in order to make themselves appealing to men, because without all of the glamour … they apparently have no other value, given this logic.
Naturally, being an offensive prick, I am, my response has always been that this notion is utter bullshit. It sounds like the logic of an extremely spoiled-rotten child who wants to justify getting presents on someone else's birthday. It's illogical. Provided you don't look like a fucking troll without highlights and makeup, no one is putting a gun to your head, demanding you to spend money on enhancing your appearance. If you honestly believe you can't attract a mate without spending money on clothes, makeup, or various other appearance enhancing products or treatments, then that's a prime example of a: "YOU problem." AKA: too bad, that's your problem, no one else's. Either learn to love yourself or accept it as an "investment" of sorts, because none of this is actually necessary. It's something you choose to do and likely derive pleasure from, like most women. It doesn't entitle you to a steak dinner or even a fucking taco.
Also, I would like to point out that if you are a feminist, that you are 100 per cent hypocritical if you have any sort of entitlement surrounding men paying for things from meals, gifts, or your personal expenses. You can most certainly still be a feminist, but not without, in fact, being a hypocrite. Having the opinion that men owe you money, gifts, dinners, or should be the primary source of income for your daily pleasures or even income is the absolute opposite of gender equality. A man having dangling genitals between his legs under no circumstances implies he is obligated to shell out a single penny in your direction. If he chooses to do so, then it's exactly that: a choice. It isn't an obligation and you are not entitled to it.
As for the women who are so hardcore that they strictly date men for the sake of financial benefit: you're basically a prostitute. Sorry, but it's true. If you're essentially selling your time and most likely your body for shoes, purses, clothes, cars, money – whatever. This is literally prostitution, or "escorting," if you prefer that term. It's an extremely sad way to live in my opinion, to quite literally apply monetary value to yourself which you give to the person dumb enough to just throw money and gifts at you. And for the women who date old, rich men in the hopes that when they die, you'll be left with their estate and bank: you're a fucking sociopath and you need mental help. It is not fucking normal for any person with an ounce of empathy and human decency to literally bleed a person dry for the remainder of their life while you wait for them to croak so you can get even more from them.
Of course, these are extreme cases. Most gold diggers these days justify their actions by calling themselves "sugar babies" who are simply selling services. Some may not provide sex (but, let's be real, you'd make more if you did) but they are still essentially selling themselves to men unfortunately willing to treat them like wholesale products. It's sad, and women who do this can definitely do better for themselves.

It does raise an interesting point in defense of gold diggers, sugar babies, and the like though. Men are doing this by their own will, and many are very aware that their only value to these women is the money and gifts they give them. Some agree to it at face value – like sugar baby situations – so I can't really give them too much shit, even if I think it's sad. Men also have to take some personal responsibility in the situation: if someone is bleeding your wallet dry … maybe stop giving them access to it? It isn't like the signs of a gold digger are terribly subtle, unless you're fucking with a pro. If a woman begins demanding you pay for everything, then you need to fucking run for it.
But, alas, we are often blinded by love, tits and pussy … so, women who know this "power" can be abused, you should use it wisely. Consider how you can seriously hurt someone by using them as a personal piggy bank, have a fucking heart and make your own goddamn way in life. If not, then at least be upfront that you're just in it for the money and love comes secondary, so guys can make an educated decision on whether or not you're worth fucking with.

~ Love Jane.