This compilation is not based on physical appeal, but character features that are not the usual, trite, go-to recommendations. Of course an attractive woman is nice and a woman with a shapely body and breasts, but even these things can be cancelled out if you don't have what I list below.
One who is courageous…
When I say this I don't necessarily mean as in confident, which is always a good thing and always sexy, but I mean genuinely courageous about doing the right thing with people. I like a woman who is not afraid to stand up for you whether you're a friend or a lover, who won't stand there and laugh if somebody wants to talk smack or joke about you to your face or behind your back, which unfortunately many women will laugh along because they care what the group thinks and are afraid of being the lone dog for doing the right thing.
She also has the courage to be the same with everyone. As I've talked about several times on here, women have a tendency to put on different faces with different people and behave differently with different people. Women are more socially fragile and vulnerable, and sometimes some women only want to be nice to the "cool people" or the cool, popular guy but will act oddly ashamed of being just as nice to the people who are underdogs, because they worry what the "cool people" will think of her for associating with others they see as lower. I steer clear of those women. The kind of woman I need is consistent and not just with her group and has the courage to be kind and inclusive to everyone as long as they respect her back.

Kind and respectful only, no Bitches please…
"Bitches" seem to be the In-thing in the 2000s now, and even for a time I was sexually excited by them but outgrew it pretty fast when I realized that bitches are actually very empty women who take pride in it because they think it makes them a strong, flavorful, or appealing person, and it doesn't. It's just character laziness: it's easier to act rude, arrogant, or socially slovenly than to actually have polite, intelligent, cultivated behavior. Overall I really don't like women like that. I know some guys are into them and even on my job they will go after the chicks who act like bitches because they know they're attractive and know all the guys are into them, but they are not my type.
They're the simpletons who you give a hello or 'how are you?' courtesy in passing, and they look you right in the eye and don't say anything, or look away and keep walking. They believe that any time a man speaks to them it's because he's trying to flirt or seek sex, and they're waiting for you to try to speak to them so they can act aloof and have a reason to be snobby with you, and I don't take the bait. Yet ironically they'll wonder why I'm the only guy who never speaks to them and doesn't fall all over them like the other ones, wondering why I don't bend to them and give them attention. They're noticing that I talk to the other females but not them. It kills them, and then they start desperately looking for a way to get me to talk to them with some kind of dumb or goofy conversation starter in the lunch room or if I'm working nearby them. I'll speak if they speak to me or when I really have to, but I have no respect for those kinds of women and let them know it.

The kind, respectful woman is tops for me, whether she's beautiful or not. People can say what they want but she always wins the race and earns respect right back because she treats people decently and is upright in character. And when she is being hated it's because people know she's doing the right thing.

A woman who loves the light…
I literally mean as in goodness, uprightness, and one who hates evil and darkness. I don't mean the squeaky clean "prude" religious types who always try to act so pure and holy, but a woman that loves the good side and has a truly good heart.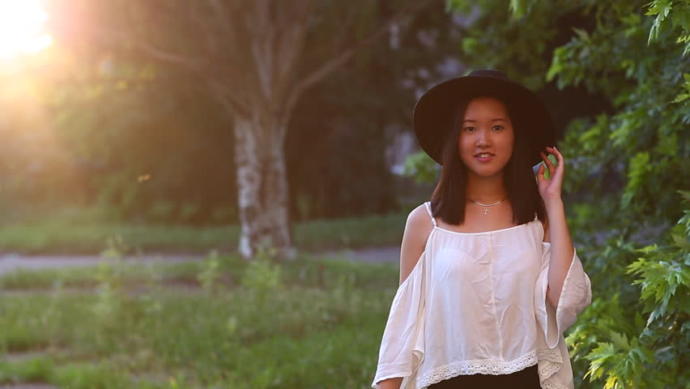 In many ways I am surprised and honestly cannot believe how many grown women I meet in real life, and profiles I've seen online and on dating sites, who are still stuck in the immature phase of being emo and having Gothic tastes and interests like they want to live in some kind of Halloweenland forever. They like all the "anti-heroes," gory horrors, bad-guy-is-good-guy movies, like styling themselves in halfway Adams Family looks and get-up, and all they ever post on Facebook and Instagram are dark memes and tasteless jokes about people and their weight, wanting to stay in bed, how moody they are, etc. That's too much toxicity for me.

Loving bad, dark stuff is the norm in these times while loving goodness is seen as nerdy and prudish, and I don't meet enough women who actually crave goodness and uprightness.

Is spiritually intelligent…
Not necessarily having to do with faith or religion, but understanding things about people and the world with deep perception that is beyond your average thinking. A woman with soulful intelligence and soulful common sense. A woman who is spiritually intelligent and understands what it means to have a good heart, good intentions, and uprightness.
With where I am now this means exceedingly a lot to me, if not the most important. A woman for me must have character and upright values about life. I don't care how sexy or beautiful you are, how big your tits are, how curvy you are, if your body language, behavior, and attitude are distasteful, conceited, self-righteous, or disrespectful - especially towards me - I will completely isolate you from my space. I will have nothing to say to you not even a hello, I will move around you in all situations, and if intense enough I will find a way not to have to be around you at all if I have to. You can wonder all you want why I don't talk to you until you remember how you acted like an asshole, but I'm shutting you out.

A woman who isn't sexually arrogant…
Although women tend to think men are the ones who have big sexual egos, this actually does not line up with reality and is the very opposite. It is much more often women who brag about their orgasms being greater, being able to get sex, believing they're better at sex, and being able to attract men. And honestly I am not really comfortable with that. Once upon a time I might've found it to be a turn on, but not at this point in my life.
I don't want to be with a woman who would want to put me down sexually or try to devalue my self-esteem or prowess by wanting to place herself high as sexually superior to me, yet will later complain about why I or other guys don't want to date her and say we're "intimidated" by her so she can feel better about it.

Older women…
This is enormous for me. I've always loved older women and generally connect with them ten times better than younger women. There are some nice younger women out there, sure, and from time to time I will try to give them a chance and pursue one here or there, but at the end of the day it just doesn't really work for me. I will either find out through enough interaction that they're not really what I thought, or they will just lose their appeal. And honestly, a lot of times I feel like I have to dumb myself down to try to appeal to them or keep their attention, and that's just not cool. Most of them are just not on my level and I don't want to take 10 steps back just to be cool for them.
Older women are often more interesting, have maturity and experience, are more relaxed and easier to talk to, and can actually be quite sexually attractive. They don't make things all awkward like younger women can. You can ask an older woman out and if she's not interested you can still act normal with each other and she won't try to avoid you or feel threatened just because you asked her out. They also are not as simple-minded and immature as younger women with all that retarded thinking I hear from them about some guy being "weird" or "creepy" about every little thing he does or says just because he might be kind of quirky or different. For sure, there are some weird and creepy guys out there, but not every one of them is just because you aren't interested or don't find him attractive.

NO bisexual women…
Although many women out there would like to subscribe to all the bisexualism of today, it's not attractive to me. I am not impressed by a woman who will fuck both genders. Nor is it a turn-on for me, rather a turn-off. There's nothing sexually deep, noble, or enlightening to me about a woman who will fuck anything.
I like a woman who likes only men and has the courage to be a woman for just a man. I like a woman who has the courage to speak up if another woman is trying to make a move on her and tell her that she is not comfortable with that and wants her to go away. Not some chick who fucks men and also spreads the love to her own gender. She's not doing herself a favor, she's doing everyone else one by passing herself around.

Cares about a man for who he is and not his image or financial status...
Although women try to say how untrue it is that their gender is like this, unfortunately it still is much of the time. Women want it to be okay if they can talk about how much men are only interested in women's looks and just having sex, but don't want it to be okay if men can talk about how much they hate it that women are interested in men with money or status. I too cannot respect that kind of woman and don't want to be associated with them.
And at the same time, I myself am not a man who cares about status, money, or careers in women, even if they want me to. That's not enough to get me interested and those things don't tell me enough about you. You may brag about your degree, college, profession, life achievements, etc. and want me to be impressed by them, but it doesn't work. It actually just tells me right away that you're gonna fail the interview with me. The things I look for in a woman are everything stated in this Take that have to do with character and value. Not superficiality.
#WomenILike