Nobody wants to be around people that they have nothing in common with, that's why there are clubs for people who like to cook or activities for people who like to jog there are different churches where people can gather and different political parties for people with different views but there are also certain states than can make a republican or democrat feel comfortable and happy in their community, the following list is going to give you MY top 5 states for both republicans and democrats, please understand THIS IS IN MY OPINION so don't say this isn't true etc or rant because this is like I said just an opinion, take it with a grain of salt thank you.
For Republicans
1. Tennessee
With a state that borders the Appalachian mountains and blue ridge mountains, this state has everything a republican would want. There is one major city, the city of Nashville which offers work etc while the eastern part of the state is perfect for hiking and all sorts of activities within the beautiful mountains, there are also lakes for water activities.
2. Texas
The lone star state does get a lot of flak from people but being such a huge state it varies widely from rural and barren to cities with bustling traffic- Dallas, Houston, to the gulf coast for water activities, the state varies widely and offers different environments to choose from. Texas is also ranked as one of the fastest growing states in the union. More affluent areas will cost you and cities of course are more expensive.
3. South Carolina
The state that is home to Charleston, South Carolina is home also to military bases. Both Carolinas have had substantial growth with North Carolina being more liberal oriented considering it swung democrat in the previous election but the area is growing and actually many northerners, both republican and democrat have been making the Carolinas their home because of the growth.
4. Arizona
While the state has seen an influx of people from California moving here making the state go more blue, it still is a republican state. The great thing about Arizona is that Phoenix has seen a lot of growth as well as for those that prefer a more arid environment, the state can be expensive in certain parts and also there are lakes in Arizona as well for those that want water activities contrary to the belief that the whole state is just desert. It is also close to many attractions that are both stunning and beautiful from a meteor crater to the Grand Canyon to a beautiful lake that is very popular with spring breakers.
5. Wyoming
My final pick is for republicans that prefer solitude and really don't like socializing with people in general would have to be Wyoming.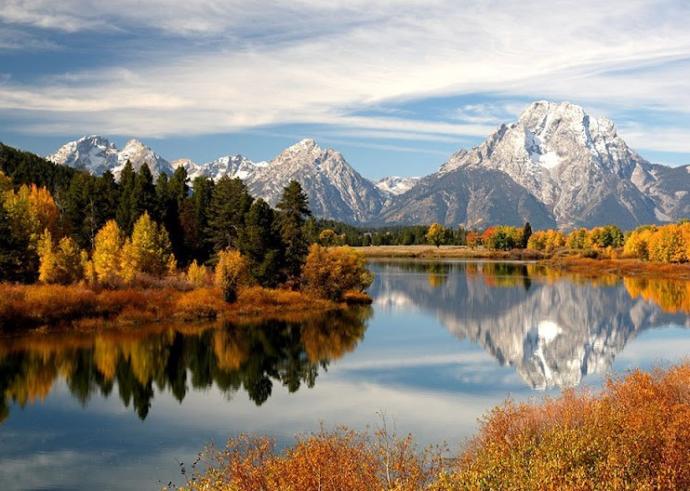 For Democrats
1. Vermont
It is tranquil and located in the north eastern part of the United States. The state is breathtaking and beautiful all around. I recommend anybody to come visit this state and to live here.
2. Colorado
This state has seen rapid growth over the past decade with many business moving here one of which we all know and what has attracted people to it as well.....need I say more but that is not all that the state has to offer. The nature is beautiful in Colorado and for those who prefer a more urban environment, Denver meets your needs. Colorado is expensive in certain areas, but still it is a good pick for democrats with many from the west coast especially, California moving here and actually all over.
3. Oregon
This state is home to Portland and while it is in the northwest and has sometimes crappy weather, it is a nice state. It is a toss up for democrats as many aren't really crazy about the northwest but still it is perfect for those who want to live in this area of the country.
4. California
Yes probably viewed as one of the most liberal states in the union, the state of California. California is pretty much liberal Texas, and Texas is pretty much conservative California. The state of California has different areas from big cities of San Francisco to Los Angeles and San Diego (San Diego is more on the conservative side) to the eastern part of the state where there are mountains for hiking, snow boarding, as well as lakes for water activities and the Pacific Ocean on the west coast. Long Beach, California has everything liberals could want. For those who want rural for liberals who want to live in the mountains for activities to those that prefer the cities for work or the tech industry or the beach by the pacific, this state has it all. Though, I will say that California is an expensive state depending on where you want to live but still it can be done.
5. New Mexico
My final pick for democrats that prefer solitude and to be alone would have to be New Mexico,the state is perfect for those who want to be secluded but still want to drive to California or other places as well. There is Arizona but you are going to find more republicans in Arizona, New Mexico is perfect considering that the state is blue.