Maybe some of you remember my question about this topic and my personal experience ... and the answers and arguments WHERE HEATED !!! Go ahead click on the link below and check the amazing comments:
WOMAN > MAN = $ (the direct link that leads you to my question 4 days ago)
Usually most of us were raised in families where our Father, the male figure, not only made most of the money but also made most of the important decisions.
But what if the woman takes that role and takes most of the decisions for various reasons ?
Are we breaking the law of nature? Should we as Women accept the fact of switching roles ?
Our mothers dream for their daughters was to earn as much money as a man, a revolutionary concept that got embraced. But nobody ever thought that TODAY a woman might actually earn more money than the opposite gender.
Do Women mind ? And most importantly, DO MEN MIND ?
These are the results from the poll :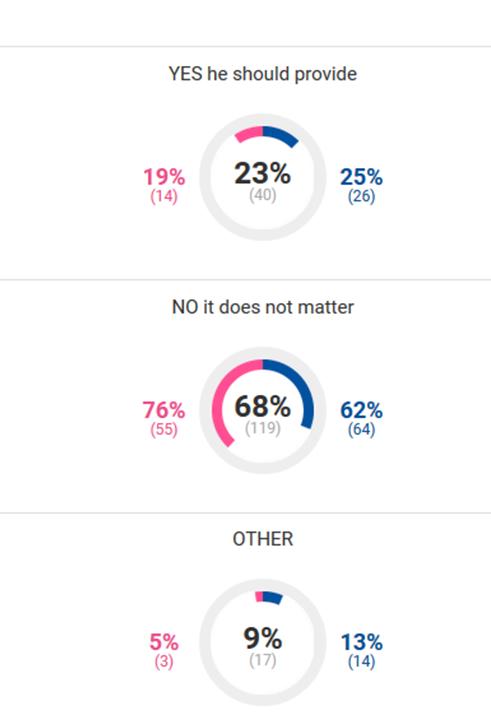 So surprisingly, most of the people didn't mind that a Woman can be a bread winner, without ruining somebodies "manhood" .
It might be true that a man's ability to single-handedly support his family was a point of pride a generation ago, but now both are considered to be ABLE to run a family equally, accepting and respecting this status.
I think it is possible, we just need to coordinate our thoughts and change aspects, and most definitely accept each other without making the partner feel anything LESS.
This does not mean that a Man is NOT ENOUGH FOR HER, and that HE has to do more for her, this actually puts your LOVE to test, to see if "she is still around even if you lost your job" kind of situation.
The problem is that society puts so much emphasis on money and social standing and it becomes difficult and hard to accept, to feel like someone's equal if you make less money than them.
But WE SHOULD COLLABORATE, we should celebrate our equality and it's possibilities NOW THAT WE CAN.
It is important to remember that at the end of the day, our paycheck is not what defines us.
We are worth much more than any amount of money we could earn.
So let's change the world by accepting diversity, by welcoming something fresh and wonderful such as equality, and accepting Women as bread winners.
Thank you