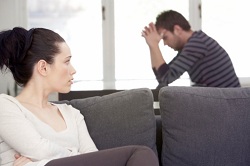 She helped him pack his stuff. Somehow hoping it would hide the pain.
She glanced at him as he packed his other things. He seemed normal. Like It didn't bother him. So she continued pretending she felt the same.
She checked around to see if there was anything else he forgot.
She saw his shirt lying on the floor. She picked it up and noticed it was her favorite shirt. She stopped for a minute while he continued to pack in the living room. She snuggled up against it for one last time.
Smelling his cologne. She closed her eyes. And pictured him holding her again.
"You're holding me too tight",
He smiles. "I don't ever want to let you go…"
She mumbles, as he kisses her forehead "Everything will be ok."
She sighed.
I don't want to fall in love again. She looked up into his eyes.
For a moment she felt lost, as he looked deeply into hers. "I love you", he whispered.
That moment, she felt her heart take over her body…
She swallowed the lump in her throat, and shook off the past. She noticed he was already standing by the door, ready to leave. She hurried to the front door, and handed him his shirt.
"Oh thanks," he said, as he tried to take it from her.
She held on.
She didn't want to let go… not just yet.
Maybe if she holds on tighter, then everything will be ok.
She looked up at him. But he looked so cold, and distant.
She couldn't believe this is the same man who made her feel so loved, so accepted, so special…
The man who promised her… forever.
So many things she wanted to say. But she couldn't open her mouth.
So many emotions possessed her. But she couldn't move her body.
Their eyes finally meet. An awkward silence surrounds them.
Can he see the pain in my eyes?
Can he feel my heart shattering into pieces?
Can he taste the tears of my soul?
How did we get here…
"I love you" she whispered.
He looked away.
A tear rolled down her cheek.
Please say something… her heart begged.
Still holding onto his shirt, she felt her heart slowly filling up with emptiness, as she watched him walk away.

---