#OnlineDating #WomansPerspective
It's hard to believe that it has been nearly 5 years since I met my boyfriend through online dating (Plenty of Fish, to be exact). It was quite the adventure, to say the least, and I can now say I am one of a luck few who found long-term success through online dating. But it didn't come easy.
Men assume women have it made when it comes to online dating and that we have the pick of the litter. Simple, right? No. The truth is online dating can be a nightmare for women.
For starters, we get bombarded with A LOT of messages (sometimes 100's a day), especially when first signing up to a dating site. Sorting through hundreds of messages can be overwhelming, and unfortunately, a lot of these messages remain unread or get deleted.
So you wonder, what kind of messages are filling up our message boxes?
"Hey" and Other One-line Openers
These types of messages will most likely get deleted. If you want a response, try getting a little more creative than just "hey". We female folk like it when you actually take time to read our profiles and respond with messages that show us you have a genuine interest in us.
"Sexy", "Babe" and Other Nicknames
You may think these nicknames are cute, but when they come from a complete stranger, they come across as creepy and degrading. These names are best saved for a relationship, not meeting women through online dating.
Perverted Requests For Sex
Dating sites are for people who want to date, not a F*ck site or some fantasy site to satisfy wild fetishes. If you are into that kind of thing, there are other sites that cater to that kind of thing (such as Adult Friend Finder). Just don't expect to get too many replies from these kinds of messages on a dating site (especially when women blatantly state on their profiles that they are NOT looking for a casual hookup).
Messages Focused On Physical Appearance
Yes, women like when men make them feel beautiful, but compliments about physical appearance don't feel special to us when they come from a stranger who we have never met. We want to know that you see us more than just an object. Try focusing on her personality and interests at first and save the complements on appearance for actual dates.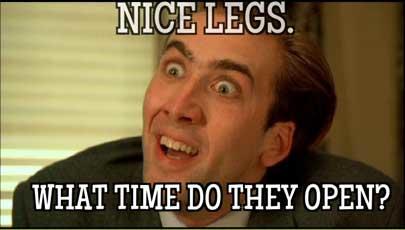 Unsolicited Dick Pics
And I emphasize, UNSOLICITED! No Woman ever wants those kinds of messages, ever. Yet for some reason, guys keep on sending them. So guys, just stop. Please. Keep it in your pants where it belongs.
Persistent Messages
In a real life situation, you wouldn't ask a girl out 3 or 4 times after being rejected, would you? The same logic applies to online dating. Persistent messages are perceived as annoying and pushy to us. If a woman doesn't respond to your message, just assume that she is not interested and move on.
Aggressive and Mean Messages
As frustrated as men may get with online dating, lashing out against women is never the answer. Online dating is already scary enough for women without receiving mean and threatening messages from men (and believe me, we do get them).
The Catfish
No article about online dating would be complete without mentioning catfish. Women and men alike get messages from people pretending to be someone they are not. Women (and men) have a right to be skeptical. If it looks too good to be true, it probably isn't.
...And Everything In Between
During my online dating experience, I received some weird messages from guys. Everything from older married men looking for a threesome to foreigners with marriage proposals, believe it or not. While these kind of messages pretty entertaining, any man with common sense should know that these types of messages will repel women.
This is just a glimpse of the some of the types of messages women receive on a daily basis. Yes, there are a lot of nice guys out there who are gentlemen (a point I will make in my next myTake), but, for many women, unfortunately it only takes a few bad apples to spoil the whole online dating experience.
Although I have only addressed the "online" portion of online dating, actually meeting guys in person is a whole other scary aspect for women. In fact, it is one of the riskiest things we can do. We all know there are lots of crazies out there; it is only natural for us to want to take precautions.
I know that online dating is a completely different experience for men, and there will always be guys who still think women "have it easy". I am hoping that this myTake has provided guys who have been unlucky with online dating a better understanding of women's experiences.
What has been your experience with online dating? This is your chance to share.
Stay tuned for my upcoming myTake with online dating tips for men and women!