Although originally this was intended to be short, and started out that way, unfortunately it did end up being ANOTHER long one. I know Gaggers can't bear long Takes but if I'm gonna talk about a topic, then I'm gonna say what I have to say. If you're not with me, that's okay, but some others will see it through.

A while ago I went out to eat with a Filipina I met on the Whisper app, what I anticipated to be a nice next shot after the first woman I also met on there ended up ghosting me the week before. It was not. Last Sunday evening, Gabriela (not her real name) and I decided to meet up at a Korean restaurant because she was "starving." I actually showed up first and texted her, and she said for me to wait for her (obviously!). When she finally came she was friendly right away, and actually was more attractive in person than in her photo. A short Filippina with a nice body and big breasts. But our evening was a complete drag.
Not an actual photo of me or my 'date'

Gabriela was in a hurry to order, and didn't seem to want to talk much, only wanting to eat as soon as she could. I tried to make conversation, mentioning things that some other women would easily engage in, but she hardly did, and didn't even really ask me a lot of questions either. For most of our short evening she was more interested in watching the dumb K-pop music videos on the restaurant's TV. She also got full really fast and didn't want anymore of what we ordered. And THEN she answers a call from one of her girlfriends about a dilemma she was having. And THEN says sorry, she has to get down to Virginia to be there for her.

A total. Drag. One of the worst experiences with a female I've ever had. Even though she apologized and said it'll be better next time, we both knew when we walked out of the Korean place that we wouldn't be seeing each other again.

How women can improve at dating…
Most times people just want to teach us that it's guys who are the ones that largely fail at dating and make a bunch of mistakes, when in truth quite a lot of women are and have failed miserably at the game themselves. We know there have been guys who were awful on dates, and people think we're in desperate need of "coaching" and put little to no emphasis on teaching women what and what not to do, but they could learn some important things of their own in how to be better at it.
My story with Gabriela is only one case, and I don't use it to say all women are like her, but it is just one example. And it did prompt me to write this Take out of my own dissatisfaction with the whole dating game. I'm not gonna hit on any cliche surface points like looking good, being clean, etc. We know that's important, but I'm touching on core issues here. So I'll start with one of the really big headaches for us guys...

No longer texting…
I've heard women talk about how bothersome it is when a guy they like won't text back anymore, how it gives them anxiety and is frustrating. And while I'm sure there are definitely guys who do this, I think it's much more common for guys to experience this vice versa, and this is because 95% of the time the guy is usually the one initiating conversation.

Female logic can be a very peculiar thing. In a woman's mind, it makes sense to just stop talking to a guy they're no longer interested in. They seem to think slipping away quietly, turning off their notifications, and not responding to his messages anymore is the answer. They don't have the courage, maturity, or decency to get back to him and say something like: "Hey, I'm sure this will probably come as some bad news, but I don't really think we're gonna work out. I don't really feel like we click. Just felt like I should be honest with you and let you know." Only a tiny few women I met online have actually done something like this when we talked, and although it can sometimes be sad or disheartening, in the end I still appreciate deep down that she could tell me.

I'm sure some women will try to say, "Yeah, well, I did that once and he still called me a bitch." Maybe, but it doesn't mean the next guy will act the same way. And even if he does you're still doing the right thing.

No longer texting 2: "I've been busy"...
Sometimes it is true that a woman is so busy that she can't get back to you right away or for hours, but I honestly believe that this is a BS excuse 85% of the time. Why? Because they're still using any pockets of free time to either talk to another guy they're not telling you about, or their friends, or waste away on their apps. Let's be real about something here: a mean but true fact is that women are social media retards more often than men. They spend hours on Facebook, Instagram, Snapchat, etc. putting up selfies and pointless posts about where they ate with their girlfriends last night, pictures of their Corona in a glass, overused cliche quote posts about "moving on" and he's-the-problem-not-you, etc. And they're even a doing a lot of this while they're on their jobs but saying they're "busy." I even see it all the time with my female co-workers.
And if you confront them about it, they'll get mad and try to tell you they don't have time to be online all day and actually "have a life," but you as a guy know better and know what's going on.

If you can waste away on all this then you're not that busy, and you can still drop a guy a note letting him know you two are still good. Or, you can be honest and tell guys that you two aren't gonna make it, instead of lying about being busy hoping he'll give up eventually.

Too often women have an arrogant, pointed-nose attitude that "I don't have to explain myself for why I do what I do/why I don't do what I don't do" yet will hate it if some guy comes along and treats them the same way. Actually, sweetheart, yes. There are times where it is better to humble yourself and explain regardless of whether you think so or not. Don't see yourself as justified in your own eyes for everything.

Almost every guy is "boring"…
Women also often treat dating as an entertainment arena just for them. They have a one-way lens perspective where they feel that it all depends on how the guy will intrigue her and "keep her interested." If he doesn't say all the things she likes to hear or all the things that will "make her laugh" or be her kind of conversation, then he's "boring." Not many women really think about if they might be boring to a guy or how they can intrigue him. For women, it tends to be a let's-sit-back-and-see-how-you-thrill-me kind of affair. They want fast satisfaction, and if a conversation or moment isn't picking up how they want right away, they've lost interest and aren't willing to carry on a little further and see how it pans out. Thus, the guy is automatically given a "Boring" stamp and passed down the belt.

Men are different from women. We often like to see how things can go with a female even if it does seem a little shaky or bland at first. Unless we can see that she's really not someone we want to try with, we generally are more open-minded and have more patience in giving something a chance. Women, however, are prone to changing quickly and have short attention spans in dating. Their logic tells them to readily become disinterested in a guy fast just because nothing is clicking yet in the way she wants, and they like to talk about all the guys they aren't/weren't interested in; a way of bragging to the world that there are guys who like her that she doesn't like back. Females actually spend more time talking about not being into some guy than when she is into one, because subconsciously it gives her a sense of power and control in who she thinks can and can't have her.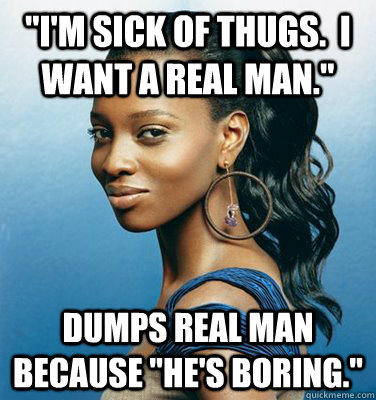 My advice to women would be to come to the table being aware of how you yourself can appear to a guy. Don't view yourself as so interesting in your own eyes that guys will or should think so too, because by seeing every guy as boring you're basically saying you think all your own ideas, topics, and character are MORE appealing than they are, and you don't really want to get engaged in their world or see what it's about. Learn to see things differently in understanding that some guy isn't automatically boring just because he doesn't talk about what you're expecting.

"You come off as…"
Women also have an overthought tendency of viewing everything a guy does, is, or says as coming off as something. And this in itself can ruin the fun in getting together, so women really have to change this. If a guy is texting every morning or evening after work, or wants to hear from you regularly, it means he's "clingy" or "desperate." If he really, really likes you and keeps suggesting you two go out together, it means he's "desperate"(again) or "pushy." If he says something out of the ordinary or even a little bit fresh and flirtatious, it's "random" or "creepy." Well, I'll be damned. When I really like a woman I want her to know it, and I do want her to recognize it as a serious thing, not as a string of actions she can try to label and determine is this or that.

Females view almost any behavior from a guy as something negative or a turn off just because he's interested, yet she wouldn't see it that way in a guy she thought was super good-looking or had a bad boy personality she thinks is sexy. So is it that a guy is really "coming off" as something? Or it's just your own perception based on how you pick and choose? Also other times, women tell a guy that he comes off as something less desirable as a lie for the fact that she doesn't really like him and can't say it, so she uses that as an excuse and hopes he'll go away.

It really isn't necessary to read so deep into a guy's behavior or interest in you as being worse than it is. A lot of times females choose to let themselves be scared away from a guy because they want to let their mental fears and apprehensions decide for them that this or that guy is coming off as weird, needy, desperate, creepy, etc. even if he really is not. Often times, women have actually robbed themselves of opportunities to know a really great guy but missed out because of her preconceptions.

Actually bring something to the table…
Another dating problem - if not the the biggest - is that it largely is very one-sided. Meaning that 99% of the time it is the guy putting in most of the effort, putting his best foot forward, and trying to make the best impression. I'm not saying a woman has to necessarily make the first move or approach a guy, but when the guy makes the move, women can get involved.

I know for me, a lot of the time when I've talk to a woman I'm interested in, whether it's real life or online, I'm the one doing most of the talking while they just want to sit back and see where it goes, see if I'll eventually suit her fancy, though this has largely been the case with younger women. They don't offer back much about themselves or ask many questions to know where I'm coming from either. They really just want to see if I'll be interesting enough for her without her really getting involved back. And I know this is also a headache for a lot of other guys.

It's also even a really big problem with online dating. Probably the worst. Things are set up to be too one-sided. The women have their profiles up with all their details or "expectations" in men, and basically just sit back and wait for guys to come and message them, yet don't really care to get involved with them or see where anything could go, rather preferring to just see them as bugs. They want you to care about them and think they're great, but don't care about you.
Most feel that they're way too above ever messaging a guy first, because (1) they think as a female they shouldn't have to, and (2) think doing so makes them look "desperate"(again), or shows weakness to let a guy know they're interested. Very few women have ever messaged me first on dating sites in the past. And you can message them based on how they ask for you to, by relating to their interests, and they still may not respond because of other factors about you that still don't suit them like your looks, race, profession, or salary.

You have to look at yourself…
Are there guys who've failed at dating and done all the wrong things? Certainly. I've made my own mistakes. But women also need to recognize that they actually are not as better about dating like they do tend to think. Their focus is often on how the guy should act or things he shouldn't do, and they have to humble themselves and realize that there are things they themselves must improve on. Guys are noticing all your behaviors too. We can see how you're messing up where you think you're really acing at it.