*Disclaimer: The following is a review based on my own experiences and is not a paid endorsement. I am not affiliated with Bumble in anyway.
So I've been back on the dating scene for a while now (yes, I will spare you the sob-story of how this came to be, but if you really must know, you can read about it in one of my previous myTakes, here). Since then, I've dabbled in a few different dating apps, with varying degrees of success. One app that I have had the most success with is Bumble affectionately nicknamed the "Feminist Tinder". To find out more about Bumble and what its all about, lets compare it to a similar dating app, Tinder:
Bumble Pros & Cons
Women are in control
Bumble isn't nicknamed the "feminist Tinder" for nothing. Unlike traditional dating apps, with Bumble, Women are in control. When you swipe right and a match is created, Women have 24-hours to make the first move and initiate the conversation. For women, this means no more unwanted (and often lewd or creepy) messages from dozens of men. For men, this means not having to deal with feelings of rejection that result from sending many messages and not getting any responses in return. To me, that's a win-win.
As a side-note, it is also interesting to note that unlike most other dating apps, Bumble is reported to have a relatively balanced male-to-female ratio (55% to 45%, respectively).
Matches are specific
Unlike some dating apps that include every Tom, Dick and Harry within a thousand miles, Bumble lets you narrow your potential matches by distance. Likewise, Bumble lets you narrow your search even further by age-range, so you don't need to worry about people too old or too young matching with you.
Unlimited swiping
Unlike Tinder, Bumble's free version offers unlimited swiping. With many potential matches appearing everyday, you can swipe until your hearts content!...Until you run out of matches for the day. The great thing is that, when you run out of potential daily matches, you can simply widen the search distance parameters to include more men/women.
Its Free
Like Tinder, the basic features of Bumble are free. With the exception of features like SuperSwipe (lets a potential match know you are interested before they swipe) and re-matching with expired matches, which are available under a paid subscription (called BumbleBoost), the basic version is honestly sufficient enough.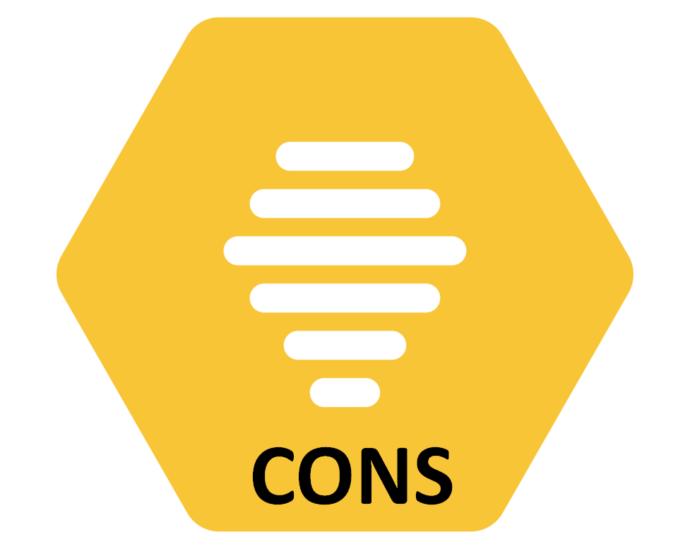 A limited time to respond to matches
Once you have matched with someone on Bumble, Women only have 24 hours to respond to their matches, and once they have, guys only have 24 hours to reply in turn. After 24 hours are up, the connection is lost forever (or until you happen to swipe across them again or subscribe to BumbleBoost). Although this time-limit encourages women to use the site more often and respond to their matches, this time-limit is unrealistic for people with busy lives and who are not on the app every day. Fortunately, Bumble gives both male and female users the Busy Bee option, which allows you to extend one match a day for another 24-hours.
Visually based
Like Tinder, Bumble is a visual-based dating app, that focuses more on appearance through profile photos rather than personality and other important characteristics (although, to be fair, most online dating is visually-focused). Furthermore, Bumble only lets you give a very brief "About Me" blurb, with a 300-character limit (versus Tinder's 500-character limit). As a result, users must be creative with their profiles in order to catch the attention of potential matches. Because pictures are the focus of this app (you can upload up to 6), it is important to make them count. After all, they say a picture is worth 1000-words.
Search criteria not specific enough
Although matches can be narrowed down by gender, age and location, which may not be specific enough for some people. As a result, other important search criteria, such as wanting/not wanting children or smoking/drinking habits are not available. If you are the picky-choosy type looking for specific attributes in potential matches, then this app may not be for you.
More Than Just A Dating App
Bumble is primarily a dating app, but you may be surprised to hear that Bumble is not just for dating! Bumble can also be used to make new friends and professional business connections through two new features available through the same app: bumblebff and bumblebizz.
Bumble BFF
Like dating, making new friends when you are an adult can be difficult. Bumble BFF allows you to find new friends or just meet new people in your area who are the same gender. whether its a new work-out buddy or wing-man/woman, you'll be sure to find someone who shares similar interests as you. It may be a little strange and unconventional finding friends via an online dating platform, but it is great for people who want to try a new approach to meeting friends.
Bumble Bizz
Another new feature on Bumble, which premiered earlier this year, is Bumble Bizz. Bumble Bizz offers a professional networking platform in order to make potential business connections. Although this feature is only in its infancy, and is currently only available in select countries (The US, Canada, The UK, France, and Germany), it may just help boost your career or next business venture.
The Final Verdict
I personally prefer Bumble over other dating apps for the very reason that it is a different and novel approach to online dating. Overall, it has great value for the price (you can't argue with free), it is easy to use, and seems to have a higher quality of members than other sites. Like many other online dating apps (or online dating in general), Bumble has its pros and cons. But for those of you who are tired of conventional dating apps, Bumble is definitely worth a try.
Want to give it a try? Download the Bumble App here
Happy Bumbling!