Disclaimer: I am not against interracial dating, I'm simply stating why others are so against it.
I was out late one night with a friend of mine (who happens to be a girl). We were sitting on a bench outside and enjoying the night sky as we talked about how our lives have been. As we were talking, a middle-aged black couple walked by us and stared at us, whispering to each other, as though we were doing something wrong. After that happened, I knew what was "wrong", it was because I'm a black guy presumably dating a white girl (in the eyes of that couple). The reason that I knew that was because I've gotten that same stare when I was actually talking to girls, who weren't of my race, out on a date. It lead me to wonder why people care so much about dating within your race.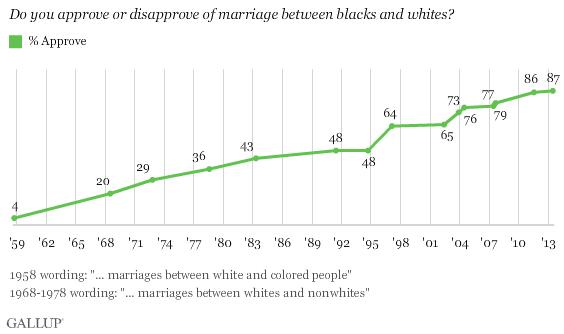 (Line graph of the Black-White marriage approval percentage from gallup.com)
Because of these events and all the hate on interracial couples on the internet, I've decided to dig deep into why some people have such disgust in interracial couples. Although the majority of Americans don't mind interracial couples, with 87% of Americans in 2013 approving of Black-White interracial marriage according to gallup.com as shown above (and yes, I know there are other races out there, but since I'm black I can't speak for the rest of the races), there are still some out there that don't approve. But why? Here's what I've discovered:
It boils down to two human traits, humans naturally wish to have a sense of belonging and humans are tribal by nature. Since the early age of humans, people have been born into tribes. These tribes would rival and rage war against other tribes in the area. The people within these tribes have a proud sense of "nationalism" for their tribes because they were born into them. Being born into a tribe gives you a sense of patriotism for your tribe, the same goes for being born into a race. Being born into a race gives the person the upmost sense of belonging, as it is a thing that happens by chance and it's something other people (normally, meaning without plastic surgery and such) can't change into. Overtime, these tribes grew larger and larger via destroying rival tribes and the citizens of those rival tribes assimilating to the conqueror tribe's culture, and so did the reasons to fight other tribes.
Soon these tribes became countries and those countries would fight other countries, then it would be races fighting other races. Let's look at slavery in the US for example. When white people brought slaves from Africa, they did not think of them as humans. This is a tribal instinct (and also a lack of intelligence). Since the Africans had darker skin and different facial features than white people, they were not considered a part of the tribe, and therefore deemed an enemy. Another great example was post-slavery. Why was segregation a big thing in the US? Because White people did not want people who didn't look like them to assimilate into their tribe. This may seem like common knowledge to some, but it's important to what I'm getting at.
Obviously, black people are thought of as humans today because the future generations saw how horrible the treatment of black people was and saw that they are humans too, but are humans still tribal today? Yes and here's why. Tribalism is in every country around the world. Who they rival against, or if they rival against anybody depends on the country. In the US at least, there is a mix of different races and ethnic groups and we, supposedly, value the idea of the individual, but there are still tribes that exist in the US today, they are called racial communities. You know, the black community, the white community, the latino community (yes I know that's not a race).
Since I'm a black guy, I'm gonna talk about the experience from the perspective of the black community. Although most black people don't mind other black people dating outside their race, there are a select few that get angered by it. It is an unspoken rule to date other black people in the black community because they are so concerned about "preserving the race". It's the same language that alt-right white supremacists use. They have to keep the tribe pure and long-lasting, which means that you have to breed within the tribe. Although I'm open to dating within my race, most of the time the girls I take out are girls who are outside of my race, not to make a statement, but because I like them.
They would use arguments such as, Do you hate your mother? You must hate yourself. You're in the sunken place (stupid argument by the way, I don't get why people use a fictional movie as an argument to date within you race). I don't get why you don't date a sista. A black girl would make your life a whole lot better. Why do you not want to date someone who looks like you? All of these arguments are basically a modern way of advising to stay within the tribe. Every time someone asks me why I'm not dating a black girl, I say it's because I don't have to and because I like the girl that i'm with. To me, it's stupid to even think that way. Let's say that there's a guy named Timmy. Timmy has a two girls that are interested in him. One of them is incredibly gorgeous, has an amazing personality, and he can see a future with her, but she's not the same race as Timmy. The other girl isn't as attractive as the first girl and she's stuck up and arrogant, but she's the same race as Timmy. I'm not going to tell Timmy to B-line to the second girl so he can preserve his race. He will obviously be very unhappy with the relationship.
Here's my stance with the situation. In the next million years or so, the sun will cease to exist, and so will life on earth. We should not be concerned with such a small thing as preserving the race we were born with. Instead, we should worry about humans as a whole, because that is what we are at the end of the day, humans. We should value the idea of the individual instead of the tribal racial community. But I can't change human nature. There are still people who are going to be tribalistic. I can only change how I live my life. I get that most people date within their race, and that's totally fine, but this is for people who are against people dating outside their race. I'm not saying to only date outside your race to make a statement, or you should be ashamed to date within your race, I'm saying that it shouldn't be a problem if you do happen to date outside your race, do what makes you happy. And with that, this concludes my mytake. Feel free to leave comments!
---