1. The Gold Digger
Tag Lines: "I would go out with you tonight, but someone hasn't paid my phone bill yet." "With this body, you should be paying for it." "Can I borrow a thousand dollars, I have a thing"
This is the woman who expects and demands that money only go from your hands to hers and never the other way around. She isn't' the street corner type, but she might as well be as you will never get her to do anything without paying her first for her services which include the following extensive list: "existing."
How it Ends: her cheating on you with someone with more money, your friends saying 'I told you so," and/or a financially devastating divorce..for you.
2 . Miss (completely) I-N-D-E-P-E-N-D-E-N-T
Tag lines: "I don't need a man." "I don't need you to take care of me." "why would I ever move in with/marry...you"
There is an independent woman and then there is this girl. On paper, she seems great---makes and spends her own money (never any of yours), does her own thing, handles literally everything, but look a little closer. Odds are she had a rough upbringing or really bad relationships with men who left her high and dry so she's developed a concrete wall 100 ft high and 10ft thick which you are now trying to scale without any luck. She will literally let you know you are not needed and can easily be replaced by her at any moment. As hard as you may try to do the simplest things in the relationship for her like show any type of affection, talk to her about a bad day, or fill up her gas tank because you saw it running low, she rebuffs your efforts at every turn because "she is not weak, not now, and not ever."
How it ends: expect the only tears and frustration to be your own when she definitely breaks up with you. In mere seconds after the deed is done, it will be straight back to her being number one in her life as if you never existed and since there is no evidence like any social media selfies or a joint lease to prove otherwise, you may begin to doubt to yourself that you ever actually were with her to begin with.
3. The Puppy Wrangler
Tag lines: "A good boyfriend would have done exactly what I asked" "We're leaving now, get up, come on, let's go, you can call them later" "I told you what your problem is, so fix it"
Have you noticed a few red marks on your neck...from the leash she's got tightly fashioned to it? You thought you were pretty capable of managing life before you met this girl, but all of sudden she's texting you because you said you were going to the store, but you dared step out of the tracking range on your phone that she monitors all day. Step out of line, it's a bop to the nose for bad behavior and guilt trips and drama over literally nothing. She's not the crazy one, you're the crazy one for not doing exactly what she says when she said it.
How it ends: in the most spectacular drama filled 6 week break-up of your life replete with 100 back to back phone calls, a screaming match in the parking lot of your job, several hard line ultimatums, an embarrassing untrue Facebook post about your micro d--k, and you having to move to avoid her violating the now active restraining order you had to put out against her.
4. The Insecure Dependent
Tag lines: "I know you said this doesn't make me look fat, but it makes me look fat right" "It's cool that I just showed up right, I didn't want to be alone" "you haven't said you love me in a while (1 day), do you still love me"
You're not a psychologist but you're pretty sure this girl 100% has crippling self-esteem issues. This is your 12th time today letting her know she's beautiful just the way she is and yet she's crying over her spaghetti Bolognese because she saw her reflection on the way in to the restaurant. She has not friends and no life. She follows you around like a baby duckling always needing to be near you and your constant affirmations to the point where going to the bathroom has become your only 'me' time. The more you think about it, you've started to notice that when you mention to your friends, the mail man, a professor, that you're dating, they all say things like "good luck with that one."
How it ends: You. Ghosting. Her. Yeah, it's a d--k move, but a man can only validate that parking for so long before he knows she needs to find another spot.
5. The Rebound Friendship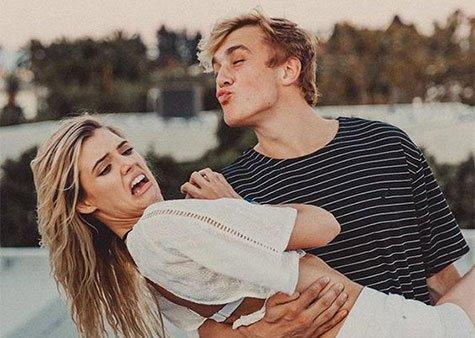 Tag lines: "When I see my ex, I just get all confused, you can't judge me" "This is my friend (insert your name here)" "I think...I love you, maybe"
You've never been in a hurry to call whomever you're dating, "a thing" but now you're totally confused. This girl told you she was breaking up with her boyfriend and you swooped in. She snuggled in your arms and let it all out and told you, you've always been such a good guy and one she needs in her life. You may have started out in the friend zone, but you've since gone on a few dates. However, this girl has mentioned her ex far too many times for you to feel comfortable but she's definitely like flirting with you, right? Out of respect, you were taking it slow, but she kissed you that one time. Maybe she introduces you as her friend because the break-up is too raw and it's too soon for the "boy" to be added to the front end of that.
How it ends: with you finding her out on a date with her boyfriend (not her ex) and her giving you the long speech about how she's not cheating on you because you were only ever such a great friend to her and that her one cheek kiss meant literally nothing and she had no idea you thought those were dates rather than her just venting about her boyfriend.
---