I have so many movies I love. Here is a large list of every movie I consider my favorites.
1. Lemony Snicket: A series of unfortunate events-
After the three young Baudelaire siblings are left orphaned by a fire in their mansion, they are carted off to live with their distant relative, Count Olaf (Jim Carrey). Unfortunately, Olaf is a cruel, scheming man only after the inheritance that the eldest Baudelaire, Violet (Emily Browning), is set to receive. The children escape and find shelter with their quirky Uncle Monty (Billy Connolly) and, subsequently, their phobic Aunt Josephine (Meryl Streep), but Olaf is never far behind.
2. Suckerpunch
Locked away, a young woman named Babydoll (Emily Browning) retreats to a fantasy world where she is free to go wherever her mind takes her. Determined to fight for real freedom, she finds four women -- Rocket, Blondie, Amber and Sweet Pea -- to join together to escape the terrible fate that awaits them. With a virtual arsenal at their disposal, the allies battle everything from samurais to serpents, while trying to decide what price they will pay for survival.
3. Titanic
Pretty sure you should know what this one is about.
4. Cry Baby
A prim and proper schoolgirl goes against her mother's wishes when she dates a motorcycle-riding juvenile delinquent. And it has Johnny Depp in it.
5. Corpse Bride
Victor (Johnny Depp) and Victoria's (Emily Watson) families have arranged their marriage. Though they like each other, Victor is nervous about the ceremony. While he's in a forest practicing his lines for the wedding, a tree branch becomes a hand that drags him to the land of the dead. It belongs to Emily, who was murdered after eloping with her love and wants to marry Victor. Victor must get back aboveground before Victoria marries the villainous Barkis Bittern (Richard E. Grant).
6. Nightmare before Christmas
You should have already seen this. Come on folks.
7. The Mist
After a powerful storm damages their Maine home, David Drayton (Thomas Jane) and his young son head into town to gather food and supplies. Soon afterward, a thick fog rolls in and engulfs the town, trapping the Draytons and others in the grocery store. Terror mounts as deadly creatures reveal themselves outside, but that may be nothing compared to the threat within, where a zealot (Marcia Gay Harden) calls for a sacrifice.
Warning: You might cry. Also a great book.
8. Guardians of the Galaxy
Brash space adventurer Peter Quill (Chris Pratt) finds himself the quarry of relentless bounty hunters after he steals an orb coveted by Ronan, a powerful villain. To evade Ronan, Quill is forced into an uneasy truce with four disparate misfits: gun-toting Rocket Raccoon, treelike-humanoid Groot, enigmatic Gamora, and vengeance-driven Drax the Destroyer. But when he discovers the orb's true power and the cosmic threat it poses, Quill must rally his ragtag group to save the universe.
9. Sweeney Todd: Demon Barber of fleet street
Evil Judge Turpin (Alan Rickman) lusts for the beautiful wife of a London barber (Johnny Depp) and transports him to Australia for a crime he did not commit. Returning after 15 years and calling himself Sweeney Todd, the now-mad man vows revenge, applying his razor to unlucky customers and shuttling the bodies down to Mrs. Lovett (Helena Bonham Carter), who uses them in her meat-pie shop. Though many fall to his blade, he will not be satisfied until he slits Turpin's throat.
10. Repo at the Genetic Opera
In the mid-21st century, an epidemic of organ failures leads to the rise of GeneCo., a company providing transplants at a great price. Those who miss their payments become targets of GeneCo. mercenaries, who repossess the organs. In a world of drug addiction and legalized murder, a sheltered youth (Alexa Vega) seeks a cure for her rare disease as well as information about her family's mysterious history. Her questions are answered at "The Genetic Opera." Very macabre and you might cry at the end.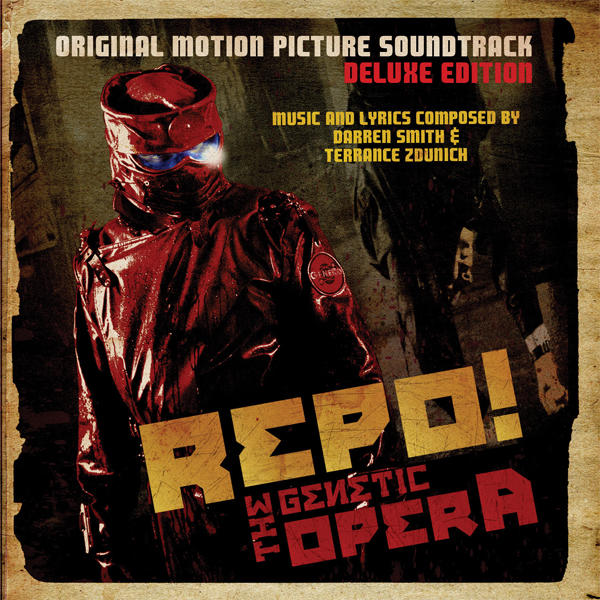 11. Austin Powers: Goldmember
Teaming up with the mysterious yet peculiar Goldmember, Dr. Evil hatches a time-traveling scheme to take over the world, one that involves the kidnapping of Nigel Powers, Austin's beloved father and England's most renowned spy. As he chases the villains through time, Austin visits 1975 and joins forces with his old flame, Foxxy Cleopatra, a streetwise but stylish detective. Together Austin and Foxxy must find a way to save Nigel and stop Dr. Evil and Goldmember from their mischievous mayhem.
12. Scary Movie 4
Dim-witted Cindy Campbell (Anna Faris) and her sex-crazed friend, Brenda (Regina Hall), team up with cute-but-clueless Tom Ryan (Craig Bierko) to save the world from a hostile alien invasion, with hints of "War of the Worlds," "Saw II," "Million Dollar Baby" and "The Village." Celebrity cameos include Carmen Electra, Shaquille O'Neal, Dr. Phil McGraw, Bill Pullman, Molly Shannon and Michael Madsen.
13. The Conjuring
In 1970, paranormal investigators and demonologists Lorraine (Vera Farmiga) and Ed (Patrick Wilson) Warren are summoned to the home of Carolyn (Lili Taylor) and Roger (Ron Livingston) Perron. The Perrons and their five daughters have recently moved into a secluded farmhouse, where a supernatural presence has made itself known. Though the manifestations are relatively benign at first, events soon escalate in horrifying fashion, especially after the Warrens discover the house's macabre history.
14. The original Spongebob Movie
In this lively animated adventure, undersea oddball SpongeBob SquarePants and his starfish friend, Patrick, embark on a quest to clear the name of Mr. Krabs, the owner of the Krusty Krab restaurant, who has been framed for stealing the crown of ocean deity King Neptune. Leaving the familiar confines of Bikini Bottom, SpongeBob and Patrick venture out towards Shell City, where they hope to find Neptune's crown, but numerous obstacles stand (or float) in their way.
15. Pocahontas
You should have seen this already!
16. The Emperor's New Groove
Arrogant young Emperor Kuzco is transformed into a llama by his power-hungry advisor -- the devious diva Yzma. Stranded in the jungle, Kuzco's only chance to get back home and reclaim the high life rests with a good-hearted peasant named Pacha. Together, they must return Kuzco to the throne before Yzma tracks them down and finishes him off.
17. Charlie and the Chocolate Factory
Based on the beloved Roald Dahl tale, this comedic and fantastical film follows young Charlie Bucket (Freddie Highmore) and his Grandpa Joe (David Kelly) as they join a small group of contest winners who get to tour the magical and mysterious factory of eccentric candy maker Willy Wonka (Johnny Depp). Aided by his diminutive Oompa Loompa workers (Deep Roy), Wonka has a hidden motivation for the tour, one that he will reveal only after the children in the group show their true colors.
18. All Pirates of the Caribbean
You should also know this!
19. All Harry Potter -Mainly Goblet of Fire and Halfblood Prince
The fourth movie in the Harry Potter franchise sees Harry (Daniel Radcliffe) returning for his fourth year at Hogwarts School of Witchcraft and Wizardry, along with his friends, Ron (Rupert Grint) and Hermione (Emma Watson). There is an upcoming tournament between the three major schools of magic, with one participant selected from each school by the Goblet of Fire. When Harry's name is drawn, even though he is not eligible and is a fourth player, he must compete in the dangerous contest.
20. V for Vendetta
Following world war, London is a police state occupied by a fascist government, and a vigilante known only as V (Hugo Weaving) uses terrorist tactics to fight the oppressors of the world in which he now lives. When V saves a young woman named Evey (Natalie Portman) from the secret police, he discovers an ally in his fight against England's oppressors.
21. Open Waters 2: Adrift
Six long-time friends (Susan May Pratt, Richard Speight Jr., Niklaus Lange) try to stay afloat in the ocean after they forget to lower the ladder from a luxury yacht.
It rated poorly with critics but honestly, it's a very good movie and it hurts my heart to watch the ending but it's so good.
These are definitely different types of movies, but I love them. I suggest you to watch ALL OF THEM!
---