It is not crazy to say that the person who has the support of the most powerful army and the support of the people will be the one to rule them all.

But who would that be?
***SPOILERS***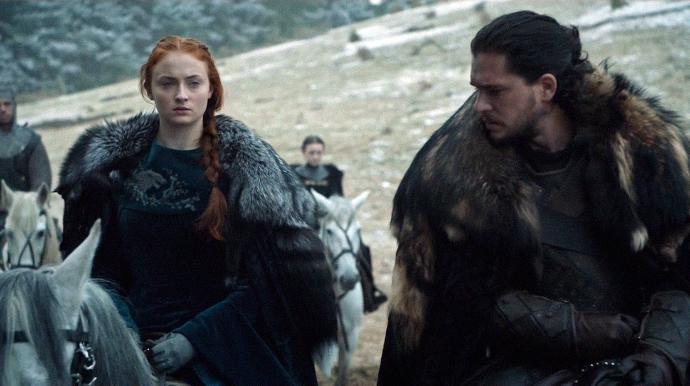 Since Jon Snow was supposed to die, the author didn't really want to resurrect him in the next season, didn't count on him to be alive any longer, then he's out of the race.
But, the Starks are very well loved by the people, and accepted as we see the ending of the last season > so the winner here, with the support of many borrowed armies and the love of people Sansa Stark or Arya Stark may be the winner here... (If Arya chooses to take that path.) I'm more inclined to see this unfolding as Arya helping her sister win it. Also Sansa using Little Finger for her own gain for once...
Now, let's move on to Daenerys Targaryen. She has the love of people, she is powerful, she seems to accumulate armies and people's faith as well as the 'imp's' allegience. Hmmmm...also she has dragons. Something no one else has. She might be the strongest, clearest winner here, even if her storyline isn't as interesting these last two seasons as of the other characters...
Samwell Tarly...yup, Sam. He might seem like the least relevant character here, but since he IS based on Samwise Gamgee from LOTR, and he did just enter the library that may, in fact, hold some pretty important secrets as well as the key to more efficiently kill white-walkers, he may be the real key to the whole thing. I'm not saying he'll be the king, not that he's even trying to, but he may be the right hand man to whomever turns out to be the one, and is a lot more valuable than the audience gives him credit for.
Cersei Lannister - well...here's the thing. Since she's such a dark character, she caused the death of her last child...and the child before that inadvertedly...she WILL die before she gets the thing she's going for. Maybe Jamie will kill her. Maybe Daenerys will. I'd like Arya to do it, personally, but that may not happen. So it's pretty safe to say Cersei is out of the race.
So who will it be?
Sansa with Arya's help?

Daenerys with the help of Tyrion?

Sam himself or possibly helping out the Starks?
---