Note: I'm not going to beat the dead horse anymore. Spygate, and Deflategate were scandals, and whether they were legitimate, or not, they are enough to ruin a player, and coach's legacy. For all intents, and purposes, we'll just ignore these scandals, and objectively look at Tom Brady without those scandals hanging above him. It's not that I agree, or disagree-I just don't want this MyTake to be focusing on these scandals. We'll simply look at Brady from an athletic standpoint, and how effective he still is as a Quarterback.
For anyone remotely familiar with the National Football League(NFL), you know who Peyton Manning was.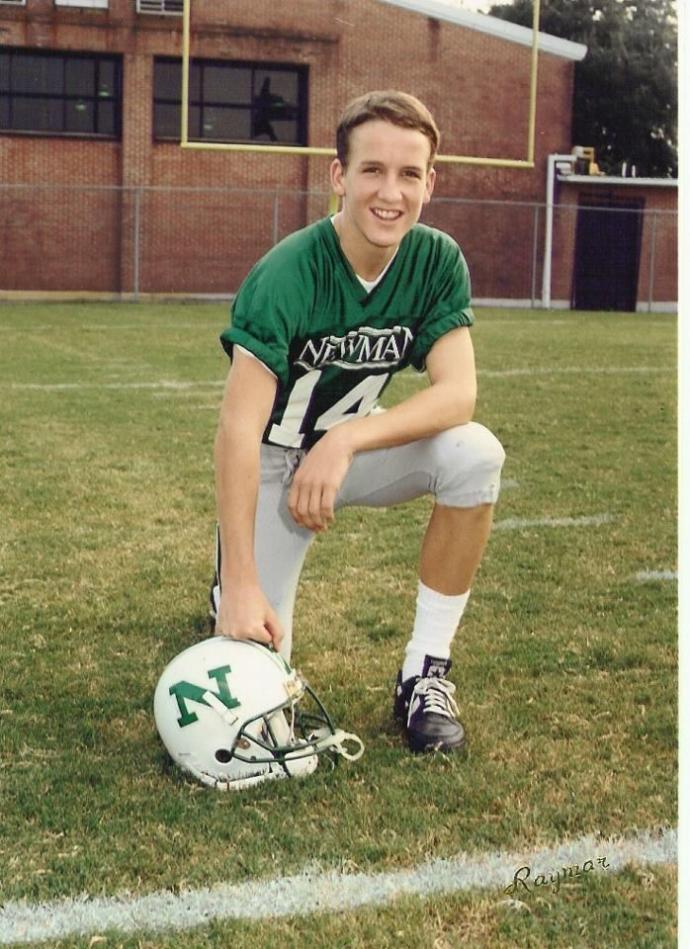 Peyton Manning was arguably the greatest Quarterback to ever play the game. He had regular season records for virtually any statistic, and he was simply a phenom. However, there was one dark cloud which hung over Manning for his entire career: His performance in the postseason. Many people I knew would state the following about Manning: "Peyton Manning is one of the best to touch the pigskin, but he sucks in the playoffs." I would refute back "He doesn't suck in the playoffs, he just isn't Peyton Manning in the playoffs." And that statement was dead to rights accurate. He did above average in the postseason-better than a majority of Quarterbacks-but compared to his normal Peyton Manning self, he wasn't near as effective in the playoffs as he was in the regular season.
Fast forward to the 2018-2019 NFL season, and I feel like I'm experiencing De Ja Vu, except now the guy's name is Tom Brady. "Tom Brady sucks this season", I hear people say. I've even came across Patriots fans who sighed to me "I knew Brady would suck eventually", and other nonsense.
Tom Brady doesn't "suck", and he's never "sucked." In this 2018 regular season, he didn't "suck" at all. What happened? He just hasn't been playing in the cream of the crop tier. Now, he's playing in the next tier down-and arguably two tiers down from what he normally does.
In other words, Tom Brady is still doing good-he's just not playing like Tom Brady anymore. And for some NFL fans, that's enough to fill your head with a big dose of cognitive dissonance.
What happens, is you get used to legendary athletes playing at such an absurdly high level of performance for such a long time, that when they finally take it down a notch, people overreact. People act as if the legend is now playing like a bench-warmer. People simply don't know how to accurately assess a situation without having a knee-jerk reaction.
Here is the good news for Patriots fans(and bad news for everyone else): Tom Brady isn't the main reason the Patriots are winning. They still finished the season with an 11-5 record, despite the fact Tom Brady may have had his worst season as a starter to date. This was same record they finished with in the 2008-2009 season with Matt Cassel as their Starting Quarterback for virtually the entire season. Easy schedule, or not, missing the postseason, or not- 11-5 is 11-5. Bill Belichick is the mad scientist in the lab, and he finds a way to win-even when it seems inevitable. The Patriots are still in the postseason, and while a Super Bowl victory looks very unlikely for them at this point, we all know anything can happen when the playoffs get here, especially for the Patriots.
So, what about Thomas Edward Patrick Brady Jr.? Let's take a look at the numbers he has put up this season.
The good news for Pats fans, is Game 16 was arguably his best game of the season. Against the Jets(mind you, the Jets), he made 72.5 percent of his passes, threw for 250 Yards, had four Touchdown Passes, and had a Quarterback Rating of 133.8. However, some might argue "but it was the Jets...", and I think that's a valid point. I mean, the are the Jets not arguably the worst team this season?
The bad news for Pats fans, is the game before(against the Bills) was not only his worst game of the season, it might have been the worst game of his career. And without a doubt, I think we can say this was Brady's worst December in his career. Similar to Brady's performance against the Bills in the 2003-2004 season opener, Brady this time around completed 54.2 percent of his passes, 126 Passing Yards, one Touchdown Pass, two Interceptions, and a whopping 48.3 Quarterback Rating. Yikes! Backup Quarterbacks rarely do that bad, let alone the "GOAT"(as they call him).
Before going into the stats, I'm obviously going to exclude his 2000-2001 season(rookie year), and 2008-2009 season. In 2000, he only played one game for three Pass Attempts, and for 2008, he was out with a knee injury the first game of the season, and that was the only game he played. I'll go ahead, and include the 2016-2017 season, despite the fact he missed the first four games due to a suspension from the NFL. Missing 25 percent of the season isn't a total stat killer, although it did shake things up a bit for the Patriots, even though they won the Super Bowl that season.
Tom Brady's Basic Season Stats
Completion Percentage: 64%(17th among qualifiers in NFL)
Passing Yards: 4,335(7th in NFL)
Touchdown Passes: 29(10th in NFL)
Interceptions: 11(15th fewest in NFL)
Quarterback Rating: 97.7(12th among qualifiers in NFL)
Just looking at the most basic stats used to evaluate a Quarterback, he's doing above average, but as I've stated before, it's just not Tom Brady. It's not even close to Tom Brady. What's remarkable from these stats, is how many Interceptions he's thrown this season. Tom Brady is usually remarkable at avoiding interceptions, mainly due to his unpredictable targets, and absurdly fast-release. Last season, he threw eight Interceptions, and people were outraged at how many he had thrown-let alone throwing eleven. And it's not like he had an absurd number of Touchdown Passes-he only threw 29 the whole season, so the ratio really isn't that impressive either.
Tom Brady's Advanced Stats-If you want to read up on the New Gen Advanced Stats, you'll have to visit the professional football reference website. I won't go into the details here. In the parentheses, I will also rank these stats compared to his 17 legitimate regular seasons as a starter(again, excluding 2000, and 2008).
Yards Per Attempt Index: 109(11/17)
Net Yards Per Attempt: 116(10/17)
Completion Percentage Index: 108(11/17)
Passing Touchdown Percentage Index: 106(15/17)
Interception Percentage Index: 108(15/17)
Passer Rating Index: 111(13/17)
According to the advanced Next Gen statistics, Tom Brady didn't have his worst season as a starter this season.
However, there is a caveat to be considered: The game has changed since Tom Brady began playing. From 2000-2005, the game was much less of a passing game than it is these days, so the basic stats are misleading, which means the Next Gen stats could also be misleading. Sure, Tom Brady didn't come close to cracking 4,000 Passing Yards in the 2001-2002 season, but hardly anyone did that season. Teams passed less in the Bush Jr. Days. This season alone, we've seen two Quarterbacks throw for over 5,000 Passing Yards.
Approximate Value
Approximate Value(AV) is an advanced Next Gen Stats created by a statistician on the Profootballreference.com. It is described as follows:
"AV is not meant to be a be-all end-all metric. Football stat lines just do not come close to capturing all the contributions of a player the way they do in baseball and basketball. If one player is a 16 and another is a 14, we can't be very confident that the 16AV player actually had a better season than the 14AV player. But I am pretty confident that the collection of all players with 16AV played better, as an entire group, than the collection of all players with 14AV."

"Essentially, AV is a substitute for --- and a significant improvement upon, in my opinion --- metrics like 'number of seasons as a starter' or 'number of times making the pro bowl' or the like. You should think of it as being essentially like those two metrics, but with interpolation in between. That is, 'number of seasons as a starter' is a reasonable starting point if you're trying to measure, say, how good a particular draft class is, or what kind of player you can expect to get with the #13 pick in the draft. But obviously some starters are better than others. Starters on good teams are, as a group, better than starters on bad teams. Starting WRs who had lots of receiving yards are, as a group, better than starting WRs who did not have many receiving yards. Starters who made the pro bowl are, as a group, better than starters who didn't, and so on. And non-starters aren't worthless, so they get some points too."
You can read on how it is calculated on the website link I posted above.
With that being said, according to Career AV, Peyton Manning is the greatest NFL player of all time, with Tom Brady as a close second. However, since longevity is taken into consideration, it's arguable that Tom Brady could surpass Peyton Manning this postseason in AV because of how close they are at this point.
The 2018-2019 AV isn't put out yet(it's usually updated the day after the Super Bowl), but it's estimated this season is Brady's worst AV year, with the exception of the 2002-2003 season(widely regarded the worst season of his career as a starter).
My Conclusion: This is arguably the worst season of Tom Brady's Career as a Starting Quarterback in the NFL. However, as crazy as this sounds, his worst season is still better than most Quarterbacks will have in any given season.
Common Rebuttals from the Tom Brady Nut-Huggers: It's okay to choke on his nuts, but you have to objectively look at the guy too.
"Tom Brady didn't have any weapons this year, so of course his stats are lacking"
It's not that this isn't a good point, and it's a fair argument. It's true for any Quarterback-Quarterbacks need effective offensive talent to post good stats. However, he still did have Rob Gronkowski, Josh Gordon for a little bit, Julian Edelman, and now Philip Dorsett is showing up big. On top of this, Rex Burkhead has been a great screen-pass guy to go to. In other words, he had mediocre talent, just not good, or elite talent to help him on offense.
What really grinds my gears about this argument, is many of these same fanatics always made the comment "Brady makes his weapons", or "Brady doesn't need weapons." Funny how that works, isn't it? Suddenly, Brady can't play without weapons? Suddenly, Brady doesn't "make weapons"? Stay consistent people. If he's not making weapons in 2018, he damn sure wasn't making them in 2016, 2010, or 2001.
"Stats are Misleading"
And here we have the laziest argument out of all sports arguments. "Stats are misleading", or "they depend on other people." Of course they are-they're misleading in any sport, especially team sports. They almost always depend on other people. In baseball, your Runs Batted-In(RBI) total is directly influenced by who bats in front of you. In basketball, it's hard to rack up many points with a team full of stars, since everyone wants to be a ball-hog. In hockey, you can only score so many points in the first place, let alone with puck-hogs, and your position may not allow you to score as many points anyway.
My points being, even though stats are a little misleading, they're generally good barometers for how effective someone is. There is a reason why the greatest athletes often produce the best stats in sports-because they're the greatest athletes, that's why! Football is no different. For Quarterbacks, you have to depend on Wide Receivers to rack up Passing Yards, and big running teams will substitute Passing Touchdowns for Rushing Touchdowns, but the best Quarterbacks tend to put up the best stats. And ironically, Tom Brady is no exception-look at his career stats. He has surpassed nearly everyone with almost every player statistically speaking. Team stats are team stats-that's why I don't use them to evaluate individual players. Football stats are partially team driven, but still more individual than anything else.
"The Patriots still went 11-5"
And again, let's look at how silly it is to pin one of the biggest team sports on one person. I don't care if Quarterbacks are the most important position, or not, they can't play defense, they can't guarantee a receiving corps will make great plays, they rarely run effectively, and most importantly, they don't coach. Give the 11-5 record praise to Bill Belichick, not Tom Brady-or Matt Cassel for that matter.
What do you all think about Tom Brady this season? Leave your thoughts below.
---