Raise your hand if you grew up in the 90s. Then you'll surely remember those days. Let's take a trip down the memory lane and countdown the things that give you that warm fuzzy feeling of how life was growing up in the 90s.
1. MTV (Music Television)
When MTV used to play music videos and dedicated a whole month to pay homage to an artist/band that is on top of the charts worldwide. Not the MTV that we know now which only airs reality shows and not so much/zero music videos. I remember growing up watching MTV all day to night. It was my life!
2. Boybands
Backstreetboys, Nsync, 98 degrees, 5ive, Hanson and many other boybands! The 90s was all about these handsome crooners who made a million girls including myself scream their names out and singing with them while wiping off their tears streaming down their faces. We even have their posters plastered on our bedroom walls.
3. Supermodels
Naomi Campbell, Christy Turlington, Helena Christensen, Linda Evangelista, Cindy Crawford among other supermodels of the world graced every cover of magazines and the catwalk. Throughout the 90s, supermodels dominated the fashion industry.
4. Teen oriented shows/TV shows
Dawson's Creek, Buffy the Vampire Slayer, Beverly Hills 902010 and Party of Five were big hits then about the lives of love struck and vampire slaying teenagers. Add to that list of TV shows were Baywatch, Are you afraid of the Dark, Mighy Morphin Power Rangers and Highlander.
5. Blockbuster/VHS rentals
It's Friday night. Where do you go? Head out to your nearest Blockbuster/VHS rental store to camp in for the weekend and watch movies YES straight from your VHS player.
6. Mix tapes
I used to be on standby to be able to record my favorite songs straight from the FM radio station and stop recording when the annoying DJ cuts of my songs before it even ends.
7. Bands, bands, bands
Hello Nirvana, Pearl Jam, Blur, Oasis, Third Eye blind, Wallflowers, Foo Fighters, Red Hot Chilli Peppers, Hootie and the Blowfish, Garbage, No doubt and many more…
8. Disney in the 90s
You cried when Simba's dad was trampled to death and when Mulan was a war fighting daughter who sacrificed herself for the love of her dad. Alladin took Jasmin to a magic carpet ride and Ariel gave up her voice to be with her human prince.
9. Fashion then was on fleek
Remember those baggy Tommy Hilfiger pants, crop tops, baby doll dresses, knee high socks, shiny polyester neon colored oversized coats and so on. Think Nancy Downs in The Craft or Cher from Clueless. Grunge look was a big hit among teenagers growing up in the 90s. Think Kurt Cobain.
10. Teen royalties
When you say 90s, who do you remember? Alicia Silverstone for the guys and Devon Sawa for the young teenage girls were every 90s kids crush. Teen thriller movies such as Scream, I know what you did last summer, to name a few. Freddie Prinze Jr and Jennifer Love Hewitt were also 90s heart throbs and princess then.
11. Sitcoms
When Will Smith took over Bel Air and Friends was a household hit, Jennifer Aniston made every girl run to their hair salon to get the famous Rachel haircut.
12. Feel good cartoons
Gone are the days when they used to show feel good cartoons on Friday nights and early Saturday mornings. I haven't even had breakfast yet my face is already on the TV watching Looney Tunes, Uncanny Xmen, Batman the Animated Series, TMNT, Tom & Jerry and so many more. Cartoon Network was every kid's favorite go to channel.
13. The music
What a good time to be alive. When you hear a 90s music play on the radio, it gives you the feels. From pop to rock to grunge to soul, it takes you to a happy place back when you were a 90s kid/teenager. Even the music videos were another level of amazing from the Spice Girls to Notorious BIG to Smashing Pumpkins to Alanis Morrissette.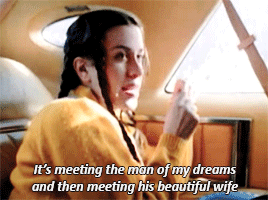 14. Blockbuster movies that are now classics
When Kevin McAllister was left home alone for the holidays while his whole family was in Paris and Jack sacrificed his life for Rose and when the dinosaurs took over Jurassic Park.
15. Walkman/Discman
Carrying this around with headphones on made you look like one of the cool kids with a cassette tape/CD of your favorite artist. Don't forget your back up batteries just in case.
16. Choose between using the phone or Internet
If you want to use the computer, get off your phone. Yes, it was a tough choice. Either you hang up on your bff to talk about Jonathan Taylor Thomas or go online to surf the World Wide Web.
17. Gameboy/Sony Playstation1/Super Mario/Tetris/Sega/Sonic
Almost every kid in the 90s grew up to all these popular games craze. You think you're so cool coz you have a laptop or an Iphone?
18. Outside
We were the last generation of kids who played outside from morning till night. We used to get our knees scraped, our bones broken or faces dirty and sweaty from too much playing. Outside was our playground where we used to socialize and play with our friends and the neighborhood kids. Being grounded was sent to our rooms with no TV, Ipads or PS4 to entertain us and bedtime at 8.
19. Taking pictures
Only the 90s kids remember waiting for eternity to finish the whole roll of film and bringing it to the nearest photo place to have them developed. Only then you know if the pictures actually were great or crap.
20. Doing whatever the hell we want
There were no smart phones back then to record our shenanigans and trace it anywhere since there's no social media to post it to.
But we sure do remember every little thing growing up in the 90s. It was awesome!
Please feel free to add more anything that gives you serious 90s nostalgia.
Thanks for the time reading, loves.
XOs Pinay_Ako
---