There have been plenty of male action stars, but today, I'll be listing my faves (in no particular order). #FeelFreeToList below who out of those #Top20BadAzzes are also in your faves. By the way, I will only list the films that I personally enjoyed each in.
1. Arnold Schwarzenegger
My grandpa is my favorite person to watch action films with and although I'm a 90s baby, Commando was one of the first films he introduced me to. I know most of you love him for the Terminator or Predator, but I'll forever know him for Commando. I also enjoyed him in the action films Jingle All the Way, Twins, Kindergarten Cop, Escape Plan, End of Days, 6th Day, and Terminator Genisys.
2. Jean Claude Van Damme
Even though I'm not crazy about seeing a dude hit splits, this will forever be my Universal Soldier. I also enjoyed Double Impact and Hard Target.
3. Will Smith
Hit em up Big Willy Style!! Okay great now I'm gonna have "Gettin Jiggy With It" stuck in my head for the rest of the day. This dude had so many action movies that I don't know where to start. I'm sure your faves were Wild Wild West, I Am Legend, Men in Black, and Bad Boys. But, I really enjoyed Enemy of the State, Hancock, Independence Day, iRobot, and his cameo in Winter's Tale.
4. Chuck Norris
I'll forever love him as Walker Texas Ranger. And i recall liking Sidekicks and Breaker Breaker but it was so long ago that I saw then. His cameo in the Hawaii Five O finale made me smile so hard.
5. Jackie Chan
My main man, Jackie Chan just lights up the room. Of course the Rush Hour films are what made me fall in love with him. Supercop, Tuxedo, Karate Kid, and Spy Next Door were interesting as well. And I remember First Strike had me cracking up with the shark scenes. I don't know if you've seen Bleeding Steel but wow I loved the colors and graphics in that one. The supporting cast were cool too
6. Wesley Snipes
It took me forever to give Blade a chance lol but I admit i liked part one. The Fan wasn't as great as Swim Fan but i still enjoyed it. Money Train was pretty badass too, but my absolute fave wil forever be US Marshals! I still haven't forgiven Robert Downey Jr for that one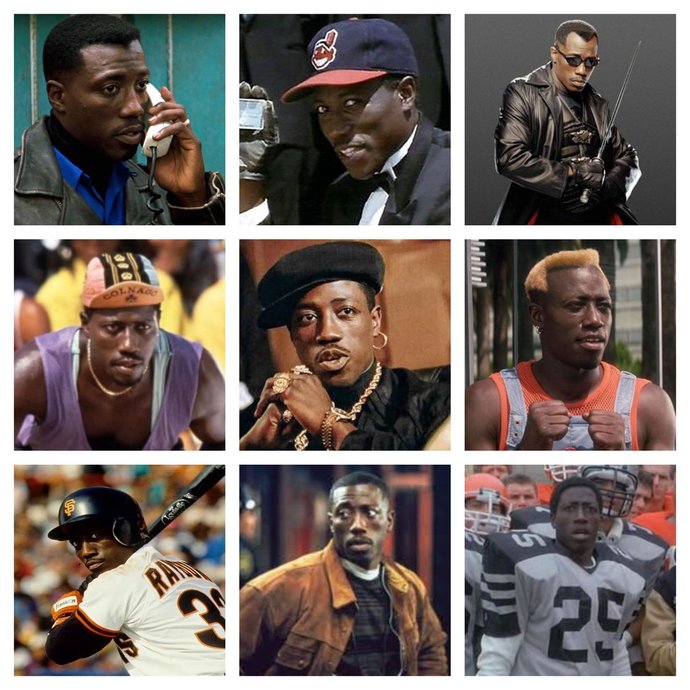 7. Martin Lawrence
Okay i know it sounds like a bit of a joke but i'd call it a good one. You're probably expecting me to name Bad Boys, but for me its Big Momma's House 1 and 2. Lmao believe it or not, it had some kickass scenes. Then there was National Security and the two other faves that i watch nonstop, Blue Streak and Nothing To Lose.
8. Mel Gibson
Okay so I've attempted to watch The Patriot twice and still can't bring myself to finish... one day though!! You probably love him for that and Lethal Weapon. I on the other hand really loved him in Ransom, Forever Young, and Mad Max. But my absolute fave would have to be Bird on a Wire.
9. Dwayne Johnson
Gosh it pains me to name this cocky mf. It really does. But I just love his films Rampage, San Andreas, Hercules, Walking Tall, Pain/Gain, and Hobbs/Shaw. Journey 2, Get Smart, and Race to Witch Mountain were not as bad either. He forever pissed me off in Doom and I just was not feeling Skyscraper, Jungle Cruise, Jumanji and Baywatch. But I intend to watch Black Adam although I don't know who that is lol.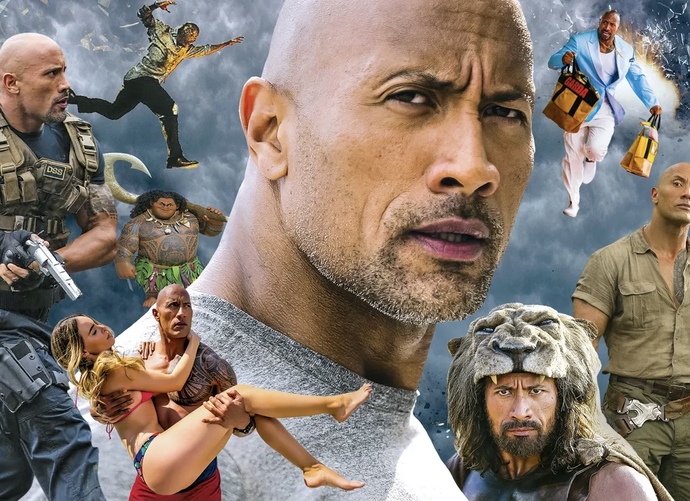 10. Tom Cruise
I used to love me some Tom, but he's another cocky mf that I hate to list lol. YET, i love some of his films and Believe it or not, Top Gun is not one. I feel Mission Impossible Series is overrated but i liked MI1, MI3, and MI Rogue Nation. I absolutely loved The Mummy remake way more than the originals. I also loved Knight & Day and Edge of Tomorrow was decent. Collateral however was just too dry of a movie for me.
11. Nicholas Cage
Nick is it! I loved that dude in Ghost Rider, Con Air, and Next. However I couldnt get into National Treasure or The Rock.
12. Jason Statham
I don't know why it took all the way until last year for me to really get into this man. But man. Im really into this man lmao. He might be balding and have a weird shaped nose and a smartass mouth but its something about him. Anyways, to stay on topic, I've loved him ever since Death Race, the first film i ever saw him in. But i went back and checked out Crank. I honestly only liked Transporter 2. Wrath of the Man, Parker and The Meg werent the best but Jason is one of the best things about the Fast & Furious films, therefore, I absolutely loved Hobbs & Shaw. Spy and Safe were just as awesome.
13. Morgan Freeman
Morgan did great in The Dark Knight. And I know y'all liked Shawshank Redemption but i need more Alex Cross films. I will forever love him as the detective in Along Came a Spider and Kiss the Girls. High Crimes was good too.
14. Jamie Foxx
This next one may come as a surprise, but he absolutely redeemed Electro in Spiderman No Way Home, Law Abiding Citizen and White House Down were amazing. I think i'll give Robin Hood and Baby Driver a try.Held Up and Bait will forever hold places in my heart. They were goofy as hell and I enjoyed every minute of it.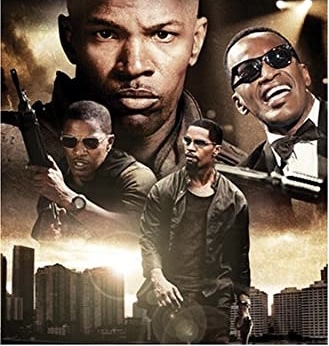 15. Gerard Butler
Okay so Im not crazy about the entire "...Has Fallen" series but Olympus Has Fallen was amazing. The Bounty Hunter showed his more lighthearted side and was still amazing. Gods of Egypt, Shattered, and Timeline were good as well. Greenland shocked me sooo much.
16. Idris Elba
When I heard that Idris was in Suicide Squad 2, I said well damn I may have to reconsider lol. This dude was so mf amazing in Hobbs/Shaw holy smokes. The Dark Tower and No Good Deed were good as well. I loved Takers and i may just have to give Ragnarok a chance.
17. Chris Evans
Okay to y'all, he's Captain America. But to me, he'll forever be The Human Torch from Fantastic Four. I'll finally get to see Knives Out soon and i hope it doesn't disappoint. I also need to watch Street Kings and Kick-Ass. I loved Captain America's Winter Soldier and Civil War. I also enjoyed Endgame. But my forever favorite Chris movie will be Cellular. It just never gets old.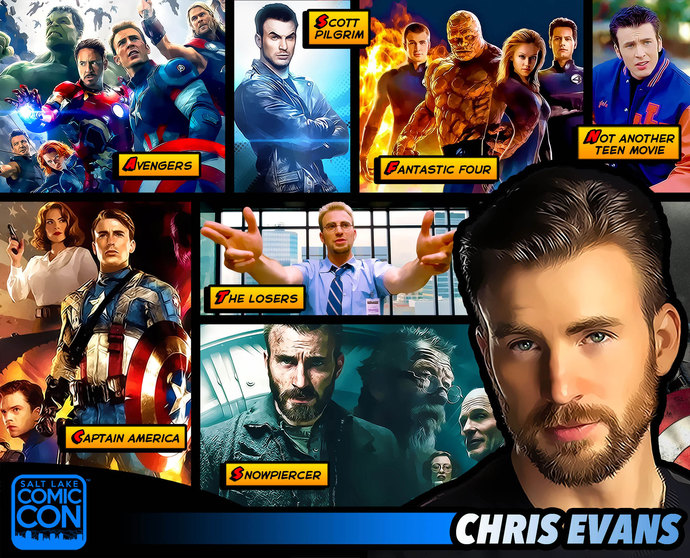 18. Tommy Lee Jones
Once again, I'm not crazy about Men in Black, but I loved him in US Marshals, Man of the House, The Fugitive, Volcano, Under Siege, and Double Jeopardy. I can watch each of these repeatedly and never get tired. He is a seemingly mean mf who rarely smiles but when he does, it makes me smile haha.
19. Jet Li
Okay I just heard my boy is in Mulan? Now I definitely gotta check it out. I loved him in Romeo Must Die, Cradle 2 Da Grave, and The Mummy Tomb of the Dragon Emperor. I don't know what it is but its just sexy seeing him fight. I honestly need to rewatch the Forbidden Kingdom.
20. Paul Walker
Lastly, my boo... rip love. Okay I gotta keep it together. Its just, he's the only celeb death that I ever cried over. He was by no means the greatest actor and he was not that great of a physical fighter in my opinion. But bae still gave his all in each film and every scene he starred in. And he had the greatest smile ever. Gosh I loved him in the Fast & Furious series. But he first stole my heart in Joy Ride. I really really also loved him in Running Scared and Takers. He slick annoyed me in The Skulls and She's All That. But I also enjoyed him in Hours, Into the Blue, Pleasantville, Timeline and Noel. I hope to see Vehicle 19 soon. I don't know if you've seen Brick Mansions and i know the storyline wasn't all that but the parkour. Omg so damn sexy.
HONORABLE MENTIONS
Now dont get me wrong. I enjoyed some of the action films from others. But I wouldn't call those guys my top 20. Lets call them the Dirty 30 honorable mentions. (See above under Paul's pics)

Next Up— My Top Badass Female Action Stars