In all fairness, I would be remiss to not write a part II about horrible women's fashion because we too have taken a lot of wrong turns in the realm of fashion.
You can read part I: "10 Horrible Men's Fashion Choices That Need to Die," here: https://www.girlsaskguys.com/fashion-style/a31921-10-horrible-men-s-fashion-choices-that-need-to-die
1. High Heeled Sneaker Shoes
If you weren't born when the first round of these happened, this has all been done horribly before and I was so glad when they finally disappeared only to have them reinvented looking worse, if that's even possible. The bottom of your leg should not be made to actually resemble a hoof. No one needs to visually extend their leg to join their ankles with the floor. Stop this! Sneakers and heels are both great...on their own.
2. Sheer Clothing
It was actually difficult to find an image that was half way decent (I'm looking at you Rihanna) to post here. We call it UNDERwear for a reason, right? It's meant to be worn underneath clothes, yet this whole trend in being able to see your underwear or your bra, or both, or just saying F-it and going full on nude, is like, honestly, might as well be on a beach, the bedroom, or trying on clothes in a Victoria Secret dressing room. For the exact same reason I admonished guys for doing the saggy pants with the underwear hanging out, I'll say the same for this.
3. Visible Panty Lines/Visible Bra Straps
The underwear industry has come so far so that you don't have to do this stuff anymore. This VPL let's the entire world know your underwear is squeezing your vag straight up into your own intestines, they are so tight. This cannot be comfortable in anyway. Add to that visible bra straps. There is no cut of top that they have not designed a convertible bra for or other type of bra for. Take some time to find something that fits you or if you are uncomfortable with wearing certain tops, look for tops that allow you to wear your favorite type of bra.
4. Shin Length Bell Bottoms
As a tall woman, I see this and I groan, because this is my life. Slipping on a pair of pants only to find them way too short. It looks ridiculous and points out the obvious, that I am tall. Now you're telling me actual designers are marketing this ill fitting look as an actual style? The whole genius behind an actual bell bottom pant is that it provides a visual balance between hips and the bottom of the leg, but all that is gone when you raise that hem line to ones shins. Ugh, no.
5. Animal Purse/Animal Backpacks
This fashion choice has a time and place, and that's when you are anywhere under the age of 12. A full grown woman who wears this on a regular basis screams to me, she has issues letting go of her childhood and accepting that she is changing and growing up. Might as well put a pacifier in your mouth. You certainly won't be taken seriously walking around like this unless you're carrying this for your actual kid walking by your side.
6. Oversized Sweaters
This simply is not flattering to any woman anywhere. Putting on something this oversized removes all sense of shape and form that exists on the female body. This says I have body dysmorphic disorder. It says I prefer the marshmallow look, to the human one. It says don't approach me any guy anywhere. It says, I have several cats, and I'm on my way to find a few more. Add to that, they make actual sweaters in your actual size that are just as warm, and just as comfortable (they also make blankets) so using that...as you excuse for wearing this, is a cop out.
7. Club Wear as Day Wear
If you're going to the club, out on a date, out to a party, rock what your momma gave you, but club wear is not day wear. This should not be your outfit of choice for showing up to your kids PTA meeting, or for walking the dog in the park, or for god sake showing up to a job interview (unless you want to work for a strip club).
8. Mom Jeans Part II
If your bra band is actually touching the top of your jeans, you might be wearing mom jeans. These horrors from the 90s have reared their ugly heads again in the 21st century only to have the same exact effect on women. Sitting high on the waist ballooning out in the rear and crotch, and tapering to the ankles, these jeans flatter no one. No one needs to create a pooch for themselves.
9. Gladiator Boots/Shoes
Let's clarify. You are not in a fight for your life against a set of starving tigers in a Roman Colosseum. If you have long feet already, they make your feet look even longer with all the straps and buckles, and if you are short, these make you look stumpy by chopping off all the length of the leg with all the straps, and buckles, and ties. Also, don't make the mistake of my friend by forgetting that she had to take off her shoes in airport security, so she had to sit there and unlace 15 ties only to have to re-lace them after the check. Avoid.
10. Waist Trainers
For centuries women fought to get out of steel boned corsets which made it impossible to breathe, play sports, stand or sit for long periods of time, and made women docile delicate creatures because we literally couldn't do anything. They were oppressive and prisons for our bodies, not to mention straining to pull your waist to an unnatural 14 or 16 inches led to infertility and organ failure...so here's a great idea, follow some idiotic celebrity women right on back to this terrible era by convincing you, you need this. No, what you need is a normal sized waist and if you are so concerned, healthy diet and exercise. Don't do this to your body. It is definitely not worth it!
*BONUS*
And the award for the woman I think is the embodiment of horrible women's fashion goes to Phoebe Price. THE THIRST IS REAL in this one. I can't even post a good portion of what this woman has actually worn because not only does she wear the majority of this type of stuff no matter the time or place, if you have a camera around your neck, apparently, she will not only show it off, but she will lift it up, dip it down, spread eagle and spin it around for you. I mean how does one person manage to look like both the pimp and the prostitute?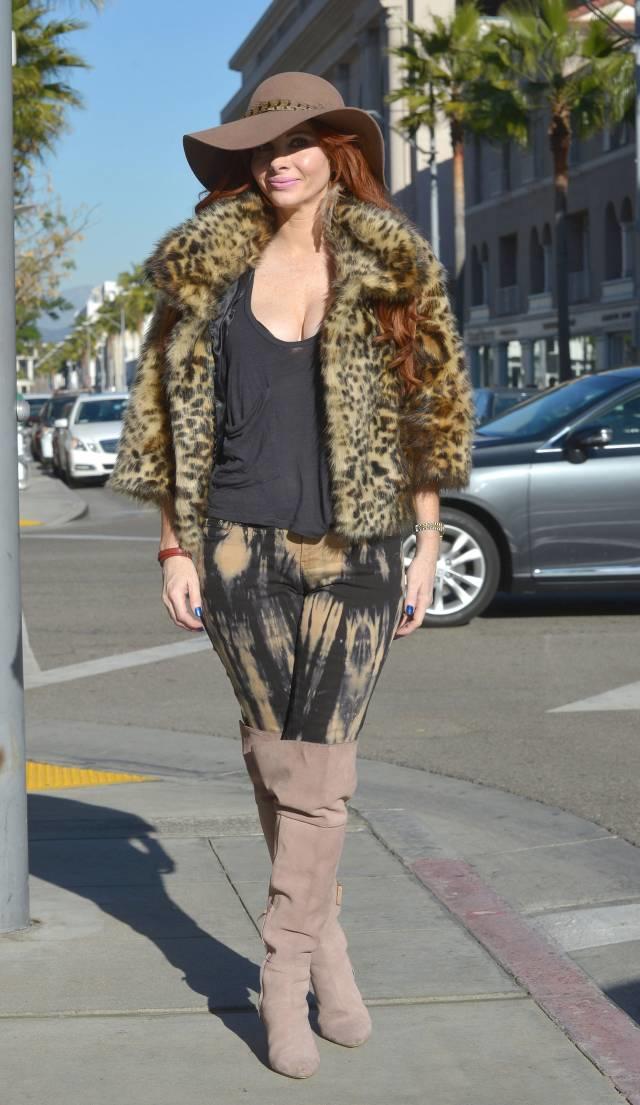 ---