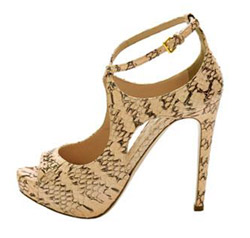 An everlasting topic for discussion is whether a woman owns too many shoes. Well, men most certainly have the answer to this question! The fact is that all women are into fashion and some prefer shoes over bags, for example. Shoes have become an obsession, whether we talk about heels, stilettos, boots or other footwear. In order to understand this hunger for shoes, let's go through some different aspects of this type of fashion.
This obsession dates back to the time when we watched our moms dress up and all the girls had that particular phase of wearing their moms' shoes, trying on heels and keeping the balance along. All girls look up to their mothers and want to look feminine, and may inherit this shoe craziness. Well, woman's shoes reflect her personality and can show so much about her. Wearing heels or boots may reflect the woman's mood or the effect she is trying to cause.
Nowadays, shoes have become our best friend. Why? Because any woman can wear any kind of shoes. Fashion can be cruel at times, especially to plump women. Certain clothes can be wearable by women with certain body type. When it comes to shoes, it doesn't matter if you are plump of skinny, tall or short. You can have all the shoes you want and they will fit perfectly. They have the power to make you feel elegant and sexy at the same time. This is one of the reasons the shoes are favorite fashion item for most women.
How is it possible not to fall in love with so many different colors and designs of shoes? Sexy black, funky pink, seductive white or mixture of colors for the bold ones, you can choose your own kind. And there are so many amazing designs that fit anyone's needs and desires. Luckily, they will also fit the budget as well. Some of the shoes can be a bit pricey but women become experts in this area. Bargains and discounts are worth of research so any woman can find her piece at affordable price.
The power of high heels
Is there a woman on the world who doesn't think that high heels are seductive and hot? It is highly unlikely. There aremany fashion and trendy heels that enhance the figure and lengthen the legs, creating elegant and stunning posture of the body. What about men? Men also loveto see women wearing heels as they look more appealing and there is just something about them that drives men crazy.
You can have all the shoes you want and they will fit perfectly.
Choosing the comfort
The ballet pumps and flats are popular for everyday activities and are among favorite footwear among teens. They are practical and every woman has a pair in her collection. Fashion women adore gladiators and their trendy style has so many fans and they are easily combined with any summer outfit and the best thing is that they provide full comfort. Boots are essential part of winter, fall, spring and even summer footwear. Ankle boots are very popular and trendy.
Enhancing the look
Fashion conscious women know the meaning of the right shoes. For example, you put on the best dress and you look amazing. Put on the wrong shoes and you will witness a fashion disaster. The shoes really reflect a woman's personality and naturally, every woman wants to represent herself in the best possible way.
Shoes with a changeable function Changing just shoes, the entire look can be changed. Let's say you are ready for a drink with your girlfriends after hard day at work. You don't have to change your clothes, but wearing hot heels instead of flats will make a great difference.
Playfulness of the shoes</strong
For fashion ladies who adore dressing up and keep up with trends, shoes are an ideal fashion detail, whether heels, flats, boots, pumps, uggs, stilettos or wedges are in the game. Every woman has to have a pair of these to express her state of mind in a specific way.
---