I have been wanting to write on this topic for a while now, but it is hard to know what to say. Especially in our day and age when image is so important. But I think I have the words now.
There is a clear crisis of beauty in our culture. Everywhere you look, things are advertised using woman who have been airbrushed, professionally done up, and photo shopped. The advertising industry has figured out what the 'perfect woman' looks like, and they do everything in their power to create that look, just to sell more stuff. And to make matters worse, these false images of beauty are labeled with names like, 'effortless', 'simple', 'natural', and 'minimalist' in order to get you to by into the realism, and yet these looks may have taken DAYS of effort to produce.
Is it any wonder that woman struggle with their looks? Given the standards they see all the time, particularly on TV or glamour magazines and websites, it can create the idea that in order to be desirable and loved, they have to look like these woman. And they are failing. They will never look like that, so they either create a false hope in their minds that if they can just lose five pounds, or just get ride of that unwanted hair, or just get D cups, THEN they will be beautiful and THEN they will be lovable.
And all this does is perpetuate the materialism that those advertisements were aiming for in the first place.
However, this is not what men want. Now, I am not talking about when guys are wanting a woman ONLY for her looks. Because by definition, if he is just wanting her for her body then he is not trying to love her. And a desire to be loved is where the woman's insecurity comes from. I am talking about a man who is just as excited to wake up next to woman as he is to fall asleep with her. A man who wants a confidant, emotional support, respect, and a partner in crime. Such a man also wants a woman that he can care for and encourage, someone he pour his life out for, and grow old with. These men want a woman knows she is beautiful and worthy of love, inside and out.
But as a culture, we have lost the ability to encourage men to seek this out. We have lost the ability to encourage woman to be this way. And what have we replaced it with? Hit it and quit it. Billions spent on the externals and not what matters inside. Bulimia. Anorexia. Even Suicide.
Most aren't that bad though. Thankfully. A lot are, but not all. Yet here is how it normally goes.
A girl is young, and just starting to be aware of boys, and how interesting and frustrating they can be. She wants them to notice her though, and so she starts changing her behavior and how she dresses. All the other girls around her are doing the same thing, and they start to realize that the attention they all desire is limited. So some of the girls get it into their heads that if they take out the competition, then they can monopolize the attention and remove a rival. So what do they do? They notice an area that the young and impressionable girl is insecure in (or they make one up) and they say the most biting and cutting remark she can to completely destroy their target's confidence.
For example, eleven year old Sharon is telling her friend that she is interested in a boy in her class. Another girl hears her, and viewing her as a threat, says, "He wouldn't like you Sharon. You are too flat chested. Boys only like girls who are busty." And this comment sinks deep into Sharon's brain, so much so that years later she spends thousands of dollars to get an augmentation and deals with all the complications that come from it, because of the comment she got at eleven years old.
It doesn't always happen exactly like this. Maybe it's your mother saying your eyes are too close together, or an aunt making a passing comment about your belly fat. Regardless of it's source, it is internalized and teaches women two lies. One, that whatever was named is actually a defect, and two, that it is their physical attractiveness that matters. That that is where their value is.
So starting from something so small that was said to them when they were young, and reinforced by all they see in media, the girls become obsessed over their looks. They stand in front of the mirror, sometimes for hours, going over their body examining every little detail. And they question, pick, and prod until they find all the things that they can hate about themselves. Every time they look in the mirror they focus on their defects until that is all they see. It becomes their view of themselves, and they can never see any more than the 'defects' they have found.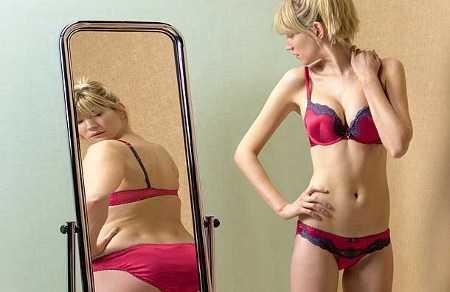 It gets worse. Because even if they avoid the surgeries and the eating disorders, these girls still have judged themselves as so inadequate that any compliment they receive that THEY view as too much is rejected. Even from those who love them.
Have you ever seen a woman with a baby and you didn't think it was cute but she thought her child was adorable? Or a marriage and the man is butt ugly, but his wife tells you she thinks he is handsome? Who is right in that instance? Is it the stranger, who can only see the surface level, or is it the one who knows and loves the person the best? It seems to me that love is not blind (infatuation is) but that love opens your eyes to truly see the person in front of you.
When I get married someday, I know that I will think my wife is drop dead gorgeous. But I also know that there will be men who think she is plain. Yet I believe that I will be truly seeing her because I will be looking with the eyes of love. And in the same way, if I see a man in love with a woman I think is plain or ugly, I know that I am not seeing her real beauty, but he is.
How damaging then, is it to a man when he looks at his girl and is overwhelmed by her beauty, if she takes his compliment that arose from a sincere appreciation of her, and rejects it? 'Your just saying that', 'Stop buttering me up', 'What do you really want', 'Stop lying'. Is he not looking at her with love? Does he not see her as she really is? Yet she does not believe he could possibly see her as beautiful because she KNOWS. She knows what she REALLY looks like. After all, wasn't she told so when she was eleven?
You can see why this is damaging to relationships, damaging to the men in them, and most of all damaging to the woman.
You are beautiful. Truly actually beautiful. Not everyone will see it. Perhaps even most people won't see it. But those who love you do. Don't you have friends who are gorgeous, and yet they are just as insecure as you are? What if they see you they same way you see them? Beautiful, yet blind to it.
So please believe it. Please start believing those who love you and not some comment you heard years ago from someone who doesn't. Stop looking in the mirror with a magnifying glass to see your faults, and looks instead at the beautiful person in front of you. Stop listening to fashion magazines that tell you how to get the guy, because they are lying and only selling a product. Stop believing all the lies and bullshit that puts you down and teaches you that your value somehow comes from what you look like and not who you are.
Even the insecurity itself is lying to you, because you are ACTUALLY BEAUTIFUL. Even if the person who has the hardest time seeing it, is yourself.
---