There's so much debate if it's okay for a man to cry, if that makes them strong or weak, etc. blah blah...
And not just men, women get it too from other women or even men ("women are over emotional"blah blah)
But there's lots of reasons people may cry. And who is anybody to say it's not okay?
Some examples of when tears are okay:
Loss/Grieving
Anytime you suffer the loss of a loved one, there's bound to be tears. But they can be tears of sadness, bittersweet tears, nostalgic tears. What they can't be is wrong... Everyone grieves in their own way and noone should ever be made to feel weak or wrong for that.
Empathy/Compassion
Some tears we shed are for the pain and suffering of others. That doesn't show weakness to me. That shows a kind, caring, compassionate person who doesn't always just think of themselves and their own happiness/unhappiness but cares about the happiness/unhappiness of those they love. And sometimes for any fellow human. Never something to mock, but rather admire.
Broken heart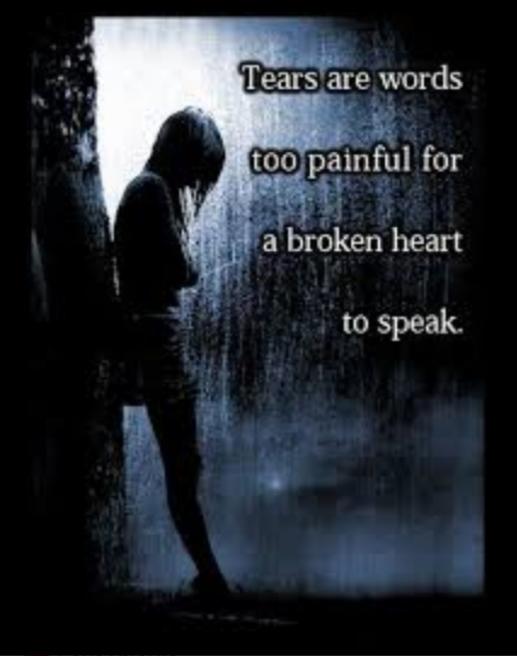 I know I just did a mytake on break up jokes. But for some people, breaking up is no joke. The loss of love can be very hard and a broken heart can sometimes take awhile to mend. And it's okay to cry. Sometimes we need to cry to heal and before we can learn to laugh/love again
Billy Ocean said it better:
But the tears we cry, aren't always in sadness. Sometimes we can be so moved by love or a special moment in life that can move us to tears....
Birth of a child
To bring another life into this world is one of the most beautiful wonderful things in life. The first time they place that baby in your arms, or when that tiny bundle grabs ahold of your finger, it also grabs your heart. Tears of joy in a moment like that just makes it a beautiful moment.
I'm not ashamed to say I cried when my grandson was born. Although they were also tears of relief because my daughter had a traumatic delivery and it was a close call to her having a stroke. But, I'd of cried even without that.
Major milestones in a loved ones life can bring tears of pride and joy. They're also bittersweet because sometimes for some people those can also be the moments you miss those dearly departed who would otherwise be their to celebrate the joyous occasion.
And then we have my favorite kind of tears:
Laugh till you cry
Life can be very hard and stressful. We can all use that laugh till your sides ache, tears streaming down your face kind of moment sometimes. And those are the funny moments in life that you'll better remember.
I guess the points I'm trying to make are:
1. Tears are a result of emotions we may be feeling. And emotions are a normal natural part of life and being human. So why then do we try to shame someone for showing/having emotions?
2. Unless you have walked in someone's shoes, felt the pain they felt, lived the life they have... how can you/who are you to judge or say if it's okay for them to cry. Strength isn't not crying, strength is knowing when you need to cry, strength is living past the pain, strength is being yourself no matter who tries to knock or put you down.
Thanks for reading
"Brainsbeforebeauty"😘