I am going to talk about types of people at the cinema we all know!


Type 1: The "not hungry" ones
They usually say phrases like: "Im not hungry,I am not buying popcorn to eat". But when we are about to sit, they suddenly got hungry and are eating our popcorns.
Type 2: The talkers
They talk all the time, and we all wonder if they actually watch the film. They may talk on the phone or just with each other, but they don´t stop and it is sometimes annoying.
Type 3: the "shhhhhhhhhhhhh´s"
Even if I am just saying one world to my friends, they are getting crazy and they start the "shhhhhhhhhhh". They don´t want to loose a scene of the movie and they get easily annoyed.
Type 4: The people who throw popcorn
These are more often teenagers. They are loud, rude and they think that we don´t know that they are the ones who actually throw the popcorn to us. Or they know, but they think it is funny. Jesus, this world!
Type 5: The non-stop laugher
He doesn´t only laugh at funny moments, but nearly in every scene. And the funny thing with him is that he laughs loudly whereas the rest of the cinema is silent.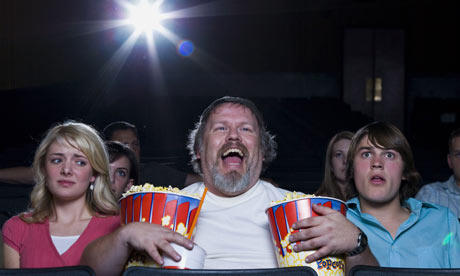 Type 6: the phone people
They are constantly with their phones, they either talk on the phone, send sms or just are on the internet. Why don't you just close it people??
Type 7: The couples
They usually kiss or just talk together all the time. Most of the people hate them!
And now the last one
Type 8: The forever alone
He is there on his own, even if he wants to talk with someone he can´t.
Have you met any of these types?
Also tell us about other types you have met!


Thanks for reading!
---