Raoul Moat - A man on a mission - A man with nothing to lose
In the summer of 2010 Raoul Moat, 37, former doorman and bodybuilder from Newcastle, England, U.K was released from Durham prison after serving a short sentence for assault. Shortly after being released he updated his Facebook status which read: "Just got out of jail, I've lost everything... Watch and see what happens." He then armed himself with a sawn-off shotgun and headed for his ex girlfriend Samantha Stobbarts mothers' house - where he lay in wait.
As Samantha's new boyfriend Chris Brown, 29, left her parents' home, he was gunned down in cold blood by Moat. He left him to die on a patch of grass outside the house. Moments later, Moat shot Samantha twice through the front window of the property. Stobbart was hit in the arm and abdomen, and was taken to hospital to undergo a liver operation and put under armed guard. Although she was in a critical condition, she fortunately survived .
Forensic Experts search for evidence behind the police cordon where Chris Brown was gunned down on the grass, and Samantha Stobbart was shot through the window
Moat fled the scene in a black Lexus car, accompanied by two friends. Northumbria Police revealed Moat dialed 999 to declare war on the police and he promised not to stop "until he was dead." He warned the police that he was now on the hunt to kill a policeman.
A uniformed motor patrol officer PC David Rathband, 42, was on duty at a roundabout at East Denton, to the west of Newcastle looking for traffic violators - unaware an armed killer was hunting down police. Moat sneaked up on the police car and shot Rathband in the face - he was rushed to the hospital in a critical condition with life-changing injuries to his head and upper body.
(PC Rathband was left permanently blinded but struggled to come to terms with his disability, so sadly committed suicide in February 2012)
(left) PC David Rathand, (middle) Chris Brown, (right) Samantha Stobbart
The shootings sparked the biggest manhunt in the U.K. ( which cost Northumbria police £1.4m.) Northumbria Police used all their resources and tactics to track down Britain's most wanted man. Extra firearms officers from forces including Cleveland, Humberside, West Yorkshire, South Yorkshire and Cumbria, were brought in to join the hunt for Moat. Police also used sniper teams, helicopters, dogs, armoured anti-terrorist police vehicles from Northern Ireland, they even employed survival expert Ray Mears to help, a Royal Air Force jet for reconnaissance, and the SAS.
Following an appeal sightings of a black Lexus believed to have been used by Moat, it was found near Rothbury in Northumberland, England. Moat was still at large and hiding in the surrounding countryside in the Rothbury area.
Police find Moat's Black Lexus (above) parked near Rothbury woods. Armed police surround the woods where Moat was hiding out.
Rothbury in Northumberland, England went on lockdown. Armed police set up a cordon around the National Trust's Cragside Estate and there was a two-mile exclusion zone set up in Rothbury. Residents were advised to stay indoors for safety while a major operation takes place. Police urged people to "be vigilant", and stationed armed police officers outside schools, shops and around town to reassure parents, pupils and residents of Rothbury.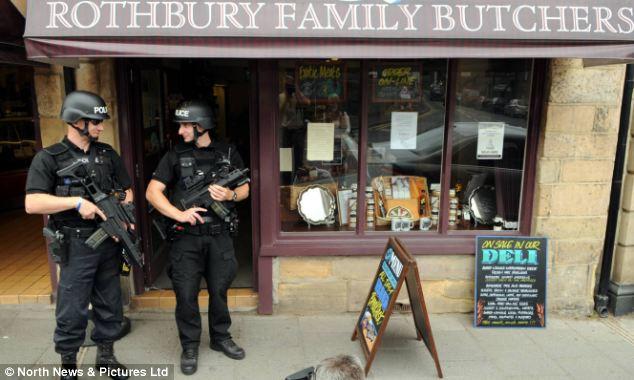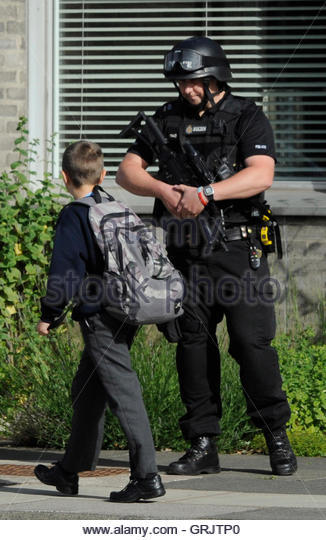 Armed police ensure children are safe at school ,and make their presence known on the streets of Rothbury to help make residents feel safer
Whilst on the run Moat updated his Facebook status with a "hitlist" which he planned to "shoot to kill." The hitlist included Samantha's mother, other family members, a psychiatrist and a social worker. Moat added "he will take out any police that get in his way". Moat also made threats towards the wider public. Police asked the media to put a "blackout" on reporting any aspects of Moat's private life, as he had threatened to kill a member of the public every time there was an inaccurate report about him.
Moat's last stand
A tense, six-hour standoff between armed police and Raoul Moat - Britain's most wanted man
Residents of Rothbury were told to stay indoors because a major security operation was taking place. Armed Police speedily rushed to the north bank of the River Coquet, close to a rainwater culvert which runs under Rothbury village, where there had been sightings of the gunman.
A convoy of armed police rushes down to the riverbank where Moat had been sighted
Having evaded capture for a week the fugitive was finally surrounded on the riverbank in the Northumberland village of Rothbury. Marksmen trained their guns and taser guns on him, while snipers lay on the banks of the river and behind an armoured police vehicle. An RAF Tornado plane with infrared equipment roared overhead. Moat went down flat on his stomach and put a sawn-off shotgun to his neck, his finger on the trigger. Snipers trained their guns on him while he pointed his shotgun at his neck, threatening to shoot himself.
Moat lying on his stomach with his sawn -off shotgun to his temple, as police surround him
A trained police negotiator donning a ballistics vest was escorted to the point where marksmen were trained on the gunman; he was brought in to secure the killer's surrender. Moat was in a highly agitated state, shouting at officers to shoot him. The negotiator spent six hours trying to talk Moat into moving his sawn-off shotgun away from his head and end the siege peacefully. In a statement he said, "I wanted him to be able to look me in the eyes and know that I was there to help." He added, "Moat seemed determined to commit suicide." The negotiator tried to develop a rapport and trust with Moat and even Moat's friend Tony had arrived to try to assist with negotiations.
Trained Negotiator tries to secure Moats surrender
Moat's mood suddenly darkened; he shuffled to his feet and had the gun under his chin then he rapidly moved it to his temple. He seemed to try to bolster himself, taking deep breaths like people do to build themselves up. As torrential rain poured on the scene, the deadlock was broken at just after 1am when a single shot was heard, followed by the sound of shouting. Despite the efforts of the specialist negotiator and his colleagues, the killer's life ended as police marksmen watched.
Moat's mood changes, he sits upright, ready to end the standoff...his way
An officer thought Moat was going to shoot himself so he discharged his X-12 taser gun towards the gunman's chest in an attempt to subdue Moat. The officer did not see where his projectile went but the cartridge was later recovered from the river - it missed Moat.

X-12 taser shotgun - like the one discharged by an officer at Moats chest
Moat let out a noise as if he had been struck by something. He then rocked back slowly and suddenly discharged his sawn-off shotgun into his temple, his head rocked violently to the left hand side. The killer went limp and fell backwards into the long grass.
Moats sawn-off shot gun that he used to end his own life
Moat's body was pulled clear of the long grass, police officers and paramedics tried to save him so he could finally be brought to justice for his rampage of terror.
An ambulance, accompanied by a convoy of police cars, sped away from Rothbury. Medics treated him all the way to the hospital. They battled to save his life. The convoy later arrived at Newcastle General Hospital. Roaul Moat was pronounced dead on arrival.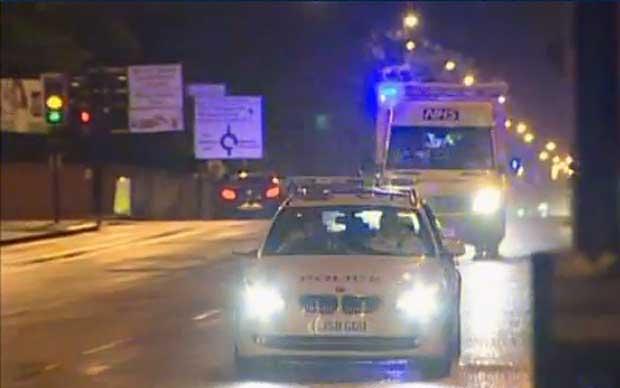 Moat is rushed to hospital by ambulance with a police convoy ,but is pronounced dead on arrival
Six people had been arrested on suspicion of conspiracy to commit murder and suspected of assisting Moat with equipment, information, and in evading capture and selecting targets. Two appeared before magistrates charged with conspiracy to commit murder and possession of a firearm. They were sentenced to life terms for helping Moat carry out his shooting rampage.
Newcastle coroner David Mitford said Moat died as a result of a gunshot wound to the head.
The IPCC issued a report clearing the police of any wrongdoing in firing a Taser at Moat. A non-approved Taser was fired to try to "capture him alive" to face justice. The rules were broken to use the pump action, XREP Taser which would enable officers to shoot Moat from a greater distance than standard police issue X-26 Taser pistols.
At the conclusion of a three week inquest into the standoff and death, in September 2011 the jury returned a verdict of suicide.