Klaus Schwab, is a name typically unkown to most people, especially most Americans. Think of an extremeley influential globalist billioniare-philanthropist like Bill Gates, Warren Buffett or Ted Turner, but with a German accent.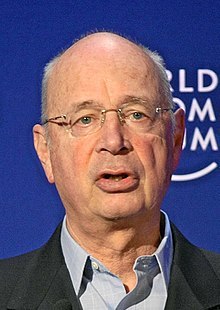 His education included Harvard, where he met Henry Kissinger, founder of Kissinger Associates, and began what Klaus Scwab described as "the 50-year-long mentorship."
In 1971 Schwab founded "The European Management Forum" which later became the not-for-profit "World Economic Forum" (WEF) also refered to as "Davos." Klaus Schwab was the CEO and is the current Chairman. Davos aka WEF is known for "excercizes" such as "Event 201" in which a simulated "coronavirus pandemic" as well as coordinated government and corporate response to said "coronavirus pandemic" are played out. Much of this particular excercize seems to have been preparations for the response to Covid-19 including; lockdown of all "non-essential" businesses, censorship of "disinformation" online and in the media, mask mandates, and vaccine mandates.
https://www.weforum.org/press/2019/10/live-simulation-exercise-to-prepare-public-and-private-leaders-for-pandemic-response
https://en.wikipedia.org/wiki/World_Economic_Forum
Recently Davos aka WEF did another "excersize" called "Cyber Polygon" where a "cyber pandemic" shuts down all "non-essential" websites, and causes massive power outages in Western nations.
World Economic Forum "war games" a "cyber pandemic" with rolling blackouts, internet and finiancial institution attacts, and supply chain disruptions.
Klaus Schwab also has interesting ideas on implantable microchips and "Global Health Pass":
As well as strong feelings about consuming bugs and sewage to stop climate change:
Schwab's resume also includes "Member of the Steering Committee" for the Bilderberg Group. Wait, I was told that was just a conspiracy theory?
https://en.wikipedia.org/wiki/Bilderberg_meeting
According to Schwab the "globalized world" is best managed by "a coalition of multinational corporations, governments (including through the UN system) and select civil society organizations (CSOs)." What he calls Civil Society Organizations (CSOs) can also be described as Non Governmental Organizations (NGOs).
"Capture of democratic structures and institutions

Schwab as publisher of the World Economic Forum's 2010 "Global Redesign" report postulates that a globalized world is best managed by a coalition of multinational corporations, governments (including through the UN system) and select civil society organizations (CSOs).[29] It argues that governments no longer are "the overwhelmingly dominant actors on the world stage" and that "the time has come for a new stakeholder paradigm of international governance". The WEF's vision includes a "public-private" UN, in which certain specialized agencies would operate under joint State and non-State governance systems.[30]
According to the Transnational Institute (TNI), the Forum is hence planning to replace a recognised democratic model with a model where a self-selected group of "stakeholders" make decisions on behalf of the people.[31] The think tank summarises that we are increasingly entering a world where gatherings such as Davos are "a silent global coup d'etat" to capture governance.[32]"
https://en.wikipedia.org/wiki/Klaus_Schwab
Basically sounds like a James Bond villian. Where the head of an international group of wealthy madmen try to take over the world by getting nations to fight against themselves, then taking out the survivor! He even has the same accent!
Does life imitate art or does art imitate life?