After years of watching, reading and hearing stories about UFO reports. After my cousin's very own UFO encounter. After brief phases of looking up at the sky hoping to see one myself, it FINALLY happened! Yesterday afternoon, entirely by chance, I had my very own UFO encounter. I guess the theory holds true, things you want to see always show up when you AREN'T looking for them.
******
It was another slow day at the kiosk in my state park. At exactly 2:23 in the afternoon, I happened to glance up at the sky through my kiosk window. Suddenly, a I saw it. A dot of light hovering in the sky performing strange maneuvers, no sound emanating from it. I immediately knew it was no ordinary aircraft. I grabbed my camera and attempted to document the object. The dot of light was moving further away and I had trouble locating it in my view finder. I decided to zoom out and just start clicking, hoping it would appear somewhere in the picture. After maybe 30 seconds, I was finally able to locate the object in my view finder and zoom in on it. I tried to focus my lens to get a clear image, but the object was moving too fast. At that point I figured it was better to capture a fuzzy image than no image, so I just started clicking away, as I knew there was always a chance of digitally enhancing the image later. It was only after I zoomed in, that I realized just how bizarre this object was. It was donut shaped, and appeared to have lights emanating from it, though looking at the picture now, I see it might have been the sun reflecting off the craft. The craft stayed within my view for a few minutes, but as soon as I attempted to get a video of it, it took off to the north, as if the occupants knew how to avoid being documented, a theory I've long had.
Anyways, right as the craft was flying off, a line of customers started to form. I could still see the object, but didn't dare point it out to them for fear they would think I was crazy!
Approximately 7 minutes after my sighting, a Sheriff's helicopter flew overhead in the same vicinity the object had been in. The helicopter returned several more times. And yes, I know EXACTLY what you're thinking right now, and we'll get to that in a little bit.
Of course, I immediately went on my phone and Googled "Donut Shaped UFO", and quickly discovered that my sighting wasn't the first of its kind. Apparently, there have been quite a few sightings of donut shaped UFOs across the world. Some I could tell right off the bat were fake. Others on the other hand, seemed more convincing. But just like me, no one was able to get a clear image of it.
I also attempted to find out if there was anything in the locals news or social media about the object. I wasn't able to find anything, which made me think the object was nothing out of the ordinary. With its close proximity to the highway, I knew there was no way others couldn't have seen it. I DID eventually come across reports of other UFO sightings in my town, some of which had logical explanations, others did not. Which leads me to THIS.....
POSSIBLE EXPLANATIONS
What I Saw Was Just The Sheriff's Chopper
After the Sheriff's helicopter showed, this was the first logical explanation that came to mind. Here we see the same object at a different angle. As you can see, the outline looks very similar to that of a helicopter. The yellow light could simply be the sun reflecting off the chopper. HOWEVER, I have never seen any helicopter maneuver in such a way that it forms a perfect donut shape, with a hole in the middle showing through to the sky. Also, helicopters make sounds. This object didn't. It is possible I couldn't hear it because of the loud swamp cooler in my kiosk, but based of the object's other appearances, I am not so sure this was a helicopter. Also, I saw the Sherriff's chopper a few other times that day, at various distances, and it was obvious it was a chopper. Despite the photo comparison I have here, I do not think that this object was a helicopter. The Sherriff's chopper was possibly tracking it.
The Object Was A Weather Balloon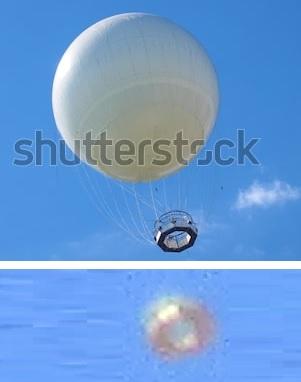 This is by far the most popular explanation for UFO sightings. And after finding reports of other sightings in my town that turned out to be weather balloons, as well as this picture, showing an object attached to the weather balloon which is similar to the object I witnessed, I begun to think that this is the most logical explanation for what I saw. However, there is one problem with this theory...."Where is the balloon?" Even if it was clear/white, the object was close enough to me, that I most likely would have seen some sort of balloon structure attached to it. The donut object I saw didn't appear to have anything attached to it, which makes me question this theory.
Some Sort Of Drone Or New Military Craft
Researching other sightings/images of donut shaped UFOs all over the world, one popular theory that kept appearing is that this is some of new military craft. There are some air-force bases not too far from my town, so this could be a possible explanation. Another theory my mom came up with is that it might have been some sort of strange drone. Since my math skills aren't good enough to calculate the size of the object, I can not say with certainty whether one of these theories are true.
It Really WAS An Alien Spacecraft
With the inability to confirm any of the other theories, we must always be open to the possibility that what I saw on the afternoon of September 15, 2019 was indeed an alien space craft from another galaxy. This makes me wonder however, why on earth would aliens want to visit this crappy town, especially at THIS time of the year. Could be they were checking up on the spillway repairs that have been taking place for the past few years. Or maybe they simply wanted to get a closer look at our lakes and geologic features. Unless I can find some other reports if this object online, we may never know for sure. But it's really cool to think that some strange beings from another galaxy might have been staring down at me through the window of their space ship.
Thanks for reading. Let me know what YOU think this object was, in the comments section.
UPDATE: Here's PROOF that the photos aren't doctored!