I was very fortunate to have the opportunity to visit Florida in October of last year for a relative's wedding. My parents had never been on a plane and the last time I went on a plane was for an hour and a half flight to Spain when I was a teenager, so flying for approximately nine hours was an experience in itself! Going from the cold October weather to around thirty degree heat was a shock to the system. We walked through the tunnel that lead us to the airport and the sun beat down on us relentlessly. The heat was different to our summers though because it was so humid; you could almost feel the moisture in the air and you feel pretty icky sometimes! Thank goodness, the air con everywhere was excellent, it was a safe haven for us and we'd often get too cold.
Entering the airport introduced me to something that I was going to see a lot of during my time in America - the decor. I felt like I had stepped into an American 80s movie. All the decor I came across was very outdated and usually brown which made me feel like the US was stuck in our 70s decor. Our hotel was no different. Before I visited, all my impressions of America was largely based on movies I'd seen and documentaries but I had never noticed the decor! There were a lot of Mustangs and Corvettes around, yet it was easy to see the issue of poverty when a man walked through traffic with a sign asking for food and water in the searing heat. I met a kind woman at a bus stop who appeared to be suffering with voices in her head, but she spoke of her difficulties with poverty and trying to find a home in Florida, so she likely couldn't afford mental health treatment which was a shame to see. It was also very unusual seeing large signs advertising machine gun shooting as "fun for the whole family" with a picture of a child, right next to a fun fair. They definitely do things differently in America and it really opened up my eyes to the divide in society; how they're so far ahead in some areas (space exploration) but so far behind in others, yet Americans are so patriotic and believe their country is the best in the world. I always had this feeling that if most Americans visited European countries or any country outside of the US (few Americans have been outside of the US and over half of the population have never owned a passport), they would be demanding a lot more from their government and could probably make real, beneficial change for the majority. Anyway, moving on...
It was my time in Seaworld that I experienced a hurricane! We visited as hurricane Michael hit and whilst it did reach us, we thankfully only got the edge of it and experienced a torrential downpour and tremendous thunder and lightning. Kids were running around screaming and crying and it went from a bright day to an incredibly grey sky. Rides broke down and the park played a warning sound to signal a hurricane and we were told to take cover! I had never been near or experienced a natural disaster before and for a long time, we were unaware of its arrival. It was only when we watched the news later that we saw the devastation it had caused and we were so thankful that it missed us and I still got to ride Florida's tallest roller-coaster!
Nearby our hotel, there was a mini fair (and the world's tallest slingshot ride) with two winding and long go kart tracks made of wood, three layers high! When I was riding on these tracks, that's when I realised that health and safety may be a little less rigorous than it is in the UK because those tracks would not have been allowed here. The wood was smooth and slippery, we had no helmets or safety equipment on these petrol karts which is usually expected in the UK and it had a steep drop, but the karts seemed old and not well kept so the brakes barely worked. My kart cut out and I realised that we were almost three stories high and if one of us crashed, we could've been flung over the side with no helmet! Some of the other riders were going so fast too, it was so risky! It was then that I was thankful for 'healthy and safety gone mad' in the UK.
Another place we visited that left an unexpected and profound impression on me was the Kennedy Space Center. Before we went, it was going to be just another day out that whilst interesting, wouldn't be the highlight of my trip, but now I feel like it's the opposite. Since visiting, I have been captivated by the bravery of the astronauts, the incredibly intelligent people behind NASA and all the work that goes into one launch. It really altered my perspective on the space program and I was told so many mind blowing facts, I was in awe the majority of the time. Just being there, to say you're in Cape Canaveral, a place that has been in movies and on the TV so many times over the decades creating history, surrounded by swamp lands and six thousand alligators, right on the edge of Florida, was an incredible experience in itself. We drove over two long and quiet bridges to get there, over 'Banana river' and you could see some faint outlines in the distance which turned out to be the platforms and the NASA building. We learned about Space X and Blue Origin (owned by the man who owns Amazon) who are currently working on making space travel available to the public! We saw quite a few of the 45 launch pads, including the most famous platform - 39A. I touched a piece of moon rock and walked on the same orange bridge that Neil Armstrong walked on whilst I visited the world's biggest space shop! I also ate pizza underneath Saturn V's lunar module. I learned so much from my time there that I couldn't possibly share it all here.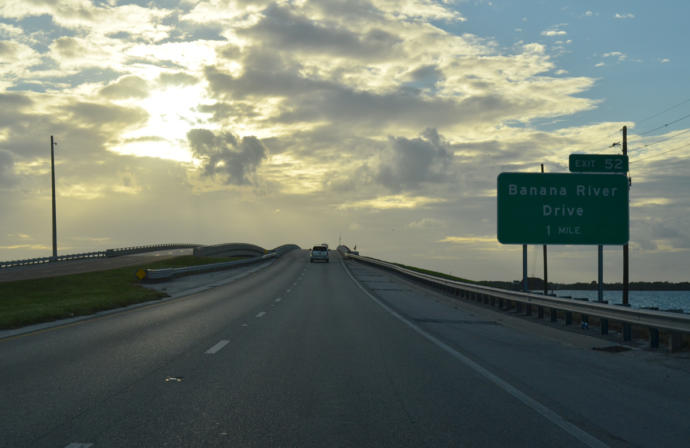 I had seen the NASA building before on TV briefly but, it may sound dumb, I didn't expect to see it. I guess I'd imagined the center being just that, a center/museum for visitors to walk around and read things but it was so much more than that. I had never given NASA much thought so it was hard to believe I was actually at the official NASA Vehicle Assembly building, seeing the world's largest garage doors. The US flag on the other side is 21 storeys high. I believe they were building the SLS which is the most powerful rocket in the world with the hope of taking people to Mars! We were incredibly lucky to see the launch of Atlas V one night from our hotel balcony and that rounded up the NASA experience perfectly; it was a once in a life time experience that I will always cherish.
The wildlife was fascinating to me as well. Their equivalent of our seagulls were a completely different species of bird with a long thin beak and very blue eyes that would eat our of your hand. After seeing the Atlas V launch, we had another new experience - seeing two wild raccoons! I don't think I've ever seen one in person, not even in a zoo and they stopped and looked up at us before continuing. There were lizards on the pavement and there were snakes and alligators in the lake right next to our hotel. We had alligator golf near us and just walking down the street resulted in us being chased by a baby alligator that had gotten loose and whilst waiting to go home in the hotel lobby, a guy casually walked in carrying an alligator which we got to touch! At night, you could hear crickets and other really loud bugs chirping constantly; I definitely felt like I was in another country.
We managed to fit in a visit to the nearby Titanic Museum where they had a real iceberg inside which was made of freshwater and whilst that was freezing, a sign told us that the temperature of saltwater would've been considerably colder. There were 160 artefacts from the wreckage and one large piece of the ship there. You could buy a large piece of coal from the wreckage for a measly half a million dollars, but I got a slightly more affordable key ring with a tiny piece of coal in it. As you go through, you realise the amount of things that happened before the Titanic set sail that, superstitiously, gave it bad luck and one that I will never forget was a letter written by a passenger on the ship who had to transfer from another ship to the Titanic which delayed his trip. In anger, he wrote to his brother that he wished that the Titanic was lying at the bottom of the sea. He didn't survive.

I didn't realise the Titanic sunk near Florida and it was a surreal and emotional moment each time we flew over the area it sank (it was shown on the plane map). It was especially sobering flying back home at night and after the visit to the museum. It was about -50 degree celsius outside, it was pitch black and no light coming from anywhere and no land in sight for miles. I couldn't help but think of those who lost their lives.
All in all, visiting America was one of the best times of my life because I experienced so many new and incredible things that left me either emotional or in awe. Seeing killer whales suddenly fly into the air took my breathe away and I felt so privileged to have the chance to swim with dolphins, manta rays and exotic fish! I have never been so close to alligators before and I saw things that aren't found anywhere else (the NASA 'crawlers' are the only two in the world) or are the biggest in the world (I visited the world's largest McDonalds too). I ticked off a bunch of things in my non-existent bucket list and if you're wanting to do the same, Florida would be a great start!
---