A week ahead of dropping his Revival album, Eminem addresses White privilege once again on his new song "Untouchable." Also on Thursday, he unveiled the album cover for Revival, which shows him burying his head in his hand from behind an American flag.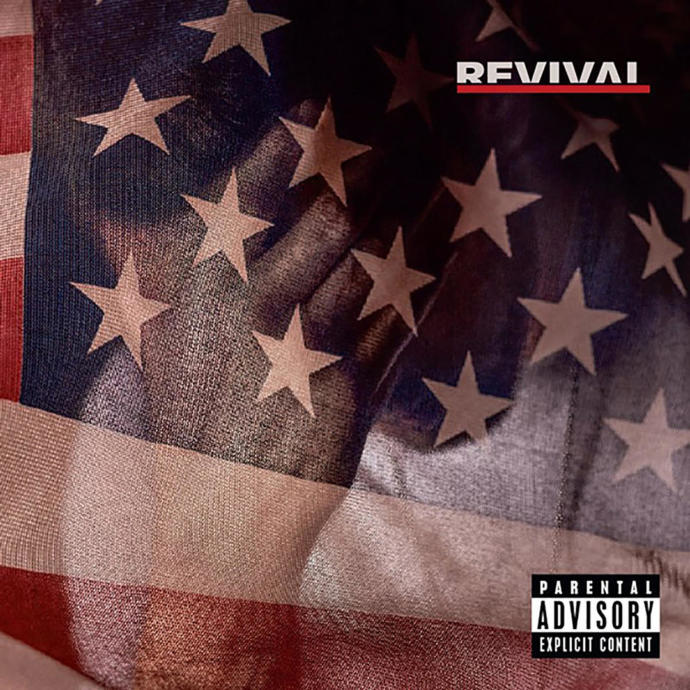 Eminem has gotten political with his music before. In October, he voiced his disapproval of President Donald Trump with a freestyle rap performance that aired during the 2017 BET Hip Hop Awards.
"Untouchable" is an up-tempo anthem that addresses police brutality, racial profiling, white privilege and systematic racism in America. The song also mentions other social issues such as segregation, poverty, high crime rates and low job availability.
Eminem raps "Black boy, black boy, we ain't gonna lie to you/Black boy, black boy, we don't like the sight of you/Pull on the side of you/Window rolled down, profile."
In the second verse, he speaks plainly to the message of his song, "Throughout history, African-Americans have been treated likes---/And I admit, there have been times where it's been embarrassing to be a ... white boy, white boy."

Song Lyrics: https://genius.com/Eminem-untouchable-lyrics
Check out the Revival cover and tracklist below.
Eminem's Revival Tracklist
1. "Walk on Water" Feat. Beyoncé
2. "Believe"
3. "Chloraseptic" Feat. Phresher
4. "Untouchable"
5. "River" Feat. Ed Sheeran
6. "Remind Me (Intro)"
7. "Remind Me"
8. "Revival (Interlude)"
9. "Like Home" Feat. Alicia Keys
10. "Bad Husband" Feat. X Ambassadors
11. "Tragic Endings" Feat. Skylar Grey
12. "Framed"
13. "Nowhere Fast" Feat. Kehlani
14. "Heat"
15. "Offended"
16. "Need Me" Feat. Pink
17. "In Your Head"
18. "Castle"
19. "Arose"