Dating Buzzwords And Their Terminology
Being firedoored means one person provides all of the effort , attention and affection to the other, but it's not reciprocated. Just like an emergency firedoor is one-sided, your relationship is one-side.You give a lot of attention, but receive very little in return. You always reply to their messages,but they rarely respond to yours,and when they do they're cold towards you. But if they initiate contact ,they're charming and friendly
Sneating -sneakily cheating their way into eating a free meal ,at your expense . They'll arrange a date just to get free food, .There's little to no conversation during the date, and they clearly have no interest in getting to know you.
Stashing is when you're dating someone and they hide you away. You'e hidden from every part of their life. They've met your family and friends ,but you never meet any of theirs. Your dates tend to be somewhere where you won't know anyone. They don't acknowledge your existence publicly, or to other people in their life .Your name is never mentioned,and they won't post anything about you on social media.
Phubbing is formed by two words - phone and snubbing. Phubbing is when someone ignores you ,and pays more attention to their phone than to you. They would rather spend most of their time on their phone than having a conversation with you
Benching refers to a person online that leads you on, but they make no effort to see you in real life. Benchers are emotionally unavailable, and date multiple people at once.They go for long periods of time without contacting you,and place you on a "bench"while they're talking to other people.They won't commit or invest in a relationship with you.They seem interested,and want to keep in contact , but they make excuses not to see you in person
Breadcrumbing is when someone drops you a few breadcrumbs so you don't lose interest.They do this by sending you suggestive sporadic messages frequently enough to maintain your interest. They ignore you for a week or two, then offer you a glimmer of hope by sending you a sweet message, making you believe there's a chance of a relationship. They string you along by keeping the conversation alive with the very little effort.But the relationship doesn't actually move forward.
Haunting is when someone ghosts you, but they show up again some time later but in an indirect way.They become like ghosts haunting your life, by watching your Instagram story or liking your Facebook posts,but they don't get in touch with you directly.
Cushioning is when someone keeps you around to boost their ego. Or because they're afraid of being alone. Cushioners don't really care about your needs ,only their own. They usually see other people ,and are only using you as an option in case their other relationships don't work out. You are just someone to fall back on if their other relationships fail,or someone to lean on when they feel lonely
Love Bombing is a form of emotional abuse,and love bombers are generally narcissists and sociopaths.Love bombers will move too quickly during the early stages of the relationship. They adore you , and shower you with lots of love and affection to win your over .They tell you they love you ,make promises about the future of your relationship , and make plans to move in with you soon after you meet. As soon as you pull away ,or want to slow down the relationship you see a disturbing different side to their character. They use manipulation and controlling behavior to force you to comply with what they want.
The catch-and-release method is used by people who love the chase.They are very attentive and show lots of interest. As soon as you take the bait by showing interest and getting too attached , they get bored and end the relationship.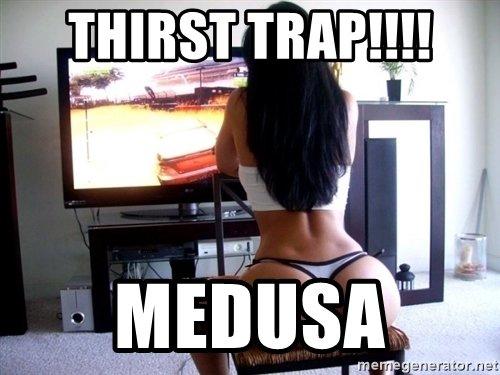 A thirst trap is when someone posts a provocative picture of themselves on social media to illicit a response from other people .Their intent is to cause others to publicly profess their attraction, because they are thirsty for attention. They take pleasure from the sexual frustration of those who view their image. One example of the act of thirst trapping is when a person captions an image "i love this new t'shirt " but the photo is zoomed in on their half-naked body.They often respond to some comments by pretending they are not welcomed. But ALL attention feeds their ego
.