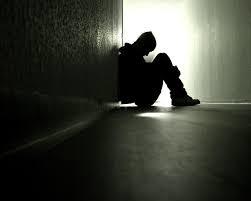 Something I've been thinking about recently, after my most recent breakup, is that not only do guys feel emotions as acutely as women (especially negative ones, like sadness and depression), but the loss of a romantic love arguably hurts us more- and I'll explain why.
Clearly, for both men and women alike, the loss of someone you (romantically) love is hard- manifesting itself oftentimes in physical agony. Depression, mental illness, and even suicide often result from a breakup. However, I believe that it is harder on guys for three reasons: (1) guys have a possessive characteristic that makes the idea of their former-lover having sex with another guy extremely troubling, (2) nobody but a guy's mother cares about the sadness they're going through, while girls can find armies of sympathetic ears, and (3) women have an easier time getting attention from the opposite sex afterward, which numbs the pain slightly.
I've had two significant breakups in my life; one was my first love (a girl named Angelie), who I met before my first tour in Iraq- and left me shortly thereafter, and a girl (name withheld), who I was with for four years, following a toxic relationship, which ended when a former fling destroyed my reputation to my ex's friends, and I was caught cheating. Clearly the second one I deserved, but the first was a wake-up call that no matter how well you treat someone, or how much you love somebody it doesn't mean they won't leave you.
Years later I still think of Angelie- and I still love her. I found her online today, knowing enough about her to find out her (now) married name, and when I saw her with her husband, two kids as well, it still hurt. I haven't seen this girl in over 15 years. What affected me the most was not the pang of hurt I felt (admittedly mixed with happiness that she has a beautiful family), but the realization that in another 10 years I could be seeing the same thing for my recent ex- someone I loved (discovering how deeply only after we broke up) with their family, a future that should have been ours.
Thoughts?