Disclaimer: These are my thoughts and there is no scientifically proof or evidence to support my reasoning.
Written: 10-10-2020

We live in a digital universe. Online dating has become the new norm, especially now with limited in-person contact due to COVID-19. I will give you some insight to my experience with online-dating and I will share some of my thoughts about online-dating and why you should and shouldn't do it.

My Experience in a Nutshell:
I have tried nearly 5 dating apps, talked with numerous men, went on a few dates. I would consider myself to be fairly attractive and intellectually-driven. I decided to test the waters of online dating because I was genuinely curious to meet men and go on dates. Little did I know that jumping into online dating could have more output than I would have imagined.

My Standards Before Online Dating:
A few weeks ago I deleted all of my dating apps and profiles (Hinge, Bumble, Plenty of Fish, Cupid, Coffee Meets Bagel). I was on each of these for nearly 3 months at once. Before entering the dating world I knew that I was looking for a serious relationship, and I still am. I had an internal list of standards for meeting guys: educated (preferably a student like me), near me, enjoyed some of my hobbies (biking, hiking, etc..), and had a compassionate character. The first guy I ever went on a date with was great, we went on several following dates. We split after a few weeks. I continued to explore my options with other men. The dates failed, and I felt like I was losing sync with my standards. I met men I typically wouldn't even consider dating and got disappointed nearly every time when they didn't contact me or I didn't feel a spark after the dates. That is when I knew I needed a reflection time. I decided to get off all online dating apps. Now here I am!

Brief Reflection:
I felt like I was going into online dating underprepared. I wasn't looking for "the one" and I also wasn't setting expectations for myself. Overall, my experience was alright. It was an interesting experience. Would I go back to on online dating? No. Here is why:

Why I think online dating doesn't "work":
Lack of Chemistry: It is harder to seek pure chemistry online. Biologically, humans need to physically meet someone to experience attraction. Pheromones can not travel through our screens. I feel like this is one of the main reasons for why people would not choose to online date.
Impersonal: You are swiping through faces and it gets impersonal and de-valuing because you are judging someone's physical appearance (mostly). We judge outside in the public as well; however, when these apps narrow down attraction to the flick of a finger (left/right swiping) it can almost feel like you are "shopping" for a date.
False perception: People can fake a persona (aka catfish). If a person isn't willing to give you their actual number, call you, or give you images of themselves that aren't on their profile, they are probably either really insecure or they are hiding something from you (e.g. appearance). When you meet someone in-person you know 100% if that person is the person you are visualizing because you are merely seeing them IRL. Online, that person could touch-up their photos with filters, photoshop, makeup, when really, they look like a completely different in-person. You will be disappointed to meet a person that you met online if you are expecting them to look like their profile pics. I've been there, lol. I had one guy I went on a date with lie about his height. I am a fairly tall gal (5'8") and this guy said that he was (5'10") and, in person, he seemed to be probably 5'6". That proves this point.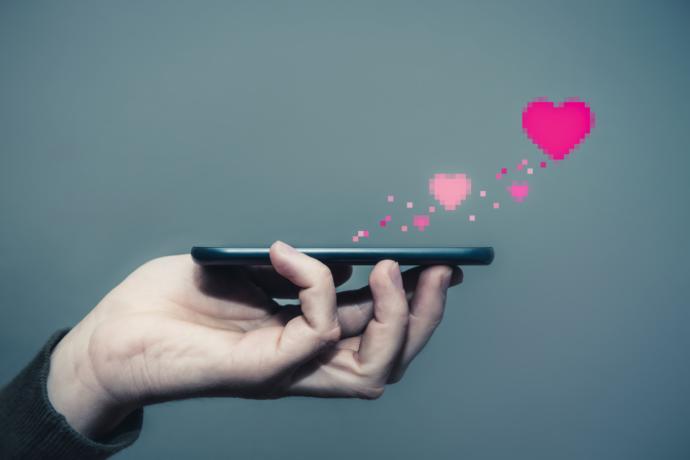 Awkward: It can be awkward. It is hard to start off as friends on dating apps because it is called a "dating" app for a reason. One of my preferences for seeking a relationship was to first start off as friends and see where it goes. This just won't simply work at first. Maybe if you date and there is no click, friendship could be a possibility but typically if you are strictly looking for friends first, you should not be on a dating app.
Here are some reasons for I would prefer online dating:
Anxiety-reducing: Meeting someone online (at first) could be anxiety-reducing for people that maybe lack experience and have nerves. Some of my very introverted friends struggle with social-pressured situations so online dating, in their case, would be the best option for comfortably getting to know someone better. If you are shy and want to get to know someone at a pace comfortable for you, start with online dating.
Exploration: Online dating gives someone the opportunity to explore their options and build standards. Although swiping left/right, getting flooded with matches, not receiving any matches, could be de-valuing, in a way, you can still explore other types of people. I think that dating apps give people a baseline for entering the dating world. You go on there, build your profile, get an ego-boost, maybe go on a few dates, and you gain experience. After meeting and speaking with several of different types of people your standards may change, grow, or narrow.
Self-confidence: Online dating promoted self-confidence. In my experience, I would say that online dating has improved my confidence. I received compliments, affection, attention which is a very enticing feeling. Of course, not every one will have this experience. Online dating could give you an ego-boost.
Grows experience: You grow experience. Whether it's online dating or meeting people in public, you are putting yourself out there and you are growing experience which is valuable for finding your identity.
Advice for people that are contemplating trying dating apps:
Make a list: Make a list of what you are looking for and what you aren't looking for. Sounds silly but I wish that I would have done this because I was naive.
Don't overthink: Don't overthink your dating profile. Little thought should go into this because it means that you are being honest with yourself and how you want other people to perceive you. Also it may be useful to ask some family and friends for tips on making a good profile if you can't think of any appealing content, but seriously don't overthink it.
Make your intentions clear: If you are serious about dating, make your intentions clear from the very beginning. Being clear about what you are looking for is always the best thing you can do. It eliminates any early-assumptions and gives you a better idea of the person you are talking to.
Be yourself: The utterly cliche line. So many times, I wanted to project another image on my profile that didn't align with who I really am. Don't be me. Remember that the people you are talking to will eventually want to meet you if they are interested. They want to meet you, not another person. Don't feed them false-hope. Be honest.

Conclusion:
I just shared with you some of my thoughts about online dating. I also shared some of my experiences. Online dating is an option for dating that I have tried and I hope that you got something out of my words. For some, online dating is a great method of meeting people and entering the dating world. For others, not so much. If you have the options for dating, explore them. You never know what you will find, or what will find you. If you have any thoughts about online dating, or want to comment on my words, the stage is yours! Take care ;)
Feel free to ask question if you have them.