I actually prefer Western graphic novels and comics and have a hard time actually getting interested in a lot of the Japanese mangas, But the ones I like I REALLY like!
So, Here is my ten all time favorites.
10. Fist of the North Star

Genre: Martial Arts
Written by: Buronson (Sho Fumimura)
This is the earliest manga I remember reading, I got hooked on it because I loved the animated series so much.
Kenshiro is the main character and one of the best ever! He travels around a post-apocalyptic world fighting various adversaries with his killer martial art style called Hokuto Shinken. Because Hokuto Shinken allows him to kill opponents by attacking secret vital points, It has some seriously gory and violent death scenes.
This is one of the manliest series ever, And they also made a live action movie version that was pretty cool! And, Some video games I have personally never played.

9. Shingeki no Kyojin
Genre: Dark Fantasy, Action- Drama
Written by: Hajime Isayama
This one is known as Attack on Titan in the States. And the manga is better and a lot more intense than the Anime series on adult swim, IMHO.
If you don't know the story, It's about giant humanoid things called titans who devour humans, And a dude named Eren Yeager who joins the elite military unit survey corps and fights the titans outside the wall.
Bot the show and the manga are brilliant and insanely entertaining! And there's Mikasa <3
8. Dragon ball
Genre: Action/Adventure
Written by: Akira Toriyama
This is probably the most successful manga ever, And most people still probably know it better as an anime series from the late 90s and all the video games (And that movie).
But Dragon Ball has been around since the early 80s, And it is inspired by Journey to the West.
The story of Goku and his quest to find all 7 dragon balls and summon a magical wish-granting dragon. Gotta love Dragon Ball.
7. Vagabond
Genre: Samurai (Chanbara), Historical
Written by: Takehiko Inoue
I love anything involving Miyamoto Musashi. He and Yukimura Sanada are my favorite characters from Samurai Warriors, A game series I have played the living hell out of.
This is pretty much a fictionalized version of his life, But the story is nothing short of incredible and it is one of the most visually impressive mangas ever.
6. Slut Girl
Genre: Erotic, H-Manga
Writer: Isutoshi
This one is dirty as hell, funny, and has a great story for what it is.
I love Sayoko Bizen !! <3
5. La Blue Girl/ Urotsukidoji
Genre: H-Manga, Horror, Action
Writer: Toshio Maeda
I like these both the same, So made as well add them together.
I like the animated versions of both better than the mangas, But these mangas are classics and really great.
Plue, Miko Mido the super sex ninja is one of my all-time favorite characters! <3
4. Hellsing

Genre: Horror, Action
Writer: Kouta Hirano
Think I mostly added this in my top 10 because I love the anime so freaking much, But the manga version is cool as hell in its own right.
Alucard and Sera are two of the greatest characters ever.
3. Bondage Fairies Extreme

Genre: Manga Erotica
Writer: Kondom
Still one of my all time favorites. It's just extremely perverted and weird, And it's fairies getting freaky all over the place!
2. Death Note
Genre: Detective thriller
Written by: Tsugumi Ohba
A high school student named Light Yagami finds finds a maginal notebook that allows the user to kill anyone whose face and name they know. Super cool stop and very impressive artwork, This manga is highly reccomended.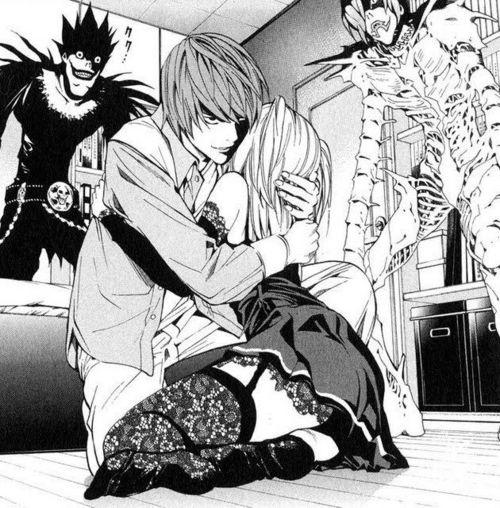 1. Berserk
Genre: Dark Fantasy
Written by: Kentaro Miura
And, My all time favorite manga!
Takes place in a medieval European- inspired fantasy world. It features great chracters, dark and disturbing storyline, and loads of insane violence.
And it features Guts and his huge f**king sword.
---