I haven't written any takes for a while. I've been busy the last few weeks and I've also been logging in less often. I thought I would write one about my favorite couples. Note that I'm not including manga couples because this list would be much longer otherwise. And just to be clear, this is indeed about canon couples and not ones that I've made up in my head.
15. Harley Quinn and Poison Ivy
So for those of you who are not aware, the two of them are currently in a relationship in the comics. Ivy helped her get away from her abusive relationship with the Joker.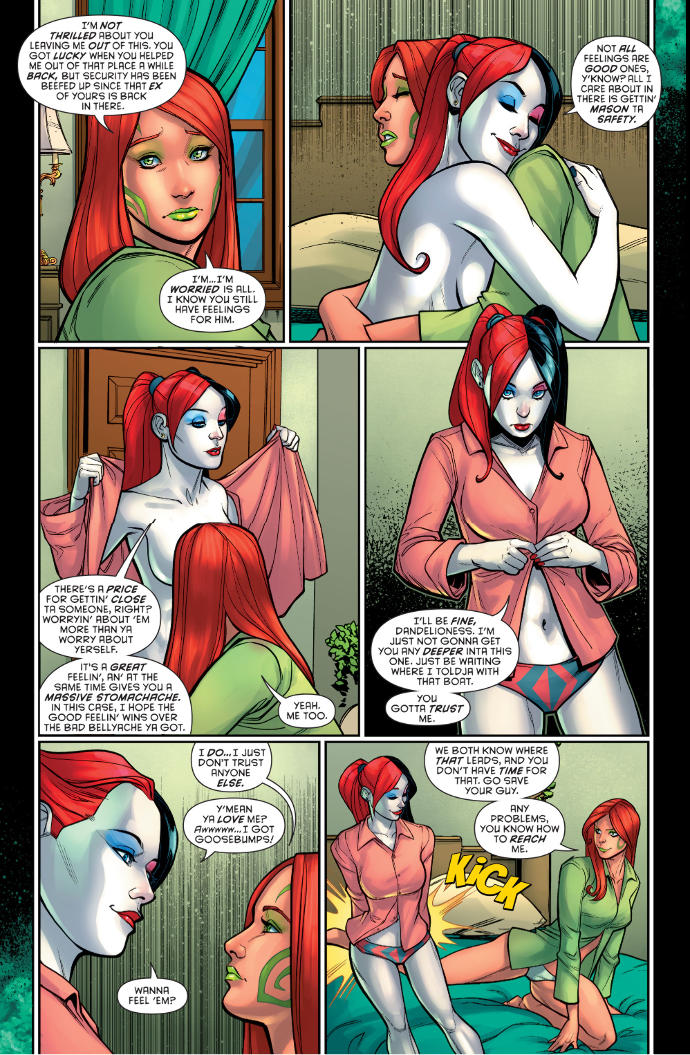 These two have a long history together, even before the New 52. I'm glad DC Comics is slowly transitioning both into the anti-heroes territory. If you think about it, how can Poison Ivy really be a villain if she's fighting for the environment? It's only when she pulls stunts like robbing a bank that classifies her as a villain, and I have a hunch she's gonna use those for environmental purposes.
And please don't bring up Joker and Harley since he does not love her and DC has never said that he does.
14. Hulk and Caiera
He met her during the Planet Hulk storyline. They originally started out as enemies trying to kill each other but later developed a really close relationship.
She also didn't see him as a monster and accepted him for who he really is.
It's sad how things ended between them though. She was pregnant with his child and Hulk had finally found a home.
13. Aquaman and Mera
12. Apollo and Midnighter
The two of them have great chemistry and I've always liked the dynamic between them. I had no idea DC would actually do this but I like what they've done.
11. Green Arrow and Black Canary
Not only have they been a thing for a really long time, but they've also got their own series together now. There was even a Wedding Special issue which was all about their wedding.
10. Gambit and Rogue
I first saw the chemistry between them in the X-Men cartoon. I only recently started reading comics about them and while I do like what I've read so far, I know their relationship better from the cartoons.
9. Nightwing and Batgirl/Oracle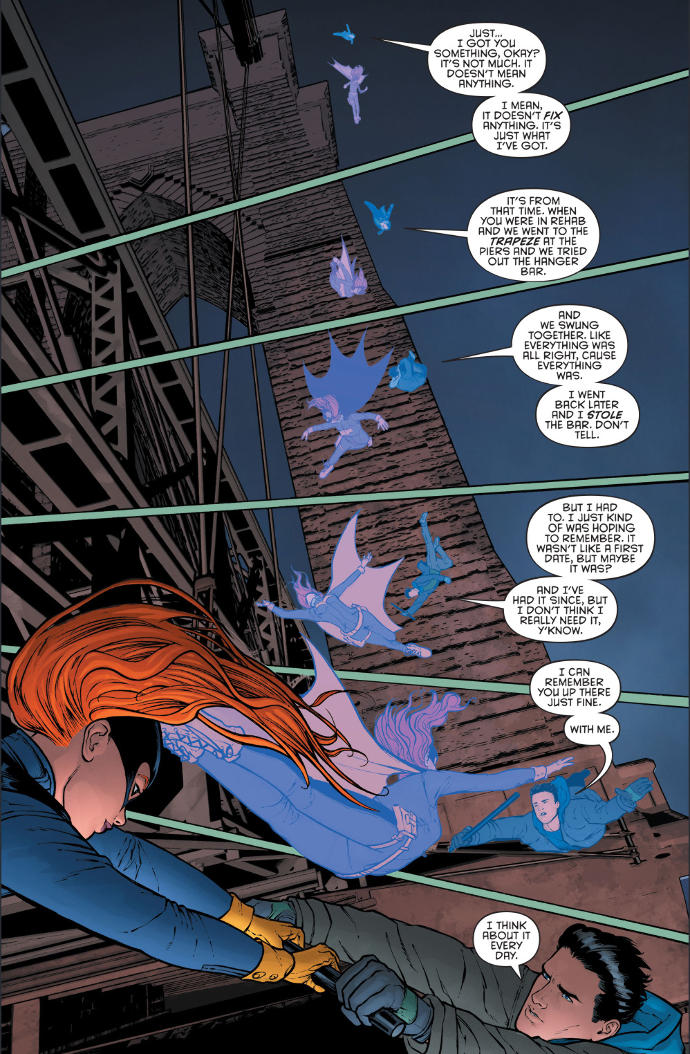 8. Barry Allen (Flash) and Iris West
I couldn't think of a good pic to post so I guess I'll just go with this one.
7. Peter Parker (Spider-Man) and Mary Jane
This is from an old comic but it's really hard not to think of this early moment when I think of them.
6. Reed Richards (Mister Fantastic) and Susan Storm (Invisible Woman)
Yes, the two of them from the Fantastic Four. They are considered Marvel's first family. It sucks that their honeymoon didn't go as planned.
5. Bruce Wayne and Talia Al Ghul (sorry Catwoman fans 😢)
I really like Talia when she's not written as a psychopath/sociopath. I just wish she would be more mainstream and her loyalty to her father wouldn't get in the way.
4. Black Panther and Storm
So for the fans who've only been following the movies, the two of them were married for 7 years in the comics. They actually have a long history and originally met when they were both teenagers.
Their wedding took place at around the same time as the Civil War story arc. T'Challa was actually neutral during the war and tried to convince them to talk it out instead.
He only ended up joining the war because Storm was being forced to sign the Superhuman Registration Act.
They eventually got divorced in the Avengers vs. X-Men storyline which took place 6 years later, where they ended up turning on each other. The story tries to convince you that it's because of the conflict between the two groups and the fact that Namor managed to take out Wakanda. But fans know the real reason for their divorce: Marvel is trying to get rid of the X-Men!
3. Superman and Lois Lane
Well, they are one of the oldest comic book couples, so they were bound to make this list. I love how Clark always tries to look for a normal life with her.
2. Luke Cage and Jessica Jones
The two of them are currently married and have a daughter (and their daughter is just adorable).
You also know never to try and make him jealous. You can ask Spider-Man.
1. Archie and Betty
This is probably the only couple on this list that isn't related to superheroes. Archie Comics might be the first ones that I've actually read.
They recently rebooted the series with a different tone and a new art style, but the stories are still about what they used to be... A love triangle between the two of them and a character called Veronica.
I know a lot of fans who prefer Archie and Veronica as a couple but I'm not a fan. Veronica was bitchy and rude when she was introduced, especially to Archie, and she was also very shallow. Betty definitely seemed to care about him a lot more.
There are a few more that I would add but I ran out of pictures. I could add them as honorable mentions but meh, I'm too lazy. I might edit this later to add them and also correct typos.
---