J/W. obviously if your boobs look implanted its obviously because they look almost too perfect to be real.
I remember at the strip club there was once a stripper on stage that I went to tip who had enormous boobs. aside from being enormous they were nice and round and so perky that I had a tough time telling whether they were real or not. I even asked her if they were real and she replied "why don't you come and get a lap dance with me, you can play with them and find out." she sounded so nice and friendly as if she took it as a compliment.
however I can't see myself asking a woman this outside the strip club this question. I've heard a lot of women hating other women who have implants for some reason and most of the reasons sound pretty egotistical. claiming that "real women" don't have fake body parts in their body and the list goes on.
However, there was one girl who I had a crush on in high school that once told me she wanted to get her boobs done someday. She was from Venezuela where boob implants are extremely common. I think it's safe to say that she was the only woman I personally knew that actually saw light on boob implants.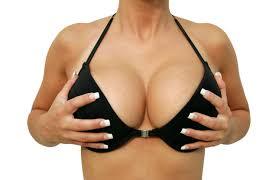 Select age and gender to cast your vote:
Updates: