Shout out to the Anon who made the take "Why I'm Attracted To The Bad Guys." It gave me the idea to write this take in response. Click below if you want to check her take out.
Here's the link: Why I'm attracted to the bad guys
Now let's get into MyTake:
Before I Go Further, I Used To Think Bad Was Attractive Too...
I had a difficult life growing up and during my early life I really didn't love myself. I was in a lot of pain and rage. It wasn't till more into my late teen years I had developed my own love and self worth. By that time it was too late. I was used to fucked up guys and although I demanded better treatment from relationships I thought I was too broken for something good. Even If I had spent so much time repairing and building myself. I felt the scars would never go away and anyone with a good heart deserved someone better than me.
I wanted someone with issues like me so I felt better about myself. I brushed it off as anyone good wouldn't be able to handle me anyway. They'd break or leave me because they were weak. So I found shelter in not getting too attached in relationships. In reality I was weak one.
TRUST ME, once you get a good one, there's nothing like it. I'll explain later.
Once You Learn The Difference Between The Three It'll Stick Out Forever
Here are my personal definitions of the three:
The Bad Guy -
Are guys stuck in a negative stage in their life. They still carry their scars with them and they use them as their armor for the outside world.
Whatever torments them at night they wear it out in their lives with their actions and sometimes their appearance (Consciously or subconsciously they do).
Unfortunately, those in this stage will end up being toxic to those around them until they mature out of it into a better place.

Many girls think they can change or make a bad guy behave with making them pussy whipped /fall for them.
Please, do not think this, it's popular in romance novels where the bad boy falls for the girl and changes to a "nice" bad boy. Oh, did I forget to mention the guy just so happens to have undeniable looks, a billion dollars, tattoos, and works for a mafia?
Yeah no, don't fall for it, hun. People have to change for themselves. Never settle on the hopes someone will change. Don't get lost in infatuation with someone toxic. If a guy is shitty, he doesn't need you to love him into a better man. He needs a therapist and to change his life for himself.
The "Nice" Guy -
Nice guys are the guys who go out their way to give you everything they think you want. They listen, buy you things, compliment you, comfort you in your time of need when that bad guy is shitting on you. They are the ones you can invite them over for a movie night when you need a shoulder to cry on or- wait did he just pull out his dick?
Oh no, and don't you DARE deny him. If you do, suddenly you're this cat-
According to them they haven't done all of this for no reason. They want something for all the stuff they've been giving to you. You owe them, after all, they didn't have to be so nice.
Never go for anyone who's being nice to you because they want something in return. It should be genuine because they REALLY ARE a nice person in general. IF you see this happening, don't indulge or cater to it either. That makes it worse.
The Good Guy (Aka A Human Male That's Not Shitty)-
This guy is a genuinely decent guy.
He comes in all shapes and sizes and he respects you as a person. Not only that but he does what he wants when he wants to and is picky about his inner circle and love life. While his personality traits and interests will differ. Above anything he will be a healthy individual.
Yes, love, he will have his own issues with him too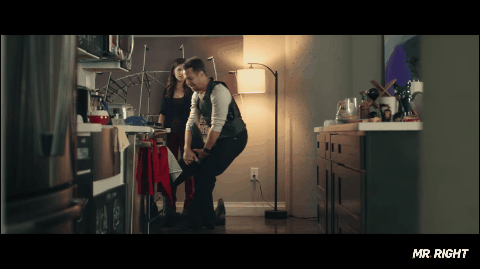 But most people don't go through life unscathed. The way he'll deal with his issues will be the big difference. He'll be honest and communicate when he has a problem. Seek to confide in you when he needs someone for comfort or support. Tell you how he's feeling, what his boundaries are, and what he wants/is looking for in his life right now. And if that matches with you.
He'll be the one you can share your complete self with, no matter what good, bad, or weird things yourself you carry. If you guys are good for one another, it's those things that will make you bond more than anything.
You'll be able to see yourself truly investing your life into him and vice versa. You'll challenge one another will always want to be better people for each other. You'll feel like a team together. No, good guys aren't perfect but they give everyday their best .
In Conclusion, Once You Get A Good Guy, It's Likely You'll Never Want Anything Else
Everything about it is just different. The respect level, intensity, and so on.
When I was finally in a healthy stage to have a relationship, I got lucky and was able to get a good man who loved me for me. Everyday he's shown me a new and stronger way to love someone. I kid you not, he's my BEST friend in the whole world and my man at the same time.
I tell him everything. I support him through anything and vice versa. I can't imagine ever going back to something where I didn't it wasn't so close. He's a breath of fresh air. Even when he gets on my damn nerves and we argue like an old couple. It isn't the same. Our tones, how we address one another, and so on.
Our goal is to come to a common ground and be happy again. We aren't fighting for the hell of it. There hasn't been a day in 5 years we've went to sleep angry with each other. I feel like a queen everyday lmao. So yeah, I'll say it. Good guys are the fucking best and I wouldn't want anything else lol.
Thanks for reading or dropping in whether you liked my take or not! Take care! Here's a song just because I feel like it fits my emotions on this topic.