A Brief Preface:
chart above showing the development in bitcoin prices from

October 1th 2017 and untilJanuary 9th 2018.
Words like cryptocurrency, e-wallets, blockchain and especially Bitcoin(1) are becoming more and more widely known and used. Some have heard the terms, but don´t really know anything about it -some know a little, but very few knows enough- or at least sufficient to even be able to explain the terms and concepts and pass it on. '
Wether we like it or not, it is not in the grand picture, going anywhere, so I have made an attempt to shorten, simplify and share a little about this bitcoin, what it is and how it largely works. The technology that is the foundation for #bitcoins, the blockchain #technology is briefly described as well. Other cryptocurrencies and more on the topic is in writing and – if anyone is interested- I shall gladly publish on GAG(2)

Bitcoin- The System Explained in Short:
Possessing a certain amount of a currency means possessing the promise that one can collect favors from others in the future whose value is equal to those oneself had to give to others to acquire the amount. Thus, scarcity is a necessary property of anything that is used as a currency. If it could be produced at low cost, devaluation would destroy the trust in this promise. Building upon this property, it is also necessary that the currency can be transferred from one person to another, ideally in any quantity. The transaction mechanism must make sure the currency is correctly transferred in the sense that the overall amount of currency is preserved and that the transaction cannot be reversed later on. We will call this integrity.

For ordinary physical cash, both scarcity and integrity are enforced by the laws of nature, i.e., usage of physical tokens (also, legislation imposes constraints on counterfeit money, theft etc. With electronic currencies however, the amount of currency one possesses is nothing but an account balance. Thus, it requires a financial institution to manage these accounts and enforce scarcity and integrity. Bitcoin has been proposed as a distributed peer-to-peer accounting system accomplishing this without relying on trust in a central authority.
A Bitcoin is represented by a chain of publicly announced transactions every participant of the network is aware of. Each transaction contains a public key signifying the owner of the Bitcoin. It further contains a hash of both the previous transaction and this public key, thereby entangling the previous transaction with the next one. The previous owner signs this hash using his private key. Any user can now validate if the signature of transaction matches the public key of the previous owner. He will only accept the transaction if it does. Thus, knowledge of the private key enables a user to spend a Bitcoin. As long as users keep their private keys secret, this mechanism prevents potential attackers from spending Bitcoins they do not own. Nothing however stops them from spending those they once received twice. What is required to prevent double spending is a consensus on a temporal ordering of transactions among all users. This way, the current owner of a Bitcoin can always be determined. Attempts of previous owners to spend it again can be detected.

The temporal order is established by what is called a block chain. Blocks collect transactions combined with a hash of the previous block, thereby creating a chain. A block is valid only if it exhibits a special property which proves that a certain amount of work has been put into its creation. In particular, blocks contain a nonce value. It must be chosen by the creator in such a way that, when hashing the block, the hash starts with a certain number of zeros. As for an ideal hash function, this can only be achieved by randomly trying many different nonce values. The probability of finding a block depends on the number of trials. It can be adjusted globally by changing the number of leading zeros the hash must have.
Regular adjustments ensure that new blocks are found on average each ten minutes. Via the block chain users collectively agree on the temporal order of transactions as defined by the order of the blocks containing them. Users always believe in the longest valid block chain they are aware of. As long as the majority of users are honest, no single attacker will be in the position to deliver the PoW necessary to change the temporal order to his advantage. Removing a transaction one did an hour ago (i.e., about 5-6 blocks in the past) from the block containing it would not only require recreating this block but also all subsequent ones, since the hash of the altered block is part of the next, and so forth. Thus, it quickly becomes computationally intractable to alter blocks deep within the chain.
To motivate users to participate in creating blocks, optional transaction fees can be paid by users creating transactions to users ironing these into a new block. Furthermore, a special transaction rewards the creator with a certain amount of newly created Bitcoins (in form of a special initial transaction preceding every valid Bitcoin). This rewarding mechanism—called Bitcoin mining—constantly issues new currency. The amount is reduced at regular intervals and will eventually stop by convention. Once stopped, all Bitcoins are in circulation and the system will solely be in the transaction phase (as opposed to the mining phase in which new Bitcoins are created). Consequently, scarcity of Bitcoins is ensured by eventually stopping Bitcoin supply, and integrity is ensured by digitally signed transactions timestamped in a publicly visible block chain receiving credibility by the work invested into its creation.
There is much more to this part, but I have chosen to divide the chapter into 2, simply because I feared the rest of the security related stuff would get too confusing. I will however, gladly supply the rest of my original chapter to anyone that is interested.

The Author:
I thought it might make sense to briefly explain my part in this and why I might be crazy enough to write about this stuff.
I hold a MSc in computer science from DIBU in Copenhagen, though I originally started reading a bachelors degree in psychologi, but made the switch 1½ in. Since 2008 I have furthermore acquired various certifications within cybersecurity, infrastructure and networks. They are CCNA(3) – CCNP(4) – CISA(5) - ECSA((6). I was one of the founders of my present company in 2008. We develop, implement and maintain infrastructure solutions, mainly cloud storage/network and security. I function as CTO and security solutions architect.
In 2011, I got fascinated when learning about bitcoins for the first time, back then NOBODY had a clue -and the more I got into the stuff, the more it fascinated me! So teaming up with a good friend who is a financial controller and expert in start-ups, we began forming a small cryto-company. The first couple of years was mainly minor investmenst and analytic work, consulting for some of the more foresighted businesses around, but in the last couple of years the paste has shifted quite a bit ! We invest in cryptocurrencies and offer safe platforms, wallets etc. for handling them, along with key consulting for start-ups within the crypto area and companies wanting to implement or migrate cryptobased solutions. Lastly I hold seminars and lectures and holds a chair in a tech-company board of directors.

NOTE: The only sources I have used writing this is the original "bitcoin manifest" and my own knowledge of the topic. The manifest I have provided a link for, marked reference 1.
Pictures are with thanks to: www.blockchain.info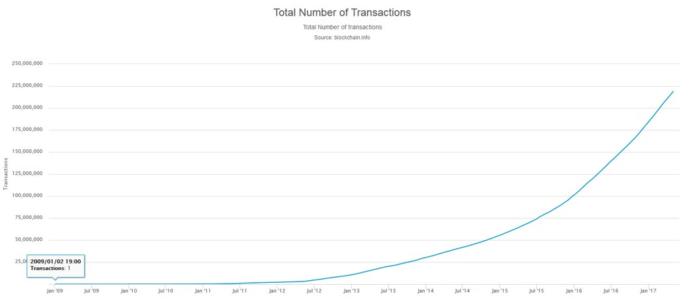 1. Bitcoin: A Peer-to-Peer Electronic Cash System, by Satoshi Nakamoto, only published online -2008
https://bitcoin.org/bitcoin.pdf
2. GAG . Www.girlsaskguys.com -online forum for asking questions and debating
3. Cisco certified network associate (security and network)
4. Cisco certified network professional (security and network)
5. Certified information systems auditor (ISACA- information systems audit and control association)
6. EC-council certified security analyst
---