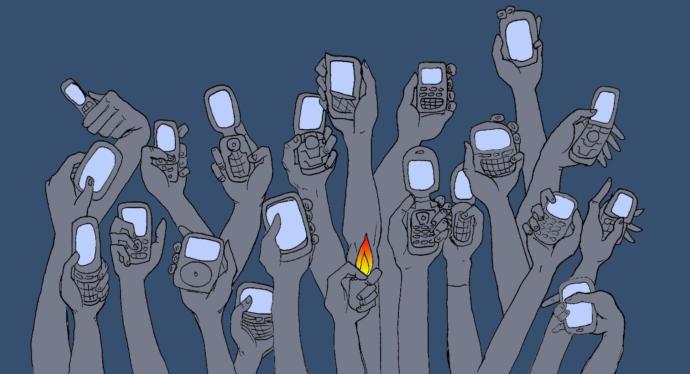 I feel like I grew up in a time where we were on the cusp of "the old world" and the new, like a sort of Life BT, or life before technology. Of course technology has always existed and changed throughout history, but in terms of the modern technology we are absorbing today at an insane rate of turnover, I think our generation was the last to really know a life before these things became a thing. I remember being in the third grade in Girl Scouts and receiving a miniature homemade first aid kit made from a recycled pill bottle. In the bottom of this kit with its band-aids, and gauze, was a single quarter. Why would one "need" a quarter in a first aid kit you may be wondering?
Because way back in those ancient dark times, if there was an emergency and you weren't inside near a landline, you would have to run and find a payphone, which required you to pay a quarter + in order to make a call. Can you imagine? We don't really think about this now, but if say your uncle was having a heart attack, you had to choose right then and there if you knew CPR to try to do that or if you didn't or it wasn't working, you would have to leave him there to go, run, and find a pay phone (which emergency aside, always seemed to be covered in the absolute filth of humanity).
Here are some other ways life was different before the advent of cell phones.
1. You would forever wonder where someone was if they were late because in a car or walking around some place unfamiliar or without payphones, they had no ability to call you. Definitely scary if it had been hours and you just didn't know their whereabouts and couldn't ping their phone. You could however definitely be late to work or any other event because traffic or whatever else excuse you had because no one could actually verify that like your boss or friends could today.
2. What Uber? What ability to call a cab any time, any place? Your butt had to get out on the curb and try to hail a cab.
3. When people went to Woodstock or any other concert, people were there for the real authentic experience of getting to see their favorite musicians without trying to vlog it, or holding their phone up the whole time watching the actual concert they were in through the screen to make sure the image was stable, while blocking everyone's view behind them.
4. You had to actually shop around...in person, if you wanted the best deal. You couldn't just google search the lowest price of something, or you go to one store and your friend another, and just call to see which store has the lower price. You had to actually spend hours hunting for bargains which meant, sometimes stores could take advantage of you.
5. This was the golden era of the house party where your parents would go out of town, and you'd throw a rager, and clean in all up. Your neighbor couldn't rat you out by phone, nor could your parents just show up early, pre-phone tracking, and discover what you were doing. Good times!
6.When people went out to eat, everyone was actually there in the room talking to one another. There weren't heads down buried in phones texting other people. People actually had to communicate with one another in real time.
7. No one could call you and bother you on your vacation. How could they even find you out on the lake with your family? LOL
8. We had to carry around these huge Key Maps or paper maps to find out where we were going. I remember this map thing vividly as a kid because on a vacation, we got lost at night, had to stop the car on the side of the road, turn on the car light, and try to navigate our way to the hotel and if you couldn't do that, find the nearest gas station to try and figure out how to get some place. I mean, seriously, can you imagine that now?!?
9. Let this sink in. There...was...no...filter. In fact, you had to carry around an actual camera, take a photo, you couldn't edit it, and then it would be a couple days to a week before you could get your photo back because you had to take it to get it developed, meaning someone else got a good look at all your private pictures. Nothing was in real time. You probably went on that awesome trip or saw a celebrity 6 weeks ago before anyone else knew about it.
10. A trip to the airport meant long lines of everyone trying to fumble around and find their hard copy tickets, unearth their IDs, deal with screaming toddlers who weren't being entertained by games on phones, standing in front of screens inside the airport to figure out if flights or people had arrived on time, no ability to text people to ask where they were....you had to walk or drive around and try to find them yourself, dear God!
11. People actually made plans and had to stick to them. If you said meet me at the stadium at 6, they had to meet you because there was no way they could cancel at the last second and if they didn't show, you assumed there was an actual emergency which there usually was, as opposed to they just didn't feel like coming.
12. I say had to, but the reality is, you called and talked to people because you wanted to and got to hear their voices because you wanted to. You could get a better sense of context vs. a text where things can easily be misinterpreted.
There are a lot of ways cell phones have improved our lives and made things less difficult or better for us, but I'm glad I had a childhood that was uncluttered by cell phones. Technology definitely has it's place, and for things like emergencies, I absolute believe in the value of the modern cell phone because it has saved lives, but just as that is the good of progress, that same progress means many people have lost out on actually truly being present in their daily lives and connecting with one another in person and enjoying being in the moment with the people that are around them.
---