If you kept track of the news recently, you probably heard of the shocking display of racism that had happened recently.

The startling video shows a white disabled man tied up, gagged, and beaten as four African American teenagers force him to spew profanity.
Say f**k Donald Trump, say f**k white people!"
The video was live streamed via Facebook Live by Brittany Herring, one of the kids seen in the clip.

The video shows the young man beaten and tied up, ashes flicked on him as he lays in the corner bloody and beaten as the four teens continue to taunt and abuse him for his race. He is kicked repeatedly and is subjected to racial slurs.

Watch the video below (Note: It is quite graphic so viewer discretion is advised.)

The four people are now in custody since the video has been put up, and Chicago police are conducting further investigation.
The young man seen in the clip, who has special needs, is now in hospital and is being treated for his injuries.

"The incident took place Tuesday in an apartment on the 3400 block of West Lexington on Chicago's West Side," according to police.
...What do I think of this?
As a black girl who leans mostly towards the left, this video infuriates me and makes me ashamed of some of my fellow black people. This incident is a perfect example of how racism goes both ways, and is not just a one-way street. It is disheartening that we as a society have to remind people that you in fact CAN be racist towards white people and that the color of your skin does not give you the green light to be racist towards them.
After the election, it seems that tension between people is growing ever stronger, and this video is depicting the apex of that. Hardcore SJWs are only fueling the fire by saying that minorities cannot be racist and that it's okay to hate white people, which is just so wrong.

Reverse racism is not a thing. It's simply RACISM. The literal definition of racism is:

rac·ism
ˈrāˌsizəm/
noun
the belief that all members of each race possess characteristics or abilities specific to that race, especially so as to distinguish it as inferior or superior to another race or races.
prejudice, discrimination, or antagonism directed against someone of a different race based on the belief that one's own race is superior.
"a program to combat racism"
Racism does not apply only to minorities. It applies to everybody. Black people can be just as racist as any other race, and I've seen it firsthand when my old relatives would blame the white man for everything wrong in the world.
Just because the color of the victim is white, does not make this act of violence any less shocking or disgusting, and it sucks that hardcore SJW and liberal media is sweeping this under the rug like its nothing, as I only just heard about this happening just yesterday. I can bet any money that if the races were reversed, this would be getting international media attention, and that the white people involved would be executed immediately.
Bottom line is that anybody has the potential to be racist and that we must take all forms of racism seriously. Doesn't matter what color you are and if you're prejudice against people different than you, it will come back to bite you in the ass eventually, just like it did with these four teens. Fighting fire with fire won't do any good and we must learn to love a little more and work together if we want to move forward.

I feel so embarrassed that members of my own race would do such a thing like this, and I, along with many other black people are completely disgusted with these kids' behavior. Along with this, it's also disgusting that there are actually people out there DEFENDING the actions of these teens and are trying to justify it simply because the young man is white, and apparently "ALL WHITES ARE EVIL".

*eye roll*
It's terrifying and stupid. They were totally sadistic and wrong, period.

This is absolutely disgusting and appalling, and my heart goes out to the young man who will probably be traumatized by this for the rest of this life.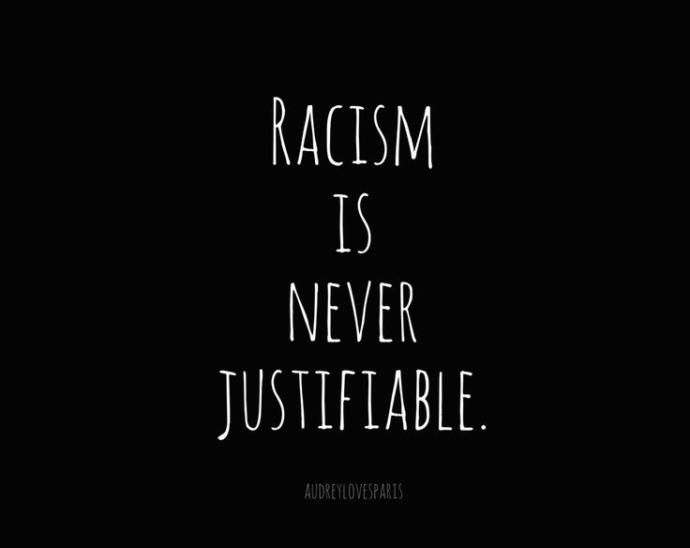 Donate to the victim here: Let's show the Chicago Victim Love
Thanks for reading. Spread love. <3