Well, this is mostly a response to people who were asking me, about which bands I don't consider overrated, in my previous MyTakes here and here
(In alphabetical order)
1) Bon Jovi
Although since the 90s they changed their sound, and chose to follow a more generic Alternative Rock sound which I didn't like, I love their 80s albums a lot, so I cannot call them overrated. Especially their Self-Titled debut is a masterpiece and definitely one of the milestones in the whole Rock And Roll history.
2) The Cars
This is what we would call an influential band, that pretty much defined the New Wave and Power Pop sound of the 80s.Their debut album is definitely their best work and the best among early New Wave era, but also their albums Candy-O and the unappreciated and more obscure Panorama.
3) Deep Purple
I would say Deep Purple were the actual Hard Rock pioneers. And also the pioneers of what we would call Arena Rock/Pomp Rock that bands like Queen, Styx and Journey followed later. Also they gave birth to bands like Rainbow or Whitesnake. So my guess would be Deep Purple were more a collective than a band. Among their works, their best would be Deep Purple In Rock, Machine Head and Burn.
4) Def Leppard
It was a smart move indeed, to move away from the NWOBHM sound of their early records, and follow a more Glam Metal direction in the mid 80s. And that's why they became massive since Pyromania. Pyromania, Hysteria and Adrenalize are masterpieces in the Rock And Roll history, and they deserve all the fame they got.
5) Dire Straits
Their music might fall under the category of Pub Rock in their early years, but later they evolved into a Stadium Rock band, especially in the album Brothers In Arms. I believe it was an album that it wasn't a sellout in order to make their sound more commercial, but an album that deserved the fame it deserved. Also their debut and Communique are great examples of Pub Rock.
6) Europe
There weren't many Glam Metal bands from Europe, but Europe were one of them. They were also one of the few Swedish bands that became huge in America, and they were those that actually deserved it unlike Abba, Ace Of Base and Roxette. Their two standout songs The Final Countdown and Carrie were a huge stadium favorite during that era and the top Power Ballad of the year, respectively. But their whole The Final Countdown album, was a Glam Metal standout.
7) A Flock Of Seagulls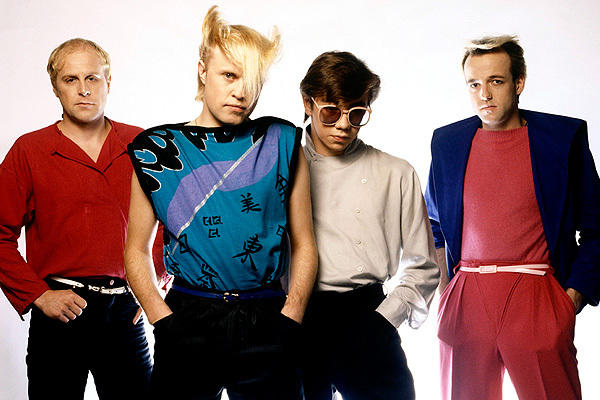 Maybe they might became famous because of Mike Score's unique hairdo, but even if that's the case they deserved it. AFOS were for sure better than all the other Synth-Pop bands of that era, because they didn't throw away the guitars unlike others (Depeche Mode, Yazoo, etc.) and as it has been proven multiple times, synths and guitars together sound awesome, and because they weren't a singles band. Especially their debut and Listen albums contained also other cuts that were standouts and they were as appealing as their popular singles, and also they could actually play their songs live, without sounding watered down.
8. Foreigner
They were for sure one of the bands that defined the AOR sound, and inspired many artists in the later years. If you take a listen to their debut album and Double Vision, you will realize how ahead of other Rock bands of that era (late 70s) they sounded, and how influential they were. Basically, any album of theirs till Inside Information is a milestone, and a great suggestion as a band, for someone who wants to learn what AOR is.
9) Hall & Oates
Unlike many white artists who wanted to sound black, Hall & Oates made the smart move to keep the Rock element in their records, and also the Power Pop/New Wave element in their early 80s recordings. So instead of sounding like a lousy Blue-Eyed Soul band, they sound more like a Rock band.
10) INXS
Sure Kick overshadowed any other work from INXS. But I don't blame its success because INXS were introduced to a wider audience and their previous -and better- albums as well. All of them, till Listen Like Thieves were milestones in New Wave genre.
11) Journey
From a Santana's side-project, since Steve Perry's recruitment, they started building up their momentum, and became Stadium Rock giants with Escape. Escape, Frontiers and Raised By The Radio, are Rock masterpieces from the 80s. Obviously they deserved it, since they inspired many bands with their sound.
12) Kansas
Although they were extremely popular in the US, for some reason in the UK they are just an one-hit wonder band, with Carry On Wayward Son being their only hit there. This band had two periods. Their more experimental/Progressive Rock 70s period, and their 80s AOR period. As a more AOR-oriented guy, I like their second period, but anyway their 70s work stands out as well. Let's not forget the band's solo-careers and side-projects, with Steve Welsh's band "Streets" in the mid-80s, being the best among all.
13) Men At Work
Although they released only three albums in their lifespan, Men At Work are legends indeed. Business As Usual is without a doubt one of the strongest debuts in the music history. Each song there is as strong as their two huge hits Who Can It Be Now? and Down Under. Their follow-up Cargo is their best work in my opinion, and also the underrated Two Hearts sounds pretty good too.
14) Pink Floyd
For many people they are overrated, but in my opinion they are one of the bands that actually deserved it. They were one of the actual pioneers of Electronic Music, in late 60s/early 70s, and also established the idea of listening to a full album, instead of picking up the singles. Their best work is The Dark Side Of The Moon without a doubt, and it's one of the albums that they must be listened to at THE EXACT track order. Wish You Were Here and The Wall would come next.
15) Queen
My guess would be that Queen contributed a lot to the AOR genre, without being AOR themselves, since they were perhaps the first band that featured those famous multi-layered vocals that became popular during the AOR years. Like they did in songs like Killer Queen or Bohemian Rhapshody. Also known for their diversity of styles, being involved with genres from Arena Rock or Hard Rock to Funk or Synth-Pop. Perhaps The Miracle would be the best album from their 80s period, and News Of The World from their 70s period.
16) REO Speedwagon
Since You Can Tune a Piano But You Cannot Tuna Fish they started building their reputation as Arena Rock giants, till they hit Superstar status with Hi-Infidelity. Their follow ups Good Trouble and Wheels Are Turnin' were equally awesome. Whether they were playing Hard Rock numbers or Ballads they were sounding awesome, so yes we can easily say they deserve their fame.
17) Bruce Springsteen
If there is any Solo Rock artist that deserves the fame he/she deserves it would be Bruce Springsteen. Neither David Bowie nor Rod Stewart, Sting or anyone else. And also one of the few senior artists that you can still enjoy seeing in our days, providing the same amount of energy as they did three or four decades ago. Apart from Born In The USA, his masterpiece would be the double album The River.
17) Styx
Started as a Progressive Rock band, they gained international fame in the late 70s with their album Cornerstone which is their best work in my opinion. Following a more Melodic Rock/AOR direction, without losing their Progressive Rock element. During their prime (late 70s/early 80s) they were among the Stadium Rock giants, next to bands like REO Speedwagon and Journey. Their follow-ups Paradise Theater and Killroy Was Here were equally masterpieces.
19) Supertramp
Breakfast In America was the album that made them big, and put them into the pantheon of Stadium Rock acts, yet it wasn't their best work. But it was the album that we can say they made more popular their previous -and better- albums even if they were popular already by the time they were released. But Breakfast In America introduced them to a wider audience. Their best works are Crime Of The Century and Even In The Quietest Moments... in my opinion.
20) Toto
Toto were actually started as a group of session musicians. But you will be surprised once you find out in how many albums those session musicians -especially- among their original line-up- have been involved. So you realize how big band they are. Best works? Tough to pick. But their debut is a classic Rock record indeed. Or the more underrated Isolation.
---