I've been sick, but I'm back in business! Maybe it's just me, but I love coming across films I've never seen before. I won't watch any and everything but if its got a familiar actor/actress or an interesting plot, I'll often give it a shot. A few times a year, I'll set the DVR to record different films that have appealed and then I see if I can sit through them or not.
So I'm going to list some popular and unpopular opinions about a majority of lesser known films. I love coming across hidden gems and then having little discussions with others about them. So below I'll list a few thoughts and if you've seen any of the films, tell me your thoughts as well.
#1 "10x10" aka "Outfall"
This one takes place in a beautiful home. Basically someone is taken hostage and forced to reveal the part they may have played in a mishap. Personally, I love seeing Luke Evans in badass roles. The action starts early on and there is definitely a twist. I love twists. But you have to understand that this movie does take place in a house 90% of the time. If you haven't seen his film "No One Lives", I recommend it as well.
#2 "True Lies"
Now this one surprised me! I thought it would be a typical kickass Arnold movie but its kinda buddy cop as a spy/absentee husband/father has to save his supposedly unfaithful wife. Jamie Lee Curtis was hilarious and I never knew she had a body lol. These two honestly have no chemistry and the film starts off slow, but it picks up once he tries to bust her "affair".
#3 "Top Gun: Maverick"
Well for Starters, I didn't say all of the films were lesser known. But I am going to say what others could probably never... The first Top Gun was boring, the death was predictable and the best thing about the film was the song by Berlin. It took 3 attempts at trying to get through the first film but I finally succeeded. However, I watched it the same night I watched the sequel. The second film was honestly way better and I was shocked by who all survived. Jennifer Connelly and my babe Glen Powell were really the only reasons I tuned in for this although its like they were hardly in it. I still find Miles Teller annoying and I don't think he can carry a movie but he always makes them more watchable.
#4 "Desperate Measures"
I'm pretty sure I've talked about this one before, especially since I try to watch a "new" old film every other month. I've probably watched this one 4 times now because Michael's role is just so captivating plus i get to admire young hot Andy Garcia as he plays a cop on the hunt for one of the deadliest inmates who may possess something that could save his dying child.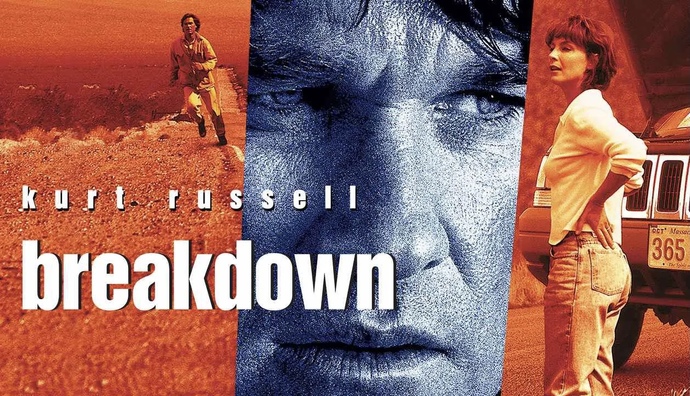 #5 "Breakdown"
This one gives me a young hot Kurt Russell but he's like the worst husband ever. Okay so your car breaks down and you think its smart to send your wife off alone for help? Haven't you seen Joy Ride? He literally says in the film that he doesn't want to leave his precious new car alone in the desert to go get help so he chooses to stay with his true love but sends his wife off in an 18 Wheeler with a stranger. Well anyways, he does make up for his mistakes along the way lol.
#6 "Stolen"
Okay so Ghost Rider might've been the last "new" Nicholas Cage film that I found watchable. But this one actually isn't half bad. I thought it would be like Blue Streak where Martin steals some valuables, goes to jail and comes back for them. But no, Nick actually abandons his stash and then has no leverage to save his kidnapped daughter. I like Josh Lucas but he's better off playing a hero like in Poseidon. The cop chase scenes in this film were awesome though.
#7 "Domestic Disturbance"
Normally I find John Travolta films repulsive outside of Grease. But this one wasn't bad. Vince Vaughn actually surprised me for once. Teri Polo was Teri Polo as usual. And Matt Oleary carried the entire film. I don't know if you've ever seen his other films like Frailty but the kid could always act. His character witnesses the death of the one comic relief in the film (Steve Buscemi) and its up to anyone but the cops to save the day.
#8 "Breaking" aka "892"
Now this was a film that consisted of great acting but takes place inside of a bank/credit union the whole time. I just love John Boyega and I still think he's Denzel Washingtons secret lovechild. He gives a great John Qish performance as a vet with PTSD who has had enough of the VA playing with his disability check. It's sadly based on a true story of a situation that took place in Georgia about 5 years ago.
#9 "The Marksman"
It's not on "Taken" level but Liam's at it again playing a savior as he protects a child from the cartel and looks to transport him safely to his family living on the other side of the US.
#10 "The Edge"
This is another film that I've probably discussed a bit before. I always thought my fave Sean film would be Entrapment but this one came close. I saw it around last year and boy oh boy! I love killer animal movies. The whole time I kept saying "Ahh this old man doesn't stand a chance" but thats what I get for not having given his Bond films a chance yet. (I love Roger Moore and Daniel Craig). Anyways, the villain in this film is super predictable lol, and Im not talking about the bear.
#11 "Goodbye Butterfly"
Now this film (which I believe is based on a novel) didn't have that great of acting nor familiar actors (aside from a Jeremy London cameo) but the story was a bit captivating. I started it and felt like I had to finish it to see if there would be some sort of redemption. And I'm glad I did because the pedo in this film who was kidnapping kids pissed me off so friggin much and deserved a good ass whoopin.
#12 "Nick Of Time"
This is probably the only time I found Johnny Depp appealing outside of looking like a pirate. I recall discussing this film once before but I went back and watched a second time. Its just that great! Depp's daughter is taken hostage and he's expected to kill a very important person in order to save her. Christopher Walken is one of the bad guys as usual. Charles S Dutton is not the bad guy for once but makes a great sidekick. And there's a little twist in this assassination attempt.

#13 "Skyline"
Now this film tripped me out. Its like a cheap Transformers but it gets to the action pretty quickly. I can never take Donald Faison serious but it was hilarious seeing him try to survive an alien attack. Eric Balfour has always been bae so I was all for seeing him in a film again. I honestly felt like I was watching some video game being streamed but it was a fun ride. And The parking garage scene is hilarious.
#14 "Into the Grizzly Maze"
I'll never get over this film. For starters, I'll try just about any film that contains my baes James Marsden and Thomas Jane. But this film surprised me. I expected more of Thomas but this was not The Punisher nor Deep Blue Sea lol. The film really gets good around the part where the bear walks up on Piper Perabo. But basically its been stalking my boys since childhood and won't sleep until he's had his dinner. Its like The Edge but on steroids!
#15 "Win a Date With Tad Hamilton"
Wow this might be the only rom-com I've sat through lately. And i love that its an early 2000s flick. Not only do I love seeing Josh Duhamel in anything, but this movie was truly funny. Topher Grace and Kate Bosworth are hilarious. But she had no chemistry with either guy. Its your typical movie about a friend guy who is in love with the girl next door but she is in love with this hot celeb who is in love with his career.