One thing about us black girls is that our hair literally means everything to us. We've adopted so many hairtyles its insane, and we can rock them so effortlessly as well. As a black girl myself, I've wore my fair share of hairstyles over the years: From braids, to weaves, to natual hair, I've had many. So, I thought I would make a list of some hairstyles I absolutely love on dark girls and to teach you guys about some of the hairstyles we wear. Hope you enjoy!
Pixie cuts ("faded glory" haircut)
I think this absolutely amazing on some black girls, but only certain girls can pull it off. I would never get this style myself, but that doesn't look good on others. I think it looks sleek and daring. This bold style looks especially good with angled eyebrows and a defined face.
Ghana braids (cornrows)
These braids originally come from the African country of Ghana. Another hairstyle that I love but would never get myself. The long, thick braids and braiding pattern can look great on certain black girls. I also love when they add the small gold accessories to them and they give them a sort of high-end flare.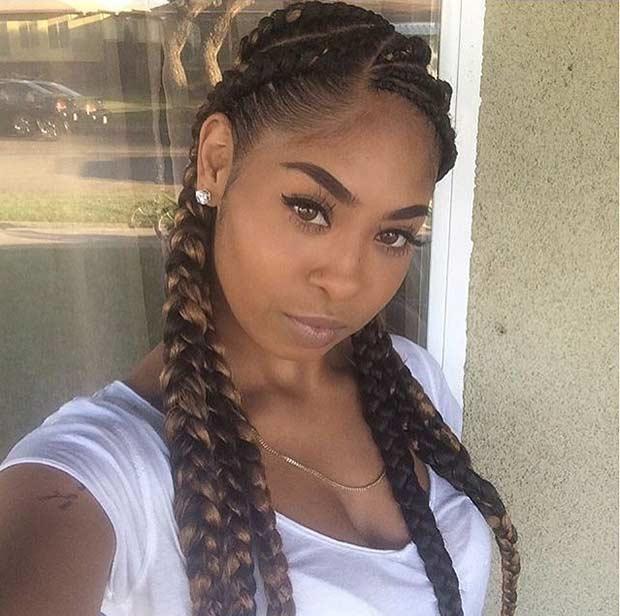 I also love when they are in a bun, although you can't keep them like this for long.
Goddess braids
I love love LOVE these, and they are also a great protective style if you don't want to mess with your natural locs for a while. They look absolutely beautiful, and the name does this style some justice. Black girls look like absolute goddesses with these in.
Box braids
A 4-strand twist style that absolutely slays. I love these, and I had some myself when I was younger. I think these look great as well with gold accessories. They're also easy to care for and can last a couple of weeks if you take care of them well.
Senegalese twists
As the name implies, the styles comes from the African country of Senegal. These are absolutely gorgeous, and the style that I have in at the moment. Unlike box braids, these are 2-strand twists that are usually worn long. They go with any look and are also easy to care for. However they are prone to unraveling since most people don't do them tightly. I still love them though and think they look great on black women.
Short curly bobs
So, so cute! I love this natural hairstyle and I think it goes well on so many dark girls. It's springy, bouncy, and simply adorable!
Havana twists
These are a bit like Senegalese twists, but bigger and are usually wore shorter. I think these are cute in a half up half down style and are very stylish.
Afro
Afros are gorgeous. Short, long, curly, wavy I love them all. Still trying to grow mine big and I envy girls who have a huge head of hair!
Afro Puffs
Cute and simple style that I adore. You can wear it in one huge puff or two. Low, or high. Half up or half down. I love this!
Annnnnd, that's the end of the take. I would add more styles but you can only add twenty pictures, and I wanted to add multiple for each to showcase the different types of styles. If this does well and you like this sort of take, then I will make a part two since there are MANY types of ethic hairstyles.
Thanks for reading! :) <3
---