Decades ago it was rare for police officers to carry rifles. While Special Weapons And Tactics (SWAT) teams had them, your average Officer Joe was usually just given a pistol and maybe if he was of high rank, a pump shotgun.
Nowadays, however, many local police departments around the US regularly allow "patrol rifles" to their officers. Sometimes these rifles are bought by the department itself, and sometimes it's the officer's own personal rifle.
As scary as this may seem at first, there's actually a decent reason for it, and it mostly revolves around the events of one bank robbery nearly 20 years ago....
The Standard Issue Weapon for US Police Officers is a Handgun....and Handguns Kinda Suck.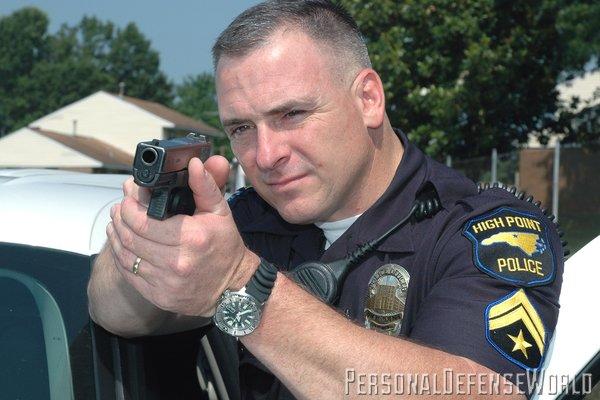 Movies have made handguns seem like the ultimate killing machine. Just one shot and the character has just seconds left to live. However, in reality handguns make terrible weapons. They're inaccurate and the ammunition is both small and weak. Common pistol rounds used by police officers are the 9x19mm Parabellum and the .40 S&W (10x22mm). These rounds don't have a lot of energy behind them (usually about 500-700 Joules) and are so small it generally takes multiple pistol rounds and/or hitting a critical organ or artery to kill a person (6/7 people survive handgun wounds). Otherwise they'll just be stunned by the pain and force of the bullet. It's not uncommon to see criminals high on PCP or other drugs absorb more than two dozen pistol rounds and keep fighting. The benefit of these weapons are that they're cheap, light, compact, concealable, and easy to use, however. This is why Officers (and many civilians and criminals) tend to use handguns.
But back to the handguns sucking part. Since the rounds are so weak, they're routinely defeated by body armor. A decent Kevlar vest will defeat most pistol rounds with some distance away from the shooter, and the same goes for 12 gauge shotguns (which are also inaccurate at a distance and lose enough energy to be stopped by the vest). This turned out to be a painful reality for some officers in LA nearly 20 years ago....
The Shootout of North Hollywood, 1997:
Let's cut to the chase: Two bank robbers who are heavily armed manage to keep scores of police officers pinned down and at bay. They were wearing heavy duty body armor, managed to get their hands on an automatic rifle (illegal), had multiple weapons (which one of the robbers shouldn't have had access to due to his criminal history), and had over 1000 rounds of ammo. All the police had were their pistols and 12-gauge shotguns, which were about as effective against the shooters as a paintball gun (you can literally see bullets bounce off of their armor). Eventually after 45 minutes, the robbers died. However, not before needing nearly 700 rounds fired at them, 20 of which struck one in the legs.
The pistol rounds used by the officers and SWAT (SWAT teams generally used submachine guns back then, which fire pistol rounds in rapid succession) were useless against the armored targets. Some officers managed to get rifles from a local gun store which aided significantly in the fight. The aftermath of this shoot out (and similar ones in years to come that involved armored shooters), is what lead to police officers now ditching their submachine-guns for rifles.
Why Rifles are so Much More Effective:
The most common rifle round used by Civilian, Police, and Military rifles is the Remington .223 or NATO 5.56x45mm round (a slightly more powerful version of the .223). It is known for it's use in the AR-15 and the police/military automatic equivalent M16. The 5.56 is called an "intermediate" round, as in it's more powerful and damaging than the 9mm and other pistol rounds, but not as straight up deadly as Hunting/Military Rifle Rounds, namely the Winchester .308 or NATO 7.62x51mm. The goal of Intermediate rounds like the .223 is to incapacitate enemies by causing shock and giving some nasty wounds, rather than straight up killing them like much bigger rounds. It does this by giving a small bullet (5.56mm in diameter, lightweight) a crap ton of energy behind it (about 1,800 Joules, or around 3-4 times as much energy as the 9mm). This results in a high velocity that leads to great accuracy over long distances, decent shock on impact with a body, and good armor penetration.
This is specifically why police like to carry rifles. While the shooters in the Battle of North Hollywood did manage to stop a rifle round or two from penetrating their armor (mainly the inserted plates behind it), it wasn't useless against them as the 9mm rounds. Even if a rifle round doesn't penetrate, it will release enough energy into the body to knock the wind out of a person and cause some internal trauma. That, and it's much easier and safer to aim/fire a 5.56 Rifle at a target than a pump shotgun. Here in this video, you can see the difference in armor penetration between pistol rounds, Intermediate Rifle Rounds, and even a Battle Rifle round at the end.
99% of the time, a police officer will never need a rifle. However, that 1% of the time he/she does need one, it will be there. Active Shooters with body armor and heavily armed gang criminals are becoming a more common sight in today's world, and thus adequate firepower is needed to deal with these scenarios. With recent news of deaths caused by police misuse of force it may seem unnerving that your average cop might just have a rifle in his trunk, but there is a good reason for it.
Thank you for reading, and please leave your questions and comments down below.